Education abroad counselors (also known as study abroad counselors, and international education advisors) provide advice and guidance to students who are interested in pursuing studies outside of their home country. Essentially, they guide students through the process of researching, choosing, and preparing for programs that best suit their needs.
To get into this field, above all else, you'll need to be energized by the memories of your time studying abroad, and by the project of helping others do so. That core passion will help you set a solid foundation for gaining the necessary skills, education and experience.
Below, we've outlined everything you need to know about what education abroad counselors do, and how to become one.
Education You'll Need
Typically, the minimum academic requirement for becoming an education abroad counselor is a bachelor's degree in a field relevant to the program's location or geographic region. Many employers however, will prefer, or require, that you have a master's degree in such a field, or in educational administration.
Success Tip: If you have extensive amounts of relevant experience, that will be quite attractive to employers, and you likely won't need a master's degree (we'll explain what qualifies as 'relevant experience' below).
Relevant Experience Requirements
Employers in this field value various forms of relevant experience greatly, such as
• Experience working in higher education within international student support services
• Extensive firsthand experience either living, working, studying, or volunteering in the program location
• Academic advising or counseling experience and/or knowledge of student success strategies and best practices
Success Tip: If you have extensive amounts of relevant experience, that will be quite attractive to employers, and you likely won't need a master's degree.
General Job Description
As an education abroad counselor, you would mainly be responsible for advising students about prospective study abroad programs from a growing number of available options. This would involve advising them in the selection of programs compatible with their academic curriculum, interests, and concerns, and guiding them through the application, acceptance, preparation, departure, and re-entry stages. 
A big part of your job would be to gain an understanding of a student's real and perceived challenges with regard to academic study in different cultural environments, and helping them to overcome those challenges.
You would also work with third-party provider study abroad programs regarding student issues, both while students are applying to programs and while they are abroad. 
Typical Job Duties
Although the specific duties of the job can vary, as an education abroad counselor, you'd likely be responsible for the following:
• Advising undergraduates on degree requirements, academic policies, course selection, experiential learning opportunities (e.g., internships, study abroad, research), and post-graduation planning
• Hosting study abroad presentations 
• Supervising international student ambassadors
• Conducting academic audits and degree clearances
• Maintaining accurate advising-related records, including student files, training manuals, forms, and course syllabi
• Ensuring the accuracy of information published on the program's website
• Planning and implementing communication strategies to effectively convey information to students
• Working with third-party study abroad program representatives regarding student issues, both while students are applying to programs and while they are abroad
• Answering inquiries pertaining to education abroad from students, parents, faculty, and staff
• Writing recommendations and signing home campus approval forms for students that are applying to third-party provider programs
• Utilizing databases to compile statistical profiles of students
• Performing general office functions, such as greeting students and answering questions
• Assuming other duties as assigned by the director or program management
Skills You'll Need to Succeed
Employers will require that you have a certain set of skills, or in some cases, may simply list them as an asset rather than a requirement. Such skills can include:
• Fluency in the native tongue of the program location is often useful
• Knowledge of the cultural and geographic nuances of the region in which the program takes place
• Basic accounting and financial skills can be an asset
• Administrative and organizational abilities 
• Microsoft Office proficiency
• Experience with database and spreadsheet programs is generally considered an asset 
Are You a Good Fit?
Above the required skills, you will need certain intangible personal traits to help you find fulfilment in this field, be effective in it, and not become too downtrodden by the duties of your job. Such traits include:
• You're keen on the idea of convincing a student to do a program, elsewhere, possibly overseas
• You have a student-service oriented attitude and professional demeanor
• You're willing to work at evening or weekend events and presentations, as needed
• You have an astute attention to detail 
• You have a strong sense of empathy for challenges (real or perceived) that students have when considering studying abroad
• You're comfortable with public speaking
• You have the ability to take initiative and work independently
• You're willing to relocate for work
• You're comfortable dealing with several different people during your workday, including students, parents, your supervisors, other school staff, and program administrators
Average Salary Level
The salary level of you could earn as an education abroad counselors can vary (as with any other profession), typically depending on the following factors:
• Your level of education and experience
• The size, type and budget of your employer
• Your wage and salary negotiating abilities 
• The region in which you will be working
United States: According to the U.S. Bureau of Labor Statistics, the median salary level of Americans working in the 'School and Career Counselors' occupational group (which is the closest available occupational group) is $56,310 per year (May, 2018 figures). The lowest 10% of salaries in the group were at or below $33,610, and the highest 10% were at or above $94,690 per year.
Who Employs Them?
Education abroad counselors most often work for colleges and universities. However, they might also work for secondary schools, government programs or private study abroad companies.
Current Job Opportunities
Our job board below has "education abroad counselor" job postings in your area, when available. If you don't see what you're looking for, try using alternate terms to describe the profession, such as "study abroad counselor/coordinator", "education abroad advisor", "international education consultant", and related terms:
Typical Work Environment
Schedule: Most education abroad counselors work a typical weekday working schedule, although they may be required to work evenings and weekends in order to give or attend presents, as well as attend other events and meetings.
Conditions: The work is office-based and typically quite sedentary, and involves a lot of time spent in front of a computer screen and speaking on the telephone, with negligible use of physical force. In this work, you'd be required to have close visual acuity to perform an activity such as: preparing and analyzing data and figures; transcribing; viewing a computer terminal, and extensive reading.
Career Advancement Possibilities & Opportunities 
As far as the range of roles you could move into within this profession are concerned, the options are fairly limited, simply because it's a field in which there are very specific operations. However, that's not to say there's no room for career advancement, as that couldn't be further from the truth.
As you gain experience in the field, you'll have the chance to move into positions of greater responsibility and pay, as well as possibly move into supervisory and management positions, provided you've demonstrated the proper qualities, of course.
For example, you could eventually become a program manager, or regional director. Alternatively, you could start your own education abroad facilitation service or organization.
Putting it All Together: Steps for Becoming an Education Abroad Counselor
We've thrown a lot at you above, so let's take a second to recap and go over the concrete steps for getting into this profession:
1. Pursue a bachelor's degree 
2. While you're a student, look for entry-level or volunteer work with a study abroad program
3. Take a semester, or multiple semesters, to study abroad 
4. Pursue a master's degree in a field you're passionate about/education administration
5. Find permanent work in the field of education abroad counseling (be willing to relocate!)
6. Advance your career, and enjoy yourself along the way!
Please Note: There are other paths to take to get into this field, the above list of steps is simply a general overview of a common path.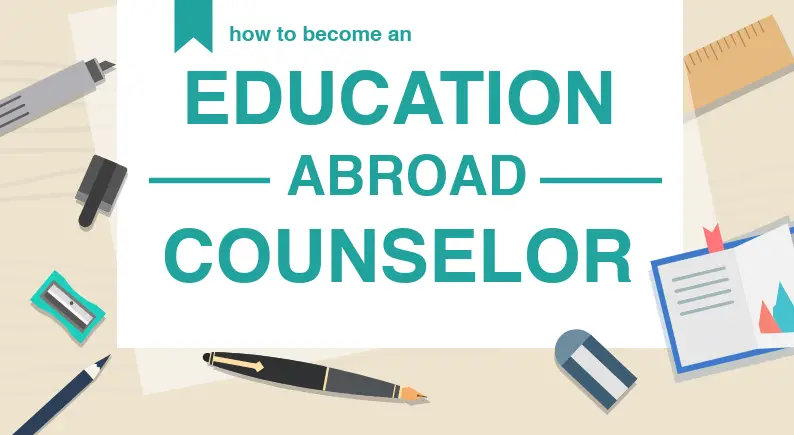 Similar Occupational Guides
Listed below are occupational guides in our database for careers that are similar in nature to "education abroad counselor", as they may involve many of the same skills, competencies and responsibilities.
• Director of University Admissions
References for This Career Guide
Please consult the following resources to learn more about what it takes to become an education abroad counselor, and other details of the profession:
Occupational Employment Statistics: "School and Career Counselors." (April 12, 2019). United States Bureau of Labor Statistics. Retrieved July 10, 2019.
Jobs Abroad: "Do You Want to Work in Study Abroad? Here's Everything You Need to Know." Danielle Ortiz-Geis (June 22, 2016). GoOverseas.com. Retrieved July 10, 2019.
Professional Resources - Career Centre: "Study Abroad Counselor - Ned Khatrichettri." (n.d.). NAFSA - Association of International Educators. Retrieved July 10, 2019.
Please Note: Some of the information gathered for this career guide was sourced from job postings, which due to the brief nature of their online presence, are not listed here as references. 
Scholarships for Becoming an Education Abroad Counselor
The "Relevant Areas of Study" section below lists fields of study that are relevant for getting the required education to work in this field. You can search for relevant scholarships by finding those majors on our Scholarships page.
Relevant Areas of Study
Studying one of the university majors listed below can serve as an excellent educational foundation for this career: