What You Can Do With a Science Degree
Transitioning from student to graduate is an intimidating situation for many soon-to-be and recent graduates. There can be many unknowns when you're thinking about what awaits you after school, and you may be asking yourself the same questions that many students before you have asked:
• What career options does a science degree give me?
• How can I find a good job with my degree?
• Will I earn a good salary?
• What kind of company will I work for?
• Will I find fulfillment and stimulation in my job?
From a career as an environmental technician, to a career as a doctor, there are a multitude of career paths you can pursue. In fact, you could even pursue a career in sales if you wanted to. This Science Careers guide will ultimately help you answer the question, "What can I do with a science degree?"
Sorted by major, this Science Careers guide contains detailed occupational information on hundreds of careers that are relevant to a degree in science. We've included job descriptions, expected salaries, educational requirements and other pertinent information related to these careers. Not enough? We've outlined science scholarships that can help you pay for school!
Why is a Bachelor of Science Degree Useful?
Simply put, it's all about the skills. Pursuing a degree in science thoroughly teaches you to solve problems using logic and scientific methods; traits that are highly valued by many of today's top employers.
A science degree however, is not something that only those with specific career ambitions can pursue. Many choose to pursue it simply out of personal and academic interest. The coursework related to obtaining a Bachelor of Science degree helps you gain knowledge and training that will be useful for the rest of your life, both within and outside of the workplace.
An undergraduate science degree will not only help you expand your knowledge base in the field of science, it will help you develop intangible traits such critical thinking, effective communication, creativity and independent judgment.
The pursuit and achievement of a bachelor of science degree allows you to discover new knowledge to better understand yourself, the world, and your place in it. Studying science at the undergraduate level also provides you with the knowledge needed to make important decisions, react to challenges, and solve problems that threaten our planet or its various inhabitants.
Practical career-related applications of this knowledge may include (among many others) finding new ways to treat diseases, properly managing natural resources, or effectively reacting to the occurrence of epidemics.
Career Options for Science Graduates
Will having a science degree help you find a good job? The short answer is...yes!
This Science Careers guide is designed to help you put your mind at ease. It will show you that in fact, yes, there are a wide variety of well-paying and interesting jobs you can pursue based on the skills and knowledge you have gained while pursuing your degree.
Science Career Guides: Sorted By Major
• Biology
• Botany
• Clothing, Textiles & Material Culture
• Forestry
• Geology
• Nursing
• Physics
Employable Skills of Science Graduates
There are many skills gained by pursuing a degree in science: skills that are applicable to science careers, as well as careers that have little direct relation to science, if any at all.
Undergraduate science students are taught more than just how a lab functions; they are also taught many skills that employers both inside and outside the field of science are looking for. Take a look at the next set of job postings you come across. Do they all require specific degrees? Odds are that many of these job postings won't.
The following is a set of skills that you will gain as an undergraduate science student that you can apply to almost any career:
Research skills: The ability to locate information and determine its quality in a timely manner
Report writing skills: The ability to present findings in a logical order, while articulating findings
Data collection skills: The ability to collect data involves teamwork, communication, thoroughness and attention to detail
Data analysis skills: Involves using a wide range of statistical methods and techniques to identify patterns and other attributes of various sets of data
Time management and organizational skills: Must be able to see a project through from start to finish within strict deadlines
Problem solving skills: Using logical methods to solve problems is a skill that many employers value greatly
Communication skills: Being able to present and articulate complicated ideas in a clear and concise manner
Who Hires Science Graduates? Where Do They Work?
Employers that value skills such as the ability to use logic, and apply scientific methods to solve problems, are typically in search of science graduates.
Among the list of required skills frequently listed on job postings across Canada and the United States are 'problem solving abilities' and being 'detail oriented', attributes that are gained through coursework in an undergraduate science program.
Types of Employers that Hire Science Graduates?
The skills and knowledge that general science graduates obtain make them employable with virtually any type of organization. Some employers however, may have a very specific skill set and knowledge base in mind with regards to the science graduates they recruit; they may be looking to hire only science graduates that have majored in a specific area.
For example, a food product development company is more likely to hire a science graduate that majored in nutrition, chemistry or food sciences, versus one who majored in environmental science or physics.
In a general, collective sense, graduates with a Bachelor's of Science degree can choose a broad range of employers, including:
• Municipal, provincial/state and federal government agencies
• Banks and financial institutions
• Colleges and universities
• Public and private research institutions
• Hospitals, clinics, and other healthcare facilities
• Museums and conservatories
• Engineering consulting companies
• Scientific publications and journals
• Food and beverage production companies
• Environmental impact research and assessment organizations
• Pharmaceutical companies
• Environmental and ecological consulting companies
• Oil, gas and mining companies
• Service firms to oil, gas and mining companies
• Non-ferrous metal smelting and refining companies
• Non-profit organizations
• Self-employment
Science Job Postings
For a closer look at what you can do, take a look at the Job Board for Science Students & Grads tab below. It lists job openings in Canada and the United States that are relevant to a degree in various fields of science.
Job Board for Science Students & Grads
Science Graduate Salary: How Much Do Science Graduates Earn?
The salary you could earn as a science graduate largely depends on what career you pursue. For example, if you become a biological technologist right out of school, your earnings will likely be different, for better or for worse, from what you would make if you chose to become a science writer.
Other factors that determine how much you can earn include (not an inclusive list):
• The industry in which you find work
• The size and type of your employer
• The region in which you work
• Other work experience you may have accrued
Sample Average Salary Figures for Science Grads - By Major
Below are the average salaries reported by nearly 20,000 Ontario graduates in 2010, based on the Council of Ontario Universities' study of the 2008 graduating class (1). Unfortunately, no salary information is available from reliable sources for the United States, or the rest of Canada.
• $62,865 CAD - Nursing
• $58,587 CAD - Computer Science
• $56,117 CAD - Mathematics
• $50,760 CAD - Other Arts and Science
• $47,857 CAD - Therapy and Rehabilitation
• $45,427 CAD - Physical Sciences
• $45,104 CAD - Food Science and Nutrition
• $42,181 CAD - Agricultural and Biological Sciences
• $42,000 CAD - Forestry
(1) Dehaas, Josh. "The most (and least) lucrative degrees in Ontario" MacLean's On Campus, Web. November 10, 2011.
Advice for Finding the Perfect Career with Your Science Degree
You're about to graduate with a Bachelor of Science degree and you're eager to make your mark. How do you find that perfect job among a myriad of possible science careers? Below we've outlined some common methods of finding your perfect job in science.
Internship and co-op opportunities: Internships and co-op opportunities are a great way to 'learn by doing'. During your final two years of your undergraduate science degree, you should be actively searching for these opportunities. Speak to your professors and your school's career resource office to find these opportunities. If you are able to land such a position and do a good job, it is fairly common to be offered a full time position with the company upon graduation.
Science Job/Career fairs: Career fairs are a great way to interact with the recruiters of many organizations in a face-to-face setting. Be sure to 'interview' these employers by asking them why you should choose them, after all these organizations are just as eager to acquire strong talent as you are eager to find a great job. Be sure to bring multiple copies of your resume and engage with as many different companies as you can.
Your school's career services/resources office: The career services professionals in your school are paid to help you make career choices and introduce you to career information resources. Remember, they are not going to come find you; you need to take the initiative and approach them. These professionals can often identify career options that many undergraduate science students aren't aware of.
Networking: Your personal and professional network should never be overlooked when considering your science career options and job prospects. The more people that are aware of your job search, the better your chances of finding employment opportunities with your Bachelor's of Science. Odds are someone in your network will know someone who is hiring a science graduate, and they'll be able to put in a good word for you.
Contact employers directly: Identify common, and not so common, employers of science graduates. Then, visit the "careers" section of their websites to search for current opportunities. If they don't have any listed that directly pertain to an undergraduate science degree, it may be worth your while to contact them directly and inquire about any unadvertised or upcoming opportunities.
By implementing some or all of these tactics in your job search, it won't be long before you're a science graduate with multiple job offers, and plenty of options for starting your career.
Success Tip: Be sure to keep a list of anyone you've spoken to, in any capacity, about a job. This includes employers you've met at career fairs, people you've contacted from your network, and anyone else with whom you've spoken directly about your job search. Make sure to periodically follow up with these individuals.
Science Career Planning Timeline
Below we've outlined a specific timeline of actions that will help you effectively make the transition from an undergraduate science education to your chosen career in science. Remember, the more proactive you are with your career planning now, the more career options you will have when you graduate.
First Year:
• Create a resume, and if it seems short don't be concerned, as most first year science students won't have lengthy resumes at this point
• Introduce yourself to the Career Resource/Service staff at your school
• Learn about yourself, your interests, and skills by utilizing online and printed resources (ask you Career Resource/Services staff)
• Choose your science major by identifying those that relate to your interests and abilities
• Identify and pursue summer work and volunteer experiences that align with your major
• Ensure to maintain a strong GPA, as many employers will exclude students and recent graduates with low GPA's from internships and job opportunities
• Purchase a suit or an outfit that you can wear for interviews throughout the duration of your university career
Second Year:
• Update your resume with any science career related experience you've obtained
• Join an on-campus science organization; this will help you network and develop interpersonal and communication skills
• Take several online career assessments
• Attend science-specific and general career exploration workshops, job fairs and other career related events
• Identify and contact scientific professionals to conduct an informal interview, they will give you great first hand information regarding a day in the life of someone with a career in science
• Research any available job shadowing or volunteer opportunities
• Plan early for science summer work opportunities or internships
Third Year:
• Pursue leadership opportunities in science and other professional student organizations
• Update your resume to include all related work experience you've obtained during your second year and your summer
• Prepare for science internship interviews by attending interview workshops
• Attend science-specific and general career fairs to research internships and future job opportunities
• Research graduate science programs and the schools that offer them
• Attend graduate science career fairs to make contact with program representatives
• Finalize summer experience/internship plans
Fourth Year:
• Seek and attend employment skill-building workshops
• Finalize your resume and cover letters to reflect all of the science work experience you have gained, as well as your education
• Sign up for mock interviews with your Career Resources/Services staff
• Attend science-specific and general career fairs in the geographical location you plan to live (if possible)
• Apply to graduate science programs if you plan on attending
• Research potential employers and job possibilities
• Pursue any networking contacts through friends, family, clubs, professors, etc.
• If you have had successful co-op or internship experiences, you may already have one or more full-time job offers from employers with whom you have already worked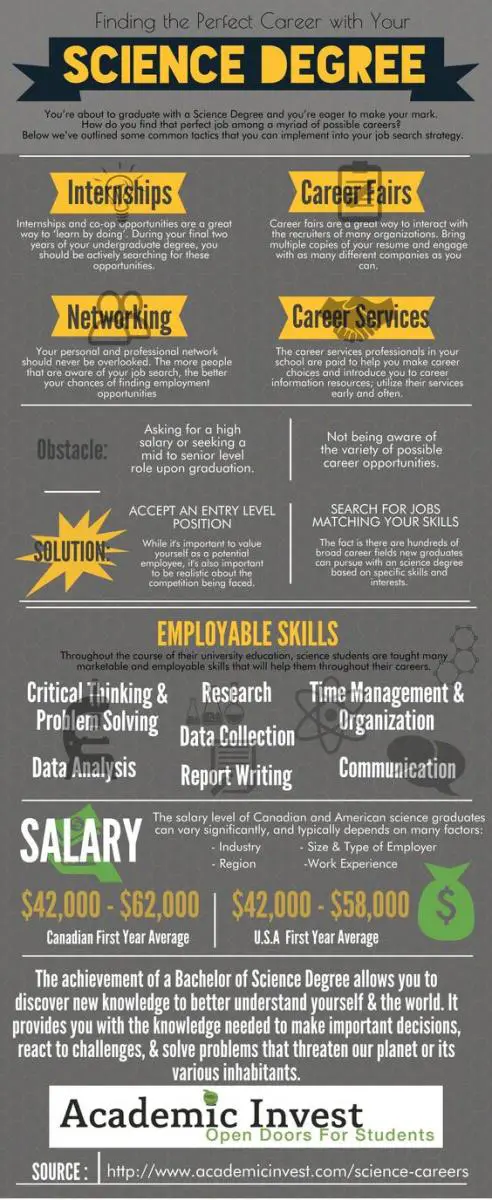 Science Scholarships
Millions of dollars in science scholarships go unused every year! Why is this? Not enough applicants! You can help solve this over-funding crisis by getting some of this money!
Visit our All Scholarships by Major page to see scholarships related to your field of study, as well as those open to all students, regardless of field of study.
Science Careers Success Tip: Attend Career Fairs
Visiting general, or science-specific career fairs is one of the best things you can do to learn about science careers. It is a great way to network with potential employers, as well as gain information on specific careers.