Career Path Guide: How to Get Into This Field
Do you have a strong passion for the outdoors? Do you thrive in an environment that enables you to work with people that share your interest in the outdoors? Do you handle stressful situations well?
If you've answered "yes" to these questions, then pursuing a future as an outdoor adventure guide may be the perfect career path for you! If we've piqued your interest, let's figure out how you can break into this field!
You'll need to know what type of education, experience and skills you will need, and you'll probably want an idea of what you'll actually be doing, where you could be working, and what you could earn. As luck would have it, all of this information is provided below!
Education Needed to Become an Outdoor Adventure Guide
You don't typically need any formal post-secondary education to get into this profession. Pursuing education in a related field however, can provide you with skills, knowledge and competencies that can be very helpful in this career.
For example, if you plan on running your own outdoor adventure business, having coursework in marketing, management, and business administration can be extremely helpful.
Certification You'll Need
Some specialties within the umbrella of "adventure guide" require special training or certification; for example, mountain guides must almost always be accredited. Other forms of certification may be voluntary. Below are some of the certifications you may require:
• Certification in wilderness first aid and CPR (cardiopulmonary resuscitation)
• Additional health and safety training is typically an asset
• The appropriate level of swimming, skiing, mountain guide, rafting, or other outdoor certification (if applicable)
• Valid industry licenses, where applicable (for example, if working as a fishing guide, need a valid fishing license)
• May need a valid driver's license
Success Tip: For more specific information regarding certification you'll need for your chosen area of specialty, please contact any employers you wish to work for, as they may require certification that other employers (or areas of specialization as a whole,) do not require.
General Job Description
As an outdoor adventure guide, you would be responsible for organizing and conducting outdoor expeditions for adventurers, tourists, hotel guests or sports and outdoor enthusiasts. These expeditions may come in a variety of forms, including:
• Mountain expeditions
• Rafting trips
• Hunting trips
• Fishing trips
• Trail rides
• Heli-skiing
• Rafting/whitewater rafting
• Canoe tripping
• Kayaking
• Ecotourism
• A combination of any of the above
Typical Job Duties
The specific duties you would be responsible for will vary from employer to employer. In general however, you would be responsible for performing the following duties as an outdoor adventure guide:
• Guiding individuals or groups during outdoor adventure based activities
• Creating safe yet exciting customer experiences
• Assembling any necessary equipment and supplies
• Demonstrating necessary skills and techniques, providing individual instruction when necessary
• Providing fun and engaging information to trip participants about the region they are exploring
• Administering First Aid when necessary
• Organizing and/or preparing meals
• Continuously learning about your territory
Experience You'll Need
Nothing can replace experience on an outdoor adventure guide's resume. For example, if you're applying to a whitewater rafting leadership position, you had better have a decent list of personal trips to prove that you have the fundamental skills necessary to be a whitewater rafting guide. This rule of thumb applies to any other type of outdoor leadership role from canoeing to rock climbing.
Success Tip: Get out there and practice your outdoor skills!
Who Employs Them?
If you become an outdoor adventure guide, your possible employers may include adventure tourism companies, resorts, parks and lodges. Alternatively, you may be self-employed, and operate your own adventure guiding business.
Career Advancement Possibilities
As an outdoor adventure guide, you have the ability to move into different roles as you accumulate experience. For example, you may move into supervisory or management roles, or decide to open your own business.
With additional education, you may also potentially move in to different roles within your organization. For example, with some marketing courses under your belt, you may be able to work in marketing for the adventure company that already employs you. With a combination of experience and education, you will likely also be attractive to outside employers in the industry.
Typical Salary Figures
As you contemplate your future and weigh the pros-and-cons of potential career paths, one of the key factors that could influence your decision is money, specifically how much you can expect to earn in your chosen field.
If you're curious to find out how much you could earn as an outdoor adventure guide, then take a peek below. But first, be aware that there are several factors that can influence your earnings, including:
• Any relevant certifications you've earned (such as CPR)
• The specific responsibilities within your role    
• Other skills and prior work experience
• Terms of employment: permanent employee or contract work
• Geographic location within your country, or internationally
• Whether or not your work is seasonal (affecting salary, not wage)
Salary - Canada (Alberta): According to the 2016 Alberta Wage and Salary Survey (which are the latest salary figures available as of the time of writing - June 14'19), Albertans in the Outdoor Sport and Recreational Guides occupational group earn an average overall wage of $21.04 per hour. Unfortunately, there are no similar statistics available for other Canadian provinces and territories from reputable sources.
Salary - United States: According to the United States Bureau of Labor Statistics (May, 2014 figure), the mean annual wage of American workers in the Travel Guides occupational group is $38,260 per year.
Personal Characteristics You'll Need
To become an outdoor adventure guide, it's important to know that your personality is just as important as any certifications that you can bring to the table. Does the following describe you?
• You have a passion for the outdoors
• You work very well with people
• You are able to handle stressful situations well
• You have a keen interest in providing your guests with an amazing outdoor experience
• You are willing to put the time in to continuously refine your outdoor skills and knowledge
Useful Skills and Abilities
In order to execute your job duties with competence, you'll need to be armed with certain skills, including:
• Ability to deal with physical demands of the specific position
• Previous experience in the relevant sport or activity is required
• Ability to work in teams
• Excellent communication skills
• Excellent instructional skills are required
• Good organizational skills
• Leadership skills
• Working knowledge of terrain, environment and local area
• Good customer relations skills
• Working knowledge of relevant legislation
• Knowledge and mechanical skills necessary to maintain your equipment
• If self-employed, need skills in small business (such as marketing, accounting, management, etc.)
Get Your Degree!
Find schools and get information on the program that's right for you.
Powered by Campus Explorer
Similar Occupational Profiles in Our Database
Listed below are careers in our database that are similar in nature to adventure guide, as they may involve many of the same skills, competencies and responsibilities.
• Recreation and Leisure Supervisor
References
Please use the references below to find more information on the various aspects of a career in this field.
Occupations in Alberta: "Outdoor Sport and Recreation Guide." (March 19, 2016). ALIS website - Alberta Learning Information Service. Retrieved January 6, 2020.
Occupational Employment and Wages: "Tour and Travel Guides." (March 30, 2018). Occupational Outlook Handbook - United States Bureau of Labor Statistics website. Retrieved January 6, 2020.
Explore Careers: "Outdoor sport and recreational guides." (July 5, 2018). Government of British Columbia - WorkBC website. Retrieved January 6, 2020.
Local Tips: "How to Become an Outdoor Guide." Annemarie K. (January, 2019). Recreational Equipment Inc. website. Retrieved January 6, 2020.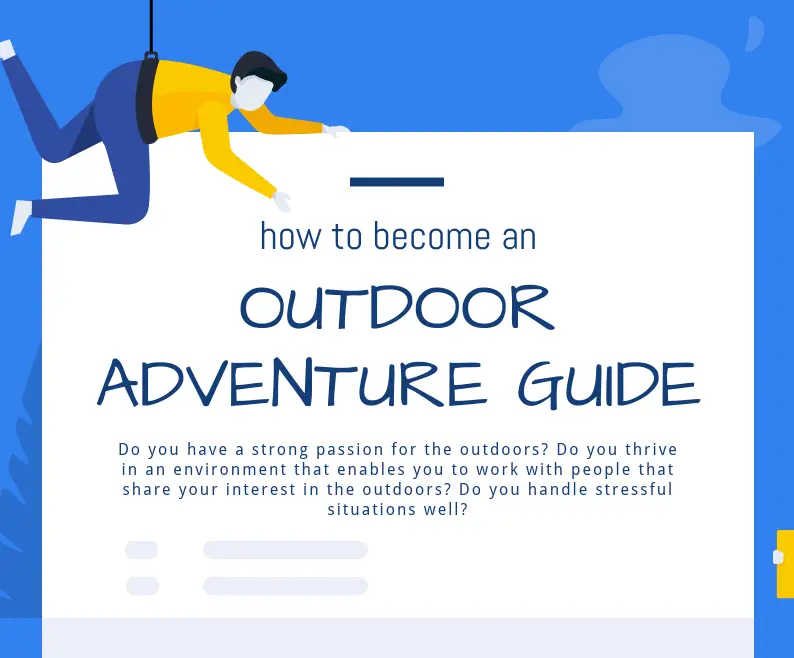 Scholarships for Becoming an Outdoor Adventure Guide
Looking for Canadian or American scholarships to help you on your way to becoming an outdoor adventure guide? We've got you covered! Here's how to find the best-suited scholarships:
• On academicinvest.com, our scholarship listings are sorted by major
• The "Applicable Majors" section below shows majors that apply to this career
• Visit our All Scholarships by Major page to find scholarships sorted by those majors
Applicable Majors
Studying one of the university majors listed below is an excellent starting point for getting into this profession. Click on the links to find out what else you can do with these majors!