Career Path Guide
If you have a keen interest in helping people improve their community, you enjoy working in a team, and you have training or education in a field related to sociology, then working as a community involvement animator may be a great fit for you!
If this sounds promising, then read on; we'll fill you in on the details of this career, including an overview of what a community animator does, who might hire you, and what you'll need to qualify. 
What Exactly is a Community Involvement Animator?
Also known as a "Social Animator", or "Cultural Animator", a community involvement animator is an applied sociologist that works alongside communities on grass roots projects. They develop and facilitate learning programs that support action for local and social change.
You could even say they are agents, or catalysts, of social change. For example, they may be responsible for helping members of a community start a neighbourhood natural food buying club, or organizing experts to help produce a video on how to work with your landlord to green your building, that can be distributed through the social service group they work for.
Education and Training Needed for this Career
Since an animator is a sort of applied sociologist, most employers will require that you have post-secondary education or specialized training in a field closely related to sociology (or community animation, for that matter). Closely related fields may include:
• African studies
• Community animation
• Community services
• First Nations studies
• Social or cultural anthropology
• Social work
• Sociology
Typical Job Duties
As a community involvement animator, your job duties could vary, although in general you would be responsible for such tasks as:
• Working alongside community members to develop community based programs
• Providing project assistance with regards to needs identification, proposal development and getting started
• Supporting and encouraging program participants
• Helping participants connect with resources and funding
• Helping existing green groups collaborate and promote their services,
• Inviting and encouraging community leaders to become involved in specific projects
• Conferring with community leaders in order to identify their leadership knowledge and skill set shortfalls, and how they can be improved upon
• Providing community leaders with information regarding the community's needs in terms of the community involvement service
• Working with the committees on strategies to improve the animation program in the community
Areas of Specialty for Community Involvement Animators
Community involvement animators may work in a variety of different types of communities. For example, as an animator, you could choose to work in the following types of fields (not a comprehensive list):
• Religious communities
• Ethno-cultural minority groups
• Disadvantaged communities
• Communities of like-minded people (such as those interested in making their community more "green")
Experience Needed 
The experience you'll need to get a job as a community involvement animator can vary quite a bit from employer to employer. Depending on the discretion of the individual employer, you may be required to have experience performing similar job duties, or just general experience in a similar field of work (even if it's at a lower level of responsibility).  
Success Tip: Whether or not it's a formal requirement, having related experience can be a valuable asset for you while on the job, and can make you a greater asset to your organization.
Traits and Personal Characteristics You'll Need
• Ability to engage and inspire community members and program participants
• Empathy and social awareness
• Able to convey interest and enthusiasm
• A keen interest in watching projects move from conception to completion stages
Skills Needed to Become a Community Involvement Animator
• Ability to work effectively within a team
• Awareness of Animation principles in community development practice
• Awareness of current issues facing the target community
• Knowledge of resources available to the target community
• Knowledge of important features in sociology
• Experience working with a wide range of community groups, including those who are excluded
• Ability to work with volunteers that posses a wide range of skills
• Conflict resolution skills
• Good time management /organization skills
• Computer Literate
Other Skills & Qualifications You May Need
• Experience working with a specific type of community (i.e. disadvantaged, etc.)
• Driver's license and reliable access to a vehicle
• Flexibility to work outside normal working hours
• Ability to speak another language may be an asset
• Knowledge of relevant legislation, such as the Occupational Health and Safety Act
Who Employs Community Involvement Animators?
Community involvement animators are hired by organizations that have a vested (and generally altruistic) interest in the well being of the community they are a part of or represent in some way.
To simplify that vague explanation, below is a list of the types of organizations that may hire community involvement animators:
• Religious groups
• Non-profit organizations
• Social services groups (with or without religious affiliation)
• School boards and individual schools
• Government agencies 
Job Opportunities - Open Positions
Our job board below has "community involvement animator" postings in Canada, the United States, the United Kingdom and Australia.
Similar Occupational Profiles in Our Database
Listed below are careers in our database that are similar in nature to this one, as they may be in the same field, or they may involve many of the same skills, competencies and/or responsibilities.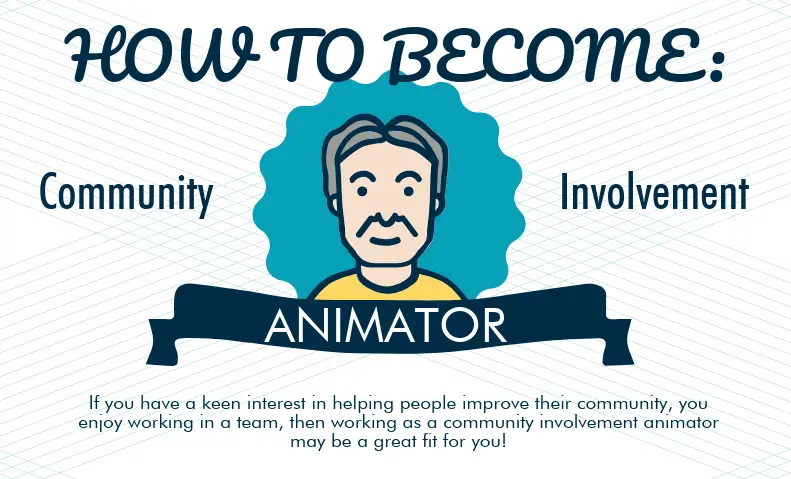 References
To find out more about what a community involvement animator does, what prerequisites you'll need to qualify, and other details of this career, please consult the following resources:
Modules: "Culture & Social Animation." Phil Bartle (May 3, 2012). Community Empowerment Collective website. Retrieved November 6, 2019.
Content: "Community Animators." (n.d.). Public Sphere Project website. Retrieved November 6, 2019.
Scholarships for Becoming a Community Involvement Animator
The 'Relevant Fields of Study' section below shows fields of study relevant to a career as a community involvement animator. You can search for scholarships matched to those fields of study on our All Scholarships by Major page.
Success Tip: Be sure to apply for any scholarships that you even barely qualify for, as there are millions of dollars of scholarships that go unused every year due to a lack of applicants!
Relevant Fields of Study
Studying one of the university majors listed below can serve to create an excellent foundation for this career. Click on the links to find out what else you can do with these majors!