If you want to become an accounting clerk, you may need to have a certificate or a diploma in accounting, business administration, or a related field.
Some employers will not require you to have any formal education; they may accept relevant work experience in place, or they may provide on-the-job training.
If you're thinking about getting into this field, you should first determine if it's a good fit for your skills, interests and personality traits.
Does the following describe you?
• You are interested in working in an office setting, in front of a computer
• You are able to pay close attention to detail, for long periods of time
• You are proficient with Microsoft Excel
• You have excellent organizational abilities, and can effectively prioritize work
• You are comfortable working independently on routine tasks
• You enjoy having clear rules and methods for your work
Below we've outlined what you'll need to begin a career as an accounting clerk. We've also included helpful information for this career, such as salary expectations, an outline of the skills you'll need, educational requirements, a list of possible employer types, and much more!
Education Needed
The educational requirements for this occupation vary greatly from one job to another, and typically depend on the scope and responsibility of the position.
Accounting clerks need an understanding of various business documents such as receipts, purchase orders, credit slips, sales slips, banking statements, financial statements and invoices. For this reason, some employers prefer to hire candidates for accounting clerk jobs that have, or are working towards, an accounting certificate or diploma from an accredited college or university.
In general however, an accounting certificate or diploma may not be necessary, as many employers provide on-the-job training for accounting clerk positions, particularly entry-level positions, such as data-entry clerk.
Some employers will also choose to hire candidates who have related training or experience in place of, or in addition to, relevant education. Such experience typically includes working in a job that involves compiling and reviewing some of the above-mentioned documents. 
Skills Needed For This Profession
Those who are successful in this profession typically have the following skills and abilities:
• Able to analyze and proofread data
• Able to pay close attention to detail for extended periods of time
• Able to work with numbers, and comfortable with basic arithmetic
• Able to multitask, while prioritizing work
• Excellent organizational skills
• Proficient in the use of spreadsheet software, such as Microsoft Excel
• Familiar with different types of accounting software
Characteristics Needed
In order to enjoy performing the duties that are involved in this line of work, you need to posses certain personal traits, including:
• Able to keep employer information confidential
• Comfortable working independently on routine tasks
• Enjoy having clear rules and organized methods for your work
• Enjoy balancing financial records and business transactions
• Enjoy working at a computer 
Who Employs Accounting Clerks?
Accounting clerks may be employed with virtually any type of organization, within almost every conceivable industry. They are employed with organizations ranging from retail businesses and manufacturing firms, to agencies that provide health, education or other social services. 
Jobs for accounting clerks may be on a part-time, full-time or contractual basis.
Putting it all Together: Steps for Getting Into This Profession
To sum all of this up, here are the essential steps you'll need to take to get into this field:
Step 1 - Check if you're well suited
Are you interested in a career with little barrier to entry? Are you interested in a desk job with regular working hours, but would rather work with numbers than work face-to-face with the general public? If so, this may be a great field for you.
Step 2 - Get into school 
Many employers (although not all) will want to see that you've earned a certificate or an associate's degree in accounting, business administration, or a similar field. This will also serve as excellent preparation for the work you will be doing. 
Step 3 - Get experience
Instead of getting an education in accounting, you could try your luck at getting an entry-level office job, such as in a secretarial or assistant capacity, and try and work your way up by demonstrating initiative and competence in your work. 
Step 4 - Find a job
With education and/or experience in hand, you should now be qualified for accounting technician jobs. Look for jobs that interest you, and apply!
---
Details of this Career: General Job Description
Accounting clerks, also known as accounting technicians, are responsible for maintaining and verifying records of business transactions, such as invoices and purchase orders. They use spreadsheets and other computer applications to record, track and process documentation related to vendor and customer accounts.
Typical Job Duties
• Prepare, record and process invoice, reports, cheques and receipts using computer software applications
• Perform bank deposits
• Respond to vendor and customer inquiries related to payments on their accounts
• Prepare basic financial statements
• Maintain records of customer and vendor account transactions
Average Salary Level of Accounting Clerks
The salary level of accounting clerks can vary, due to the following factors:
• Their level of education
• Their level of experience
• Their specific level of responsibility
• The size and type of their employer
• The region in which they work
Salary - Alberta: According to the 2015 Alberta Wage and Salary Survey, Albertans working in the Accounting technicians and bookkeepers​ occupational group earn an average salary of $44,988 per year.
Salary - United States: According to the United States Bureau of Labor Statistics, the median salary level of American workers in the Bookkeeping, Accounting, and Auditing Clerks occupational group is $37,250 per year. The lowest 10% of salaries in this group are below $21,940 per year, and the top 10% are above $57,920.
Accounting Clerk Jobs
Our job board below has "Accounting Clerk" postings in Canada, the United States, the United Kingdom and Australia.
Typical Work Environment
Working Conditions: Many accounting clerks spend a good part of their day working independently in front of a computer. They may spend some time during the day attending meetings with co-workers and management. Their work can be quite demanding, especially during month-end and tax season, when there are financial reports and tax returns to complete.
Work Setting: Work in this field typically takes place in an office setting. Travel for work is not common in this occupation, aside from commuting.
Working Hours: Accounting clerks typically work normal, weekday working hours. Their schedules can vary widely however, depending on their level of responsibility within an organization, as well as during certain times of the year. For example, many accounting clerks work overtime at the end of each month, in order to help complete financial reports.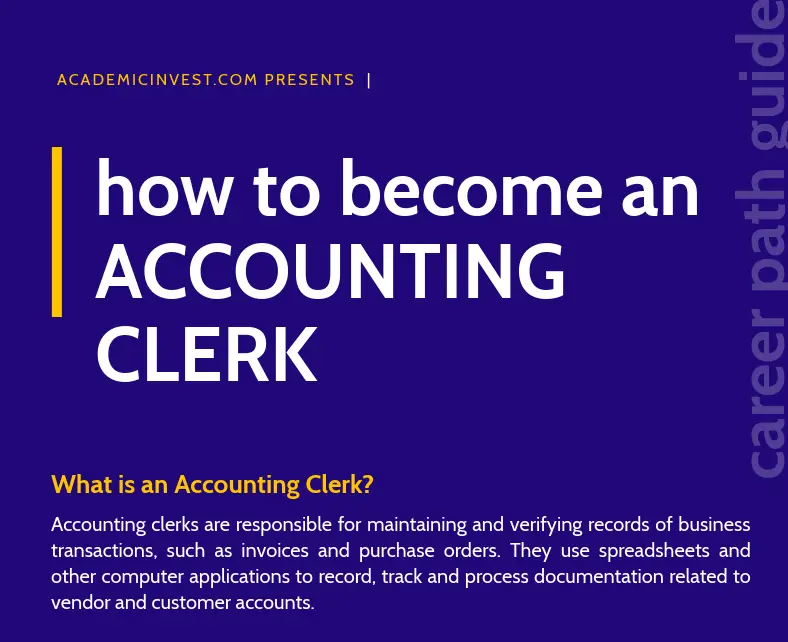 Similar Careers in Our Database
Listed below are careers in our database that are similar in nature to Accounting Clerk, as they may involve many of the same skills, competencies and responsibilities.
References for this Career Guide
The following resources were drawn from in the preparation of this How to Become an Accounting Clerk career guide:
• "Occupational Profile: Accounting Technician." (n.d.). Alberta Government - Alberta Learning Information Service. Retrieved August 12, 2016.
• "Occupational Outlook Handbook: Bookkeeping, Accounting, and Auditing Clerks." (May, 2015). United States Department of Labor - Bureau of Labor Statistics. Retrieved August 12, 2016.
Scholarships for Relevant Majors
Looking for Canadian or American scholarships to help you on your way to becoming an accounting clerk? We've got you covered! Here's how to find the best-suited opportunities:
• On academicinvest.com, our scholarship listings are sorted by major
• The "Relevant Majors" section below shows what majors apply to this career
• Scholarships for becoming an accountant can be found on our Accounting Scholarships and Business Administration Scholarships pages
Success Tip: Be sure to apply for any scholarships that you even barely qualify for, as there are millions of dollars of scholarships that go unused every year due to a lack of applicants!
Relevant Majors
Studying one of the university majors listed below is an excellent starting point for entering this line of work. Click on the links to find out what else you can do with these majors!