A career as a city manager could be a great fit for you if you're interested in public administration, you're a great manager, and you're willing to move to pursue job promotions.
This field offers the chance to work as a liaison between City Council and civic employees, and the opportunity to ensure the city's programs are being administered properly and effectively. It also offers the highest level of pay in the public sector.
So, if you'd like to know more about the ins and outs of this field then read on; we'll fill you in on what you would be doing for a living, how much you could earn, and what you'll need to break into this field!
What is a City Manager?
A city manager is the highest-ranking administrative professional of a municipal government. 
Serving as an intermediary between the City staff and its elected mayor and council, they are responsible for making the laws and policies set by the Mayor and Council a reality.
Education You'll Need
There is no set educational path for becoming a city manager, and each City Council sets its own educational requirements for the role.
Many city managers however, have an undergraduate or graduate degree in public administration, but many come from a variety of other backgrounds including finance, engineering, law enforcement, business administration, urban/regional planning, and accounting.
Experience You'll Need
The role of City Manager is not an entry-level position. To earn this position, you'll need significant management and local government experience. In fact, many city managers get into their role by moving up the ranks in public administration. This also involves moving to a different city, to pursue an appropriate job vacancy.
They get a start in a specific administrative area within the city, such as finance, accounting, engineering, planning, law enforcement, emergency services, or others, and then move into a supervisory or management position.
From there, they get promoted to be the head of their entire department. From there, they might move into the role of city manager or assistant city manager.
Please Note: Although it's less common, some managers get their start with management experience in private industry. Getting a degree in public administration certainly helps if you want to transition from private industry into municipal administration. 
City Manager: General Job Description
Under guidance from City Council, you would be responsible for acting as the direct supervisor of the General Manager for each operating department of the city. As such, you would oversee the work of all city divisions and evaluate how well each department administers its services. You would also be responsible for make recommendations to City Council on various issues pertaining to the services, and the delivery thereof.
General Job Duties
Although your specific duties could vary from city to city, you could generally expect to perform the following duties as a city manager:
• Act as a liaison to regional and state governments
• Establish a cooperative and meaningful relationship with Council
• Strengthen the City's financial position
• Work with mayor and council to develop annual operating budget
• Oversee the implementation of the annual budget
• Establish performance requirements and systems of accountability for division leaders
• Evaluate the job performance of City division leaders
• Provide coaching when necessary to improve performance
• Provide performance-based compensation and other rewards
• Undertake disciplinary action for to address performance deficiencies
• Plan and organize evaluation methods for division leaders
• Evaluate work of all City departments to ensure that operations and services comply with the policies and direction set by City Council, as well as with all applicable laws and regulations
Is Becoming a City Manager Right for You?
There's a reason not everyone can become a city manager. Aside from the right education and experience, there are a lot of other factors involved. Personal traits and characteristics are chief among them. If the following describes you, you might just have what it takes:
• You can make important decisions with confidence
• You can motivate and inspire others
• You're willing to accept a position with limited job security
• You're firm but fair, and enjoy leadership
• You're willing to work long hours, and spend a lot of time away from home
• You're willing to make hard and unpopular choices, like putting people out of work
• You're interested in a position of considerable scope, influence and responsibility
• You're interested in a career in public administration
• You're not intimidated by the idea of having to get your ideas approved by City Council
Who Hires City Managers?
A city's Council is typically responsible for hiring the City Manager when the position is vacant. They may do so simply by accepting applications, or by employing a headhunting firm to organize the candidate search. 
City managers can be found all over Canada and the United States; in towns with populations as small as a few hundred residents, to large metropolitan cities with populations of several million.
Typical Salary Level in This Profession
The salary you could earn as a city manager can vary quite a bit from city to city, and depends on a number of factors. One thing that is consistent among cities though, is that council members typically receive excellent compensation for their demanding work.
In fact, it might just be the highest paid profession in the public sector. Most city managers make quite a bit more than the mayor of their city. 
One major factor that can affect the salary level of a city manager is the size of the municipality in which they serve. In general terms, the larger the city, the higher the salary. Take the salary level of cities below, relative to their populations.*
Canada
• Brandon, Manitoba: $190,934 CAD (pop. 46,016)
• Toronto, Ontario: $363,234 CAD (pop. 6,055,724)
United States
• Grand Rapids, Michigan: $147,680 USD (pop. 193,792)
• Dallas, Texas $400,000 USD (pop. 1,241,162)
• Overall salary for city managers in the United States is $106,408 (2009 figures)
*These examples are meant to serve as a guideline only.
Job Opportunities - Postings
Our job board below has "City Manager" postings in Canada, the United States, the United Kingdom and Australia.
Career Advancement Possibilities
In many cities in Canada and the United States, job security doesn't typically accompany the role of city manager. This is largely due to turnover of City Council membership, among other factors.  
So, although this is a senior-level role, it's still important to be aware of future career options you may have.
If you excel in your role as city manager, you could move into various administrative roles throughout the public, non-profit and private worlds. For example, you could:
• Become the manager of a bigger city (considered the most common "promotion" in the field)
• Become the manager of a smaller city (generally considered less stressful)
• Become the executive director of a non-profit foundation
• Become an executive in a publicly or privately owned company
• Start a management consulting firm, or do freelance consulting
• Many, many other career options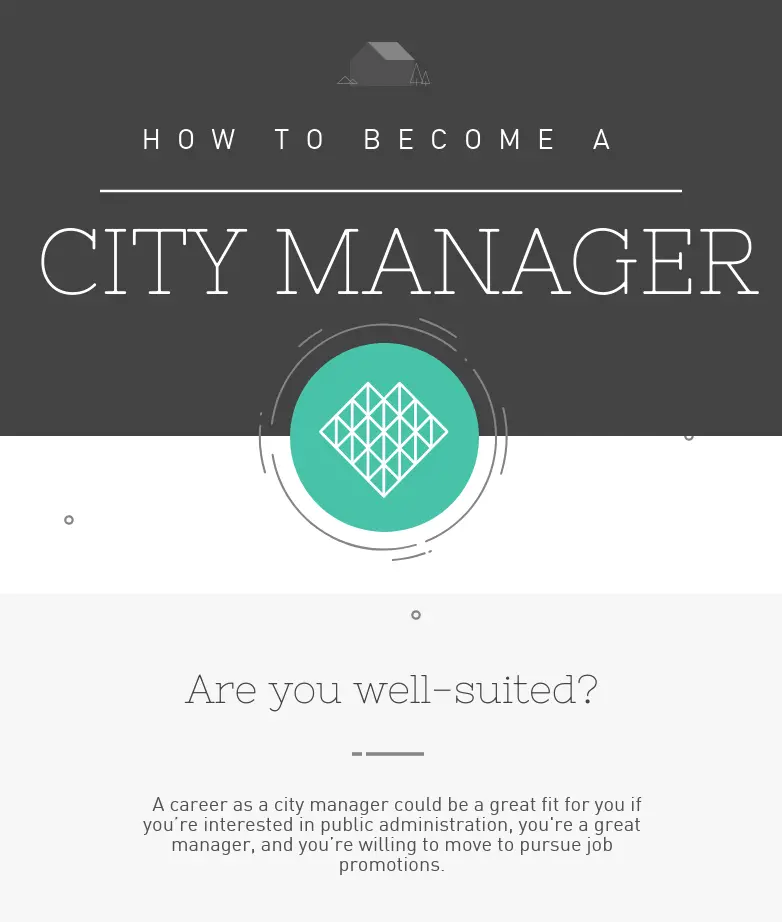 Similar Career Profiles in Our System
Listed below are occupations in our database that have similar responsibilities, and/or require similar skills, or be in the same sector of industry, as city manager:
• Chief Executive Officer (CEO)
• Mayor
• Public Administration Manager
References
Please consult the following resources to learn more about what these managers do for a living, and how you can become one:
Dallas: "City Manager's Office." (n.d.). Texas Tribune website. Retrieved November 6, 2019.
Articles: "Average Salaries of Municipal Officials." (n.d.). National League of Cities website. Retrieved November 6, 2019.
Toronto News: "Top-earning city workers on Ontario Sunshine List." (March 31, 2014). CBC News website. Retrieved November 6, 2019.
Articles: "Grand Rapids Employee Salaries." (n.d.). Ballotpedia website. Retrieved November 6, 2019.
Scholarships for Becoming a City Manager
Scholarships in our database are sorted by major. On the pages listed below are scholarships that are relevant for the education needed to become a city manager. 
Business Administration Scholarships
Political Science Scholarships
Success Tip: Be sure to apply for any scholarships that you even barely qualify for, as there are millions of dollars of scholarships that go unused every year due to a lack of applicants!
Relevant Fields of Study
Studying one of the college/university majors listed below can be helpful (or are necessary) for getting started in this profession. Click on the links to find out what else you can do with these majors!