Want to know more about becoming a successful construction manager? Meet Larry Hnatiuk
By Ashley Brown
Larry Hnatiuk is an experienced construction manager and local business owner. Through hands-on work experience and regularly raising industry standards with his innovation, Larry has made this career his passion.
In the thirty-five years since Larry began working in the construction industry, he has experienced failures and overcome many challenges in order to build two successful, respected companies - and he'd like to tell you how. 
Why did you make the decision to pursue construction management as a career?
For a couple of reasons. First, when I made the decision to enter the field, this career was in very high demand. The other reason it appealed to me was because it appeared that it appeared as though it could be very lucrative in Alberta's growing economy. This has been true both then and now.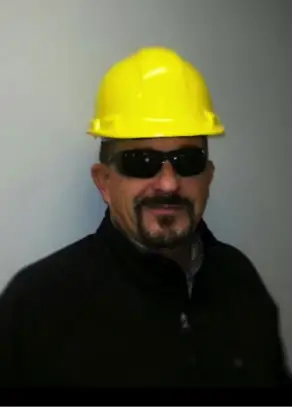 Photo Credit: Ashley Brown
How did you become a construction manager and advance in your career? What was required?
I gained my basic knowledge of construction through work experience - starting at the ground level. When you begin in an entry level position, it teaches the importance of learning all facets of a business. From tools and equipment to local construction regulations.
I also studied building materials and methodology in-depth, to constantly learn about structures, materials and the building process - and just importantly, why they fail. I have also found how essential it is to have the drive to keep up with an ever-changing industry.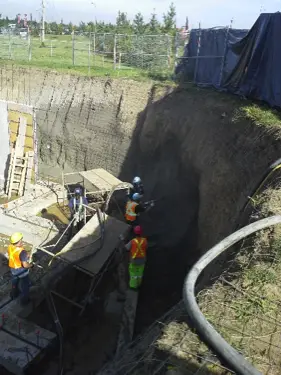 Photo Credit: Provided by Concrete Correctors 
To be an industry forerunner and successful in this industry, you've got to be as informed as possible. Suppliers, materials, techniques and methods, are all constantly changing. Keeping up to date on these has changed with technology advances in many ways and yet stayed the same in others.

Reading industry periodicals, trade journals and scouring libraries are constants and now doing research on-line is an absolute must. Attending manufacturers or suppliers seminars and in-house training courses that are put on for trades is another great way to get informed of what's up-and-coming.
Another benefit to these is that they also allow you to network with others in the industry and learn from their insight, and - these events are usually free. For those who find it difficult to attend presentations outside the office, province or even country, webinars are also starting to gain in popularity.
For me, two specialty courses that I attended were extremely beneficial. The first was at an adhesive engineering company in San Carlos, California, and the other was a law course designed for the construction industry. The instructor was a lawyer who had gained ten-years of construction experience before, and during, law school. This guy could really relate to what he was teaching.
Of course, keeping-up on safety regulations and accident prevention is more and more of a requirement. Learning how to complete a task is one thing, but knowing how to complete it safely - and within regulations - can quite often be a challenge of its own. 
What do you enjoy about your job? What do you least enjoy about your job?
I really enjoy taking on new or very difficult challenges and seeing them through to a successful completion. I do not enjoy dealing with clients / owners who have unrealistic expectations and deadlines.
What do you enjoy about your work routine?
I enjoy having reliable and constant routines in place: project updates, reviewing schedules, budget updates and team reviews. My routines create the stability that allows me to venture out to take-on new challenges to grow the company.
What are some interesting things you are exposed to during the workday?
New ideas, products and methods to achieve goals can be very exciting and meeting interesting people from all walks of life is always interesting to me. 
What are some memorable moments from your career?
Two moments in particular stand out for me personally. In chronological order, number one was making my first corporate dollar. I have it framed and it still hangs on the wall above my desk 35 years later. That dollar represents so much to me and money is not even on the list.
To me, it exemplifies that hard work, determination, doing a good job and believing in yourself will have a reward - being able to feel good in how you conduct yourself in life and business.
The second most memorable moment was having my son Jesse join the company full-time after finishing his post-secondary education in business. To be able to have him come aboard and carry on the company that I started for the next generation made me so proud – as it continues to do so today.
What are some of the toughest challenges involved in construction management?
The toughest challenges are aligning equipment, skilled trades, materials and weather in a timely manner to meet customer requirements.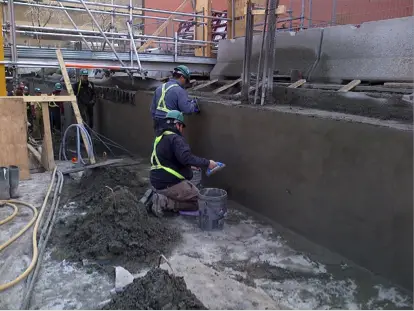 Photo Credit: Provided by Concrete Correctors 
What advice would you give to those aspiring to enter this profession?
There are a few important things I've learned along the way. Always be prepared for challenges and changes. Be informed and innovative. Learn from your failures and enjoy your rewards, and remember to, "hit the reset button" on occasion. 
What I mean by that is, no matter how good or bad things are, how crazy or slow it is, it is absolutely critical that you regularly stop everything and look at the big picture and ensure that you always focused on what is truly important to the company, the people and the goals and values you have set for them and yourself. With that said, it's also important to always try to think outside-the-box to be a leader in construction. 
Also, time management is a critical part of this profession. While deadlines and progress setbacks can add a significant amount of stress to this job, it is important to stay grounded. 
---
Construction Manager Career Guide
Want to know more about a career as a construction manager? Read through our Construction Manager Career Guide, which gives an outline of the required skills, education, and much more! Our career guide also includes occupational details, such as expected salary level, as well as a list of related scholarships and job postings!
How to Become a Construction Manager: Career Path Guide