If you're interested in work that involves overseeing the safety, construction and budget of an airport, as well as the staff responsible for those areas, then becoming an airport manager could be an appropriate career choice for you to pursue.
As an airport manager, you might work for a large airport that serves airlines, or you might work for a cargo-servicing airfield, or even a small private airport that serves private pilots and their aircraft. This work could involve a very fast-paced environment and the sacrifice of personal time.
To get into this field, you'll likely need an undergraduate degree and possibly a master's degree, preferably (although not necessarily required to be) in Business Management or Business Administration. You'll also likely need years of experience in positions of increasing responsibility, to gain the competence necessary to oversee the operations of an entire airport. 
Experience You'll Need
The job of an airport manager is by no means considered 'entry-level'; it takes a great deal of managerial expertise to be able to effectively carry out the duties of such a role.
There are two main ways to work your way into this position. The first, is to gain high-level managerial competence elsewhere, and come into the role from the outside. 
The second, is to work in positions of lower responsibility within a department of the airport, become competent in that area, and 'climb the ladder', and move into positions of greater responsibility, eventually becoming a manger of an internal department, such as safety, airside operations or environmental management.
Once you have demonstrated competence in a role as a department manager, you may be a good candidate to run an entire airport.
Educational Requirements
Employers will typically require that you have at least a bachelor's degree in a field related to business administration or management, although some may require that you have a master's degree. 
An education in environmental science or management is becoming increasingly relevant in this field, as it relates to a portion of an airport manager's duties. 
Success Tip: A relevant combination of education and experience is typically what employers are looking for. It's their best indicator that you'll have the knowledge base and real world competence needed to carry out the many duties of an airport manager.
What Does an Airport Manager Do?
An airport manager is responsible for much more than ensuring all planes land safely and on time. They are basically responsible for running a small city. They oversee the current operations and future planning of several specialized internal departments, as well as cooperate and coordinate with government officials and other external stakeholders. 
Airport managers are ultimately responsible for the effective and efficient functioning of the airport, which includes security; managing air, noise and water pollution; runway and terminal maintenance, and even overseeing the activities of the airport's retail activities.
General Job Duties of This Profession
Although the duties that need to be performed vary from job to job, airport managers are generally responsible for the following:
• Acting as a media contact regarding present and future airport activities
• Maintaining effective working relationships with employees and government officials
• Coordinating any construction activities with City personnel, contractors, the general public and airport tenants
• Preparing recommendations and specifications for airport capital improvement and purchasing
• Acting in an advisory capacity to the Airport Advisory Committee and attend Airport Advisory Committee meetings
• Collecting monthly boarding lists from tenant airlines
• Collecting lease payments from rental car tenants, restaurant, and other tenants
• Directing and supervising department managers, such as the airside manager, landside manager, the safety manager and the environmental manager
• Maintain an effective working relationship with various agencies, including the FAA, EPA, as well as federal agencies, like local fire and transportation departments
Are You a Good Fit?
There's no sense pursuing a career that you're not a good fit for, as it can cost you a lot of wasted time and energy. To be well suited for a career as an airport manager, you need to have certain personal traits and characteristics, as well as professional interests, including:
• You're interested in a well-paying, demanding career in management
• You're willing to frequently sacrifice personal time
• You're willing to assume responsibility for the safety of airport passengers, personnel and other visitors
• You're willing and capable to delegate work to subordinates 
• You enjoy the idea of working in an airport environment, whether large or small
• You're willing and capable of keeping your with knowledge and compliance with federal/regional/local aviation regulations, laws and guidelines up to date
How Much do Airport Managers Make?
As with any other career field, the pay that airport managers receive can vary, typically depending on the following factors:
• Their professional qualifications (education, experience, etc.)
• The budget and discretion of their employer
• The region in which they work
• The scope of their job duties and specific responsibilities
• The size of the facility the manage
Unfortunately, there is no salary information available for the specific career of Airport Manager, so we have used salary data from closely related fields.
Airport Manager Salary - Canada (Alberta figures only): According to the 2015 Wage and Salary Survey of the Government of Alberta, the average salary level of Albertans working in the Fund Operations Managers (closely related field) occupational group is $94,698 per year. There is no salary information available from reliable sources for the rest of Canada, at the time of writing.
Alumni Relations Officer Salary - United States: According to the United States Bureau of Labor Statistics, the median salary level of Americans working in the General and Operations Managers (closely related field) occupational group is $123,460 per year.
Who Creates Jobs in This Field?
Airport managers are most commonly employed by private airports, but they may also be employed directly by the municipal governments of cities or towns. They may run large commercial passenger airports, cargo airfields, general aviation airports, and military airfields. 
Job Postings - Current Opportunities
Our job below board has "Airport Manager" postings in Canada, the United States, the United Kingdom and Australia.
Work Environment 
As with many high level management positions, work-life balance may be difficult to achieve, as the responsibilities of an airport manager are so broad, with so many reporting staff and departments, that the work essentially never ends. An airport manager would also have to be available to help respond to any emergencies that arise, which could be of any variety.
The work would technically be office based, but could involve a lot of movement within the airport to help out in areas that need it, as well as attend meetings and check in on areas under construction. The work would almost certainly be very fast-paced.
Similar Careers in Our Database
Listed below are careers in our database that are similar in nature to Airport Manager, as they may be in the same field, or they may involve many of the same skills, competencies and/or responsibilities.
• Airline Customer Service Agent
• Mayor
Relevant Scholarships
The Relevant Fields of Study section below shows fields of study relevant to a career as an Airport Manager. You can search for scholarships matched to those fields of study on our Management Scholarships page.
Success Tip: Be sure to apply for any scholarships that you even barely qualify for, as there are millions of dollars of scholarships that go unused every year due to a lack of applicants!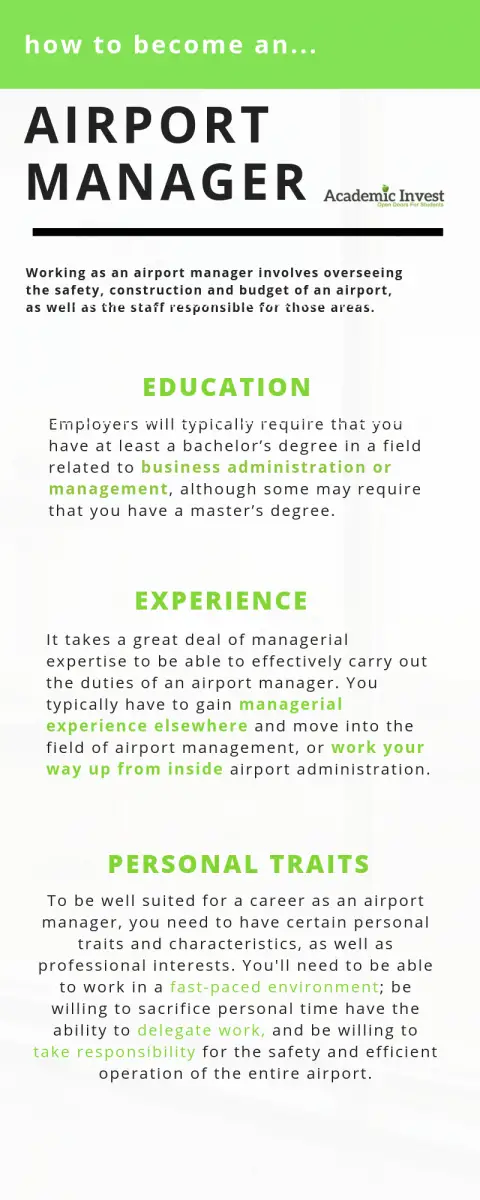 References
Please consult the following resources to learn more about what it takes to become an airport manager:
• Careers: "Operations Manager." (January 28, 2013). Government of Alberta - Alberta Learning and Information Service. Retrieved Sept. 28, 2018.
• The Balance Careers: "Aviation Career Profile: Airport Management & Administration." Sarina Houston. (July 8, 2018). The Balance. Retrieved Sept. 28, 2018.
• Occupational Employment Statistics: "General and Operations Managers." (May, 2017). United States Bureau of Labor Statistics. Retrieved Sept. 28, 2018.
• What They Do: "Airport Managers." (n.d.). College Foundation of North Carolina. Retrieved Sept. 28, 2018.
Relevant Fields of Study
Studying one of the college/university majors listed below can be helpful for becoming an airport manager. Click on the links to find out what else you can do with these majors!