If you want to become an architect, you first need to determine if this career path is a good fit for your skills, interests and personality traits:
• Are you interested in designing aesthetically pleasing and functional buildings and structures?
• Do you have strong conceptual design skills?
• Do you have a 'no-nonsense' approach to business activities?
• Are you able to keep projects on time, on budget, and to specifications?
• Are you able to see how the individual parts of a structure relate to one another?
• Do you have the discipline and stamina needed to fulfill licensing requirements?
Below we've outlined what you'll need to begin a career in this field. We've also included helpful information for this career, such as job description, job duties, salary expectations, a list of possible employers and much more!
What is an Architect?
An architect is a licensed professional trained in the art and science of the design and construction of buildings and structures that provide shelter; places where people live, work, play, learn, shop and eat, among other things. Architects can be commissioned to design anything from a single room in a hospital to an entire complex of apartment buildings.
An architect is not only concerned with the aesthetic and look of the buildings or structures they design; they must also design buildings with the public's health, safety and welfare in mind. They must ensure their buildings are functional, safe, economical, and suit the needs of the intended users or occupants. They must also ensure that they conform to local and national building codes and regulations.
Architects may work on many different types of projects, or they may specialize in the design of certain types of buildings, including:
• Residential buildings (single or multi-family homes, low or high-rise apartments, etc.)
• Commercial buildings (office buildings, shopping malls, strip malls, etc.)
• Institutions (churches, schools, hospitals, etc.)
• Historic rehabilitation or conservation (restoring or re-purposing older buildings)
• Special purpose buildings (concert halls, arenas, art galleries, etc.)
Education You'll Need
The first step towards becoming an architect in Canada or the United States is completing the educational requirements.
Educational Requirements - Canada: There are two ways to complete the educational requirements in Canada. The first is to complete a degree in architecture from a university program accredited by the Canadian Architectural Certification Board (CACB). The alternative way to become an architect is through the Syllabus Program offered by the Royal Architectural Institute of Canada (RAIC). The Syllabus Program is accepted in Canada as equivalent to a Professional University Degree in Architecture.
Educational Requirements - United States: Earning a professional degree in architecture is the typical path to becoming an architect in all American states. A professional degree may be either a Bachelor of Architecture (B.Arch) or Master of Architecture (M.Arch) degree. The professional degree must be from a program accredited by the National Architectural Accrediting Board (NAAB).
Gaining the Proper Experience - Internship Programs
The second step for getting into this field, is to gain relevant work experience by completing an internship program prior to qualifying for professional licensure.
Experience Requirements - Canada: To become a licensed architect in Canada, you must first complete the Internship in Architecture Program. This program is offered through the associations of architects in each province. Those who are accepted into this program must find a licensed architect to act as a mentor throughout the internship period. Intern architects in Canada typically need 3 years to complete this program.
Experience Requirements - United States: It is a requirement of every state architectural licensing board in the United States that architecture graduates complete a paid internship, typically of about 3 years in duration, before they can qualify to write the Architect Registration Exam.
Most new architecture graduates complete their training period by working at architectural firms through the Intern Development Program (IDP). Architecture students who complete internships while they are still students can count some of that time toward the training period.
Licensure Needed
The third step towards becoming an architect in Canada or the United States is to get licensed by the licensing body of that province or state. Licensure in architecture exists to help keep the public safe, and to maintain high standards in the practice of architecture. As with other professional fields, such as medicine and law, architects are legally responsible for the decisions they make, and are accountable to the regulating bodies that license them.
Licensure for architects in any state or province requires candidates to first pass a qualifying exam. In order to qualify to write the exam, candidates must first complete the educational and internship requirements. In Canada, The Examination for Architects in Canada (ExAC) is the examination that candidates must pass in order to become registered architects. In the United States, candidates must pass the Architect Registration Examination (ARE).
Those who work in architecture and are not registered as a professional architect may still work under the supervision of a registered architect.
Architect Job Description
Gaining an understanding of the project: To design a building or other structure, architects must begin by discussing the desired outcomes, requirements, and budget of a project with clients that have commissioned their work, or the work of the firm they represent.
Preparing an initial proposal: Once an architect has gained an understanding of the client's needs, they will prepare and present an initial project proposal, which typically includes rough sketches and cost estimates of two or three different design options.
Refining the design: Once the client has selected an option, the architect must then work with the client to refine the design they have chosen, and update the cost estimates and schematics based on modifications made to the design.
Preparing final plans and drawings: At this point, the architect will produce full construction plans and drawings, commonly referred to as "blueprints". In addition to demonstrating what the completed building will look like, these finalized plans and drawings include technical specifications and details of building systems, such as electrical, plumbing, and others. These plans will also be used for bidding, construction, and permit application.
Assisting with the project bidding process: The architect will also likely help their client develop a list of qualified contractors for their bid list and help with submitting bid packages to bidders. The architect will likely also be involved in reviewing submitted bids and helping the client compare the cost figures that they receive from their bidders.
Construction phase: During the construction phase of the contract, the architect regularly inspects the building progress in order to ensure that it is being carried out in accordance with the contract. The architect will typically not certify payment unless the work of contractors complies with the specifications and drawings.
Typical Job Duties
• Visit proposed building site and review land use bylaws
• Confer with clients to gain a thorough understanding of their project needs and desires
• Maintain awareness of the spatial relationships of the interior, structural, electrical and mechanical systems of the building
• Prepare estimates of construction costs based on information obtained from contractors
• Prepare sketches of proposed layouts and present to clients
• Make recommendations to clients relating to energy efficiency and sustainability in terms of building design, operation and maintenance
• Use computer-aided design and drafting (CADD) and building information modeling (BIM) software to prepare finalized plans
• May help clients get construction bids, select contractors, and negotiate construction contracts
• Liaise with engineers, contractors, surveyors and other professionals
• May visit building site during construction to ensure that contractors follow the design, budget, schedule, and quality standards
Who Employs Architects?
Architects may be employed, or self-employed, on a full-time, part-time or contractual basis by the following types of organizations:
• Small, medium and large architectural firms
• Government agencies
• Large commercial or industrial organizations
• Real estate management or development companies
• Construction companies and general contractors
• Self-employment (as an owner of a firm or a contractor)
Who Commissions Architects? Who Are Their Clients?
The clients of architects are those who commission an architectural firm or self-employed architect to work on small or large design projects. The commission may involve the design of a single building or a group of buildings, as well as the spaces in between them. Clients of architects and architectural firms may include:
• Families
• School board
• Private companies
• Housing authorities
• Government departments
• Building contractors
What is the Income Level in This Profession?
The earnings of architects can vary depending on their personal qualifications, their area of specialization, the size and type of their employer (including whether they are self-employed or not), and many other factors.
Salary - Canada (Alberta): According to the 2016 Alberta Wage and Salary Survey (latest figures available as of time of writing, which is June 3, 2019), Albertans working in the Architects occupational group earn an average salary of $80,216 per year. Unfortunately, no similar statistics were available from reliable sources for other Canadian provinces or territories. 
Salary - United States: According to the United States Bureau of Labor Statistics, the median salary level of American workers in the Architects occupational group is $73,090 per year. The BLS also notes that the lowest 10% of salaries in this group are below $44,600, and the top 10% are above $118,230 per year.
Skills Needed to Be Successful
Designing buildings to be aesthetically pleasing, economical, functional and well suited for its intended use takes a highly trained and versatile professional. To be effective and successful in a career as an architect, you will need a certain set of design, engineering, communication and management skills, including:
• Hand-drawing and sketching skills
• Demonstrate strong conceptual design skills
• Proficient with computer-aided design and drafting (CADD) and building information modeling (BIM) software
• Proficiency in MS Office, Adobe Suite, and Sketch
• Thorough knowledge of building construction and building systems (such as electrical and mechanical)
• An understanding of local and national building laws, codes and regulations
• Able to see how the individual parts of a structure relate to one another
• Able to design spaces that fulfill the complex needs of clients and users
• Able to effectively communicate vision to clients, team members and other professionals both verbally and through design plans
Characteristics Needed
To be successful, and experience a high degree of career satisfaction, you need to have certain personality traits. These personal attributes align well with the job duties of an architect, and will allow you to take enjoyment out of your career.
• An interest in designing aesthetically pleasing and functional spaces
• An interest in building materials and technology
• An awareness of social trends
• Artistic imagination and creative vision
• Psychological understanding of ethical practice in architecture
• An interest in keeping projects on time, on budget, and to specifications
Job Postings - Current Opportunities in Your Area
Our job board below has "Architect" postings in Canada, the United States, the United Kingdom and Australia.
Career Advancement in This Profession
Architects with sufficient career experience and a well-developed skill set have a variety of career options available to them with regards to focusing on an area specialization, or moving into other careers related to architecture in some capacity. For example, experienced and skilled architects may become:
• Project designers
• Associates or partners in larger architectural firms
• College or university professors
• Architecture researchers
• Architecture writers or critics
Similar Career Profiles in Our Database
Listed below are careers in our database that are similar in nature to architect, as they may involve many of the same skills, competencies and responsibilities.
References
Please consult the references below to find more information on the various aspects of a career in this field.
Occupations in Alberta: "Architect." (March 31, 2019). ALIS website - Alberta Learning Information Service. Retrieved October 23, 2019.
Occupational Outlook Handbook - Architecture and Engineering: "Architects." (September 4, 2019). United States Bureau of Labor Statistics website. Retrieved October 23, 2019.
Articles: "Becoming an Architect." (n.d.). Royal Architecture Institute of Canada website. Retrieved October 23, 2019.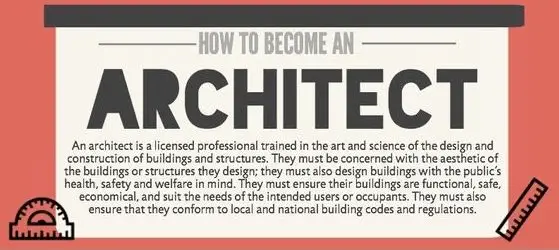 Scholarships for Becoming an Architect
Scholarships listed for majors that apply to becoming an architect can be found on our Architecture Scholarships and Any Field of Study Scholarships pages.
Success Tip: Be sure to apply for any scholarships that you even barely qualify for, as there are millions of dollars of scholarships that go unused every year due to a lack of applicants!
Relevant Fields of Study
Studying one of the university majors listed below is an excellent starting point for getting into this line of work. Click on the links to find out what else you can do with these majors!