How to Become a Marine Biologist: Career Guide
To become a marine biologist, you need to begin by determining if a career in this field is right for you.
If you're interested in a lucrative career that involves adventurous field research, the ability to apply scientific principles and allows you to study organisms in their natural habitat, then a career as a marine biologist might be perfect for you.
Below we've outlined what you'll need to succeed in a career as a marine biologist. We've also included helpful information for a marine biologist career, such as job description, job duties, salary expectations, a list of possible employers and much more!
Education Needed to Become a Marine Biologist
To gain an entry-level job in marine biology, you need to have a Bachelor of Science degree in marine biology or a related field such as biochemistry, biology, botany, ecology, microbiology or zoology.
Depending on the requirements of the employer, a Master's degree in marine biology is typically sufficient for many applied research positions. To become a marine biologist who works in research and university teaching positions a PhD in marine biology is needed. Marine biologists must also complete continuing education throughout their careers in order to keep their skills current stay up to date with advancements in the field.
Marine Biologist Job Description
Marine biologists are responsible for understanding marine life by studying the distribution, abundance and life histories of animals and plants in the sea, and how these aspects are governed by environmental factors.
Marine Biologist Job Duties
• Conduct research for the purpose of understanding the various forms of life that dwell within the sea
• Conduct controlled experiments and observe how certain factors work within that environment
• May work in a laboratory or in the field for the purpose of conducting experiments and observation
• Analyze and interpret findings
• Prepare reports based on findings
• Identify and classify forms of marine life
Who Hires Marine Biologists?
Marine biologists are hired by a variety of organizations, although their ability to find work may depend greatly on where they live. Larger cities near the east and west coasts of Canada and the United States typically employ the most marine biologists.
Marine biologists who have a B.Sc. may be employed as technicians, biologists or educators by the following types of organizations:
• University research laboratories
• Industrial research centres
• Private companies, such as seaweed growing companies
• Government research laboratories or marine stations
• Marine biology consulting companies
• Aquariums and zoos
• Non-profit environmental advocacy organizations
• Eco-tourism companies
Marine Biologist Salary
The salary level of marine biologists can vary greatly depending on a wide variety of factors, such as where they work, their level of education and experience, their reputation, and many other factors. Their salary level can also depend on if they are employed by a private sector organization, a government agency or a non-profit organization.
Marine Biologist salary Canada: According to ECO Canada, marine biologists working in entry-level positions make and average salary of $44,000 per year. ECO Canada also reports that with several years of experience and education, marine biologists typically earn between $64,000 and $78,000 per year.
Marine Biologist salary in the United States: According to the United States Bureau of Labor Statistics, those working in the Zoologists and Wildlife Biologists occupational group earn a median annual salary of $57,430 (2010 figures).
Characteristics of Successful Marine Biologists
To become a successful marine biologist, there are certain personality traits you need to have, including:
• An interest, curiosity and appreciation for different forms of marine life
• An interest in the scientific process
• Ability to use logic and reasoning to solve problems
• Enjoy conducting research and synthesizing information
• Must enjoy working with specialized equipment and instruments
• Stamina and endurance, applicable to long hours of fieldwork
• Attention to detail and excellent observation skills
• Must have an inquiring mind, and enthusiasm for work
• Must be committed to producing unbiased research results
• Strong organizational skills and ability to keep detailed records
• Ability to excel in a team environment and effectively deal with difference in opinion
Work Environment for Marine Biologists
The work settings, conditions and duties of marine biologists can vary greatly from one assignment or one employer to the next. Below are examples of the primary types of settings for marine biologist careers:
Office: Marine biologists working in an office setting provide advice and counsel to businesses, environmental groups or government agencies. Marine biologists that work in office settings typically work during normal weekday hours.
Classroom: Marine biologists that work as teachers or professors in a classroom setting do so to conduct lectures, grade papers and advise students. They have working hours that can fluctuate from very few hours a week to a very heavy workload. They may work normal weekday working hours with extra hours put in for preparing lesson plans, grading papers and performing other duties during evenings and weekends. Some marine biologists that teach in universities and colleges may teach classes exclusively, or they may be involved in research as well.
Laboratory: These marine biologists spend the majority of their time conducting, documenting and analyzing research in a laboratory setting. Working in a laboratory typically involves working with hazardous organic materials and inorganic chemicals. Marine biologists who conduct laboratory work typically work during normal weekday hours.
Field work: Field–based marine biologists are involved in the identification and documentation of species, ecosystems and habitats, as well as the collection of biological samples. Marine biologists who perform work in the field are subject to a variety of weather conditions and work hazards. Their work may also involve being inside of aquariums or traveling for long periods of time on research ships and vessels.
Please Note: Marine biologist duties may vary; a marine biologist who conducts fieldwork also likely spends a great deal of time in a laboratory or office setting when they are not busy with a fieldwork assignment
Careers Related to Marine Biologist
Listed below are careers in our database that are similar in nature to Marine Biologist, as they may involve many of the same skills, competencies and responsibilities.
References: Marine Biologist Career
Please use the references below to find more information on the various aspects of a career as a marine biologist.
Occupations in Alberta: "Biologist." (March 31, 2019). ALIS website - Alberta Learning Information Service. Retrieved January 1, 2020.
Life, Physical, and Social Science: "Zoologists and Wildlife Biologists." (December 3, 2019). Occupational Outlook Handbook - United States Bureau of Labor Statistics website. Retrieved January 1, 2020.
Career Profiles: "Marine Biologist." (n.d.). ECO Canada website. Retrieved January 1, 2020.
Get Your Degree!
Find schools and get information on the program that's right for you.
Powered by Campus Explorer
Scholarships for Becoming a Marine Biologist
Scholarships in Canada and the United States listed for majors that apply to becoming a Marine Biologist can be found on our Biology Scholarships page.
Success Tip: Be sure to apply for any scholarships that you even barely qualify for, as there are millions of dollars of scholarships that go unused every year due to a lack of applicants!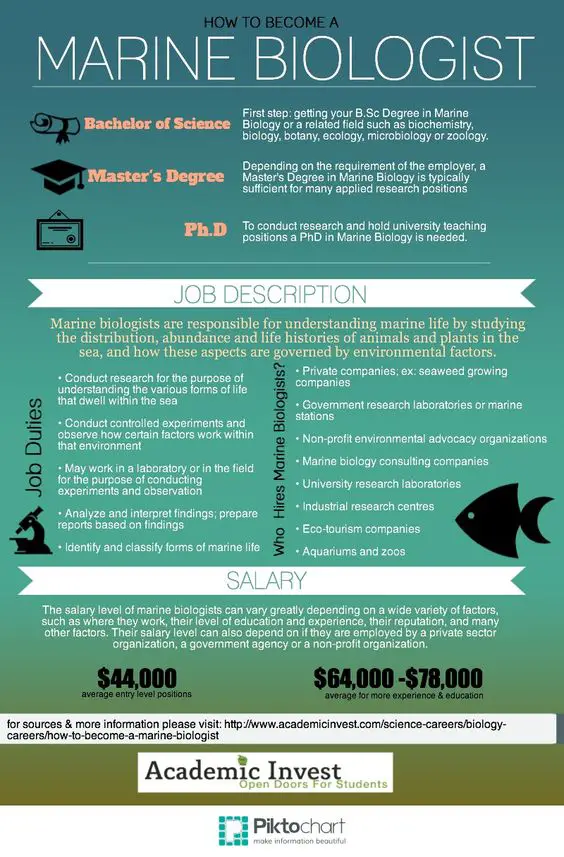 Becoming a Marine Biologist: Applicable Majors
Studying one of the university majors listed below is an excellent starting point to becoming a Marine Biologist. Click on the links to find out what else you can do with these majors!