How to Become a Neurologist: Career Path Guide
If you want to become a neurologist, you first need to determine if this career path is a good fit for you. If the following description sounds like you, then you're probably well suited for a career as a neurologist:
Those who become neurologists are caring, compassionate and empathetic individuals who have a desire to serve and treat patients. They must be strong in academics, and have a natural aptitude in various fields of science.
They are typically self-motivated individuals who have the intellectual and emotional fortitude necessary to survive the pressures and long hours of medical practice. Aspiring neurologists must also be willing to study throughout their career to keep up with advances in their field.
Below we've outlined what you'll need to begin a career as a neurologist. We've also included helpful information for this career, such as job description, job duties, salary expectations, a list of possible employers and much more!
Education Needed to Become a Neurologist
Although educational requirements may vary by region, to become a neurologist you typically need to fulfill the following educational requirements:
• Complete pre-medicine study at the bachelor's level
• Complete a three or four year Medical Doctor (MD) degree program at an accredited university
• Complete a one-year internship in either internal medicine or in medicine & surgery
• Complete at least 3 years of specialty training in an accredited neurology residency program
Neurologist Job Description
Neurologists study the biology of the nervous system to determine how it functions in order to treat various neurological disorders such as strokes, Parkinson's disease, schizophrenia and Alzheimer's disease.
In order to diagnose and treat such disorders, neurologists must perform neurological examinations of the nerves in the head and neck; muscle strength and movement; balance, ambulation, and reflexes; and sensation, memory, speech, language, and other cognitive abilities. Their work is crucial in restoring health to the nervous systems of patients. 
Neurologist Job Duties
• Study the structure and development of the nervous system
• Study how the nervous system affects neurological functions and behaviour
• Conduct experiments involving either human or animal subjects using electrodes, brain scans, injected dyes and other tools
• May liaise with government agencies on certain research projects
• May work with colleagues and other professionals to develop pharmaceutical products to treat neurological disorders
• Keep comprehensive notes during research activities
• Analyze results of research
• Prepare detailed reports on findings
• Present reports to relevant parties and stakeholders, and may use results to lobby for legislative action
• May be involved in teaching neurobiology
Where Do Neurologists Work?
Neurologists typically work in a research or healthcare services capacity. The following types of organizations typically employ the skills, knowledge and competencies of neurologists:
• Universities and colleges
• Healthcare facilities, such as clinics and hospitals
• Psychiatric treatment facilities
• Government agencies
• Medical and healthcare product manufacturing companies
Preparing for a Career in Neurology While in School
If you're a high school or university student and you want to become a neurologist, it's best to start planning as soon as you can. Below are some things you can do to work towards your future career as a neurologist while you are still a student.
First and second year of undergraduate studies (freshman and sophomore years):
• Pursue chemistry, biology, physics and organic chemistry coursework
• Speak to your school's career advisors about your career ambitions
• Join a medicine-related student organization
• Speak with your doctor about your career ambitions
• Consider job shadowing and /or volunteer experience
• Attend career fairs at your school
Third year (junior year):
• Research possible medical schools
• Complete medical prerequisite requirements by end of 2nd semester
• Make preparations for the MCAT (Medical College Admission Test)
• Apply for admission at least a year in advance
• Gather letters of evaluation and recommendation from faculty and others
Final year (senior year):
• Participate in "mock" interview practice with Career Services staff before medical school admissions interviews
• Research sources of financial aid, and complete necessary forms
• Send thank you notes to evaluators, advisors and mentors
Neurologist Salary: How Much Do Neurologists Earn?
The salary level of neurologists can vary greatly depending on many factors, such as their level of experience, their level of education, the facility or organization they work for, whether or not they work within a private or public healthcare system, and many others.
Neurologist Salary Canada: According to Service Canada, workers in the Specialist Physicians occupational group earn an average annual salary of $172,485 per year.
Neurologist Salary United States: According to the United States Bureau of Labor Statistics, salaries of workers in the Physicians and Surgeons occupational group are among the highest amounts of all occupations. The median salary of doctors who practice in medical specialties have a median annual salary of $356,885 (2010 figures).
Work Environment for Neurologists
Hospital/Clinic Setting: Neurologists that work in a hospital or clinic setting provide care, advice, treatment and support to patients. They need to have an empathetic, caring and helpful approach to their work activities. The work schedule of these neurologists can vary greatly.
Laboratory: Neurologists that work in laboratories, typically spend the majority of their time conducting, documenting and analyzing research. Working in a laboratory may involve working with hazardous organic materials and inorganic chemicals, as well as specialized equipment. These neurologists typically work during normal weekday hours.
Classroom: Neurologists that work in a classroom setting typically conduct lectures, grade papers and advise students. They have working hours that can fluctuate from very few hours a week to a very heavy workload. They may work normal weekday working hours with extra hours put in for preparing lesson plans, grading papers and performing other duties during evenings and weekends. Some neurologists that teach in universities and colleges may teach classes exclusively, or they may be involved in research as well.
Careers Similar to Neurologist
Listed below are careers in our database that are similar in nature to Neurologist, as they may involve many of the same skills, competencies and responsibilities.
• Doctor
References: How to Become a Neurologist
Please use the references below to find more information on the various aspects of a career as a neurologist in Canada as well as in the United States.
Occupations in Alberta: "Specialist Physician." (March 24, 2015). ALIS website - Alberta Learning Information Service. Retrieved January 5, 2020.
Healthcare: "Physicians & Surgeons." (September 10, 2019). Occupational Outlook Handbook - United States Bureau of Labor Statistics website. Retrieved January 5, 2020.
Science & Engineering Careers: "Neurologist." (n.d.). Science Buddies website. Retrieved January 5, 2020.
Tools & Resources for Medical Students: "Your Career in Neurology." (n.d.). American Academy of Neurology website. Retrieved January 5, 2020.
Get Your Degree!
Find schools and get information on the program that's right for you.
Powered by Campus Explorer
Scholarships for Becoming a Neurologist
Scholarships listed for majors that apply to becoming a Neurologist can be found on our Biology Scholarships and Psychology Scholarships pages.
Success Tip: Be sure to apply for any scholarships that you even barely qualify for, as there are millions of dollars of scholarships that go unused every year due to a lack of applicants!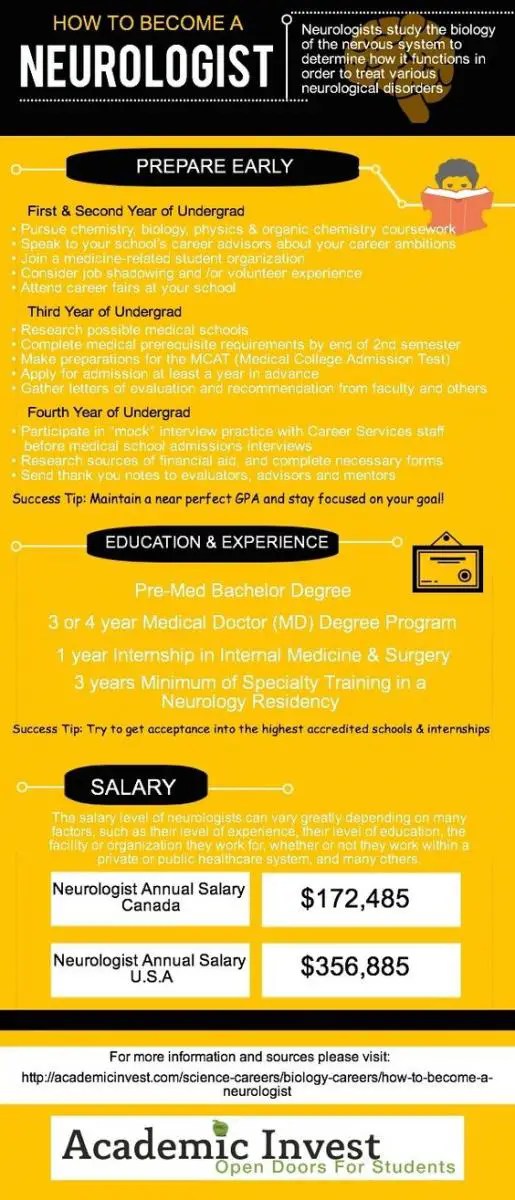 Becoming a Neurologist: Applicable Majors
Studying one of the university majors listed below is an excellent starting point to becoming a neurologist. Click on the links to find out what else you can do with these majors!