Chemists are typically individuals who are detail-oriented, have a high degree of mental focus and discipline, and they have a natural aptitude in chemistry, mathematics and statistics. They are individuals that have a keen interest in the art and science of determining what matter is composed of, and how it interacts with its surroundings.
To become a chemist, you will also need the emotional and intellectual capacity to complete all of the necessary academic work. You will also need a high stress tolerance, as this is required for when you don't achieve immediate results in your work.
To be successful in this field, you must be comfortable working in a laboratory setting, and you should be comfortable sharing your opinions and findings with others. You will also need a good amount of manual dexterity in order to accomplish many tasks in this career, such as performing tests and using specialized equipment.
Below we've outlined what you'll need to begin a career as a chemist. We've also included helpful information for this career, such as job description, job duties, salary expectations, a list of possible employers and much more!
Education Needed to Become a Chemist
To get into this field, it's crucial to take coursework that will help you develop a core set of skills in organic chemistry, inorganic chemistry, chemical analysis, and other core areas of chemistry. In addition to developing knowledge and skills in chemistry, it is also important to develop basic knowledge and skills in other sciences, such as biology and physics.
As a chemist, it is also very important to have communications and computer skills; pursuing coursework in the liberal arts, communications and computer science may be extremely helpful for your future career as a chemist. 
Earning a bachelor's degree in chemistry, organic chemistry, medical chemistry, biochemistry or chemical engineering is typically the minimum requirement to get an entry-level job in chemistry, such as Research Assistant.
If you aspire to eventually complete your own research projects, or direct others in applied research, you will likely need a master's degree in chemistry or a closely related field such as biochemistry or medical chemistry. Some employers may require you to have a Ph.D. in a highly specialized area, depending on what your responsibilities and field of activity will be.
Success Tip: Many students will also complete post-doctorate work in an area in which they seek to specialize, such as medical chemistry, environmental chemistry, biological chemistry, materials chemistry, chemical analysis or other areas.
What is a Chemist? General Job Description
Chemists discover and apply knowledge of the properties, composition and principles of elements and compounds to a wide range of products and processes, such as the development of new fuels, pharmaceutical products or foods.
Duties Typical to the Job
• Analyze, synthesize, purify, modify and characterize various chemical compounds
• Develop quality control programs for raw materials, chemical intermediates and final products
• Write and edit technical material for books, journals, reviews, reports and other publications
• Liaise with scientists from other disciplines for research and development projects
• Record detailed notes during the research process
• Oversee the purchase and sale of chemicals and chemical compounds
• Research the synthesis and properties of chemical compounds and the mechanisms of chemical reactions
• Supervise the work of chemical technologists and technicians
• Study the chemical aspects of various processes and functions, such as drug action and organ function
Who Employs Chemists?
Chemists are employed in all aspects of chemical research, product development, teaching and regulation within industry, academia, and government. They are employed on a full-time or contractual basis for such organizations as:
• Universities and colleges, including medical schools
• Provincial/state and federal government departments
• Biotechnology companies
• Pharmaceutical companies
• Agrochemical companies
• Forensic labs
• Hospital or clinical laboratories
• Food and beverage producing and packaging companies
• Conservation and other non-profit organizations
• Vendors of chemical instrumentation
• Cosmetic companies
• Oil, natural gas and mining companies
• Quality control laboratories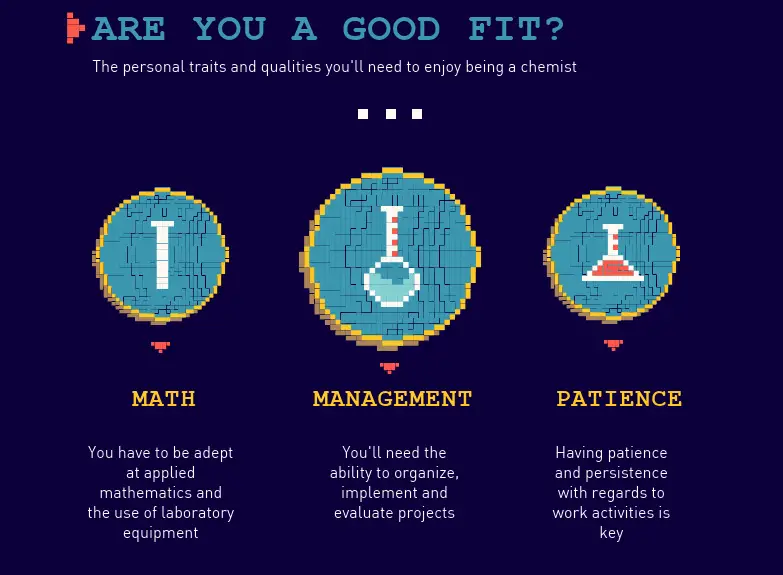 Skills and Traits You'll Need to Have
You'll need to posses certain skills and personality traits in order to do well in this profession. These skills and traits will not only allow you to conduct your job duties with competence and skill, they will also allow you to keep a positive attitude towards your work, and ultimately, towards your career. Such skills and traits include:
• The ability to strictly follow procedures without taking shortcuts
• The ability to effectively communicate with other team members
• The ability to evaluate new technologies
• Manual dexterity and hand-eye coordination
• Excellent attention to detail
• Problem-solving abilities to detect human and machine error
• The ability to take direction from others, and direct the work of others
• The ability to organize, implement and evaluate projects
• Patience and persistence with regards to work activities
• Familiarity with research methods
• Adept at applied mathematics and the use of laboratory equipment
• The ability to use statistical software and computer modeling tools
Chemist Salary Level
The salary level of chemists can vary based on many factors, such as their level of education, their area of specialty, where they work, their level of experience, the specific responsibilities of their job, and many others.
Chemist Salary - Canada (Alberta Figures Only): According to the 2018 Alberta Wage and Salary Survey, Albertans working in the Chemists occupational group earn an average salary of $79,450 per year. Unfortunately, there were no similar statistics available from reputable sources for the rest of Canada at the time of writing (July 3, 2019).
Salary - United States: According to the United States Bureau of Labor Statistics, the median annual wage of Chemists is $68,320 (2010 statistics). The lowest 10% of salaries in this group are less than $39,250, and the top 10% are more than $116,130 per year.
Work Conditions for Chemists
Office Setting: Chemists working in an office setting provide advice and counsel to businesses, environmental groups or government agencies. Chemists that work in office settings typically work during normal weekday hours, although they may work hours that extend into the evenings and weekends in order to complete work tasks.
Classroom Setting: Chemists working in a classroom setting typically conduct lectures, grade papers and advise students. They have working hours that can fluctuate from very few hours a week to a very heavy workload. They may work normal weekday working hours with extra hours put in for preparing lesson plans, grading papers and performing other duties during evenings and weekends. Some chemists teaching in universities and colleges may teach classes exclusively, or they may be involved in research as well.
Laboratory Setting: The majority of chemists work in a laboratory setting; they spend the majority of their time conducting, documenting and analyzing research. Working in a laboratory typically involves working with hazardous organic materials and inorganic chemicals. Chemists that work in a laboratory setting typically work during normal weekday hours, although their hours can fluctuate based on those of the laboratory the work in.
Chemist Jobs
Our job board below has "Chemist" postings in Canada, the United States, the United Kingdom and Australia.
Guides for Similar Careers
Listed below are careers in our database that are similar in nature to chemist, as they may involve many of the same skills, competencies and responsibilities.
References for This Guide
Please use the references below to find more information on how to become a chemist, and other details of this career.
Occupations in Alberta: "Chemist." (March 5, 2018). ALIS website - Alberta Learning Information Service. Retrieved November 3, 2019.
Life, Physical, and Social Science: "Chemists and Materials Scientists." (September 4, 2019). Occupational Outlook Handbook - United States Bureau of Labor Statistics website. Retrieved November 3, 2019.
The Profession: "How to Become a Chemist." AGCAS editors (January, 2018). Ordre Des Chimistes du Québec website. Retrieved November 3, 2019.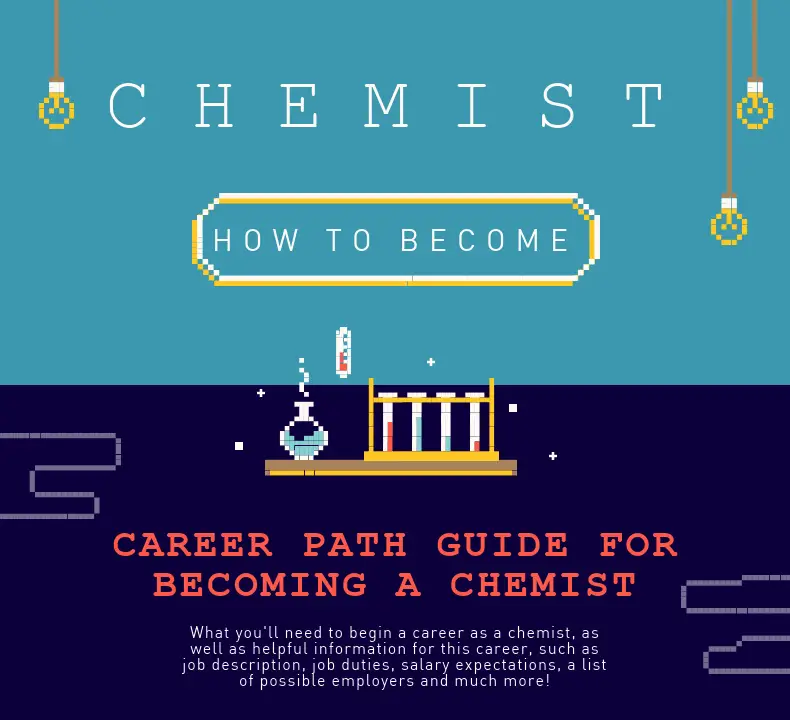 Scholarships for Becoming a Chemist
Scholarships in our database that are relevant for this profession are all of those that are found on our Chemistry Scholarships page.
Success Tip: Be sure to apply for any scholarships that you even barely qualify for, as there are millions of dollars of scholarships that go unused every year due to a lack of applicants!
Relevant Fields of Study
Studying one of the university majors listed below is an excellent starting point for getting started in this profession. Click on the links to find out what else you can do with these majors!