If you're interested in work that involves managing the relationship between an educational institution and its graduates, and insuring its current students can benefit in some way from that relationship, then becoming an alumni relations officer could be an appropriate career choice for you.
Alumni relations officers typically earn a good salary, and work within a structured work environment. They also have the opportunity to work within a small team, and communicate with a wide variety of university or organizational alumnus.
To get into this field, you'll likely need an undergraduate degree, preferably (although not required to be) in a field related to communications, marketing or the social sciences  Experience in these areas is also typically listed as a requirement, or at least as an asset, on Alumni Relations Officer job postings.
Experience You'll Need
Employers typically prefer to hire alumni relations officers that have work experience that will be relevant to the job duties they'll be performing, as it will mean less time to train them, and it'll give them confidence that the candidate will be able to competently perform those duties.
For this reason, work experience in any of the following fields, although not necessarily required, is often quite valuable if you're hoping to become an alumni relations officer:

• Marketing
• Communications 
• Public or governmental relations 
• University administration or marketing
• Event management
• Journalism

Please Note: A relevant combination of education and experience is typically what employers are looking for.
Education Required to Be an Alumni Relations Officer
Although the educational requirements can vary by employer, you typically need an undergraduate degree to enter this field. Typically, any field will be acceptable, although a degree in a field related to communications, marketing or the social sciences will be the most relevant.
Alumni Relations Officer Job Description
Alumni relations officers are typically responsible for planning, designing and implementing programs that are designed to keep alumni engaged with their alma mater. The programs they implement are designed to imbue alumni with school spirit, as well as increase the available resources of the school, financial and otherwise. 
For example, a program such as an alumnus mentoring program allows alumni mentors the opportunity to become reacquainted with their alma mater and offers current students career guidance, insight and contacts.
General Job Duties of This Career
In general, alumni relations are responsible for performing the following functions:
• Creating programs that teach students the importance of giving back to their college or university, and facilitate the transition of graduates into engaged alumni
• Acting as a liaison between the college or university and its alumni
• Responding to alumni questions, concerns and suggestions
• Keeping alumni informed of news and new initiatives of the school
• Working with school administration to address any systematic issues that various alumni have identified
• Planning and coordinating fundraising activities, such as hosting fundraising dinners and creating e-mail solicitations
Are You a Good Fit?
There's no sense pursuing a career that you're not a good fit for, as it can cost you a lot of wasted time and energy. To be well suited for a career as an alumni relations officer, you need to have certain personal traits and characteristics, as well as professional interests, including:
• You're able to adhere to a structured work day, including a set schedule and fixed office location
• You thrive in work that involves clear rules and structured methods
• You are very well organized 
• You are comfortable communicating with others
• You are a good writer communication
• You have an interest in, and passion for, higher education
• You have the ability to build consensus, foster teamwork among a variety of stakeholders and lead integrated projects
• You have an interest in working as part of a small team
• You're interested in the challenge and opportunity of building high-value, impactful alumni engagement programming
• You have initiative and are persistent
• You're interested in engaging meaningfully with such a diverse group of people
• You're interested in the idea that your efforts to broker alumni engagements can create valuable opportunities for current students 
Average Salary Level
As with any other career field, the level of pay you could earn as an alumni relations officer can vary, typically depending on the following factors:
• Your professional qualifications (education, experience, etc.)
• The budget and discretion of your employer 
• The region in which you work
• The scope of your job duties
Alumni Relation Officer Salary - Canada (Alberta): According to the 2015 Wage and Salary Survey of the Government of Alberta, the average salary level of Canadians working in the Fund Development Professionals (closely related field) occupational group is $77,090 per year.
Alumni Relations Officer Salary - United States: According to the United States Bureau of Labor Statistics, the median salary level of Americans working in the Public Relations Specialists (closely related field) occupational group is $59,300 per year.
Please Note: As colleges and universities are the most common employer for alumni relations officers, strong financial, health and dental benefits are also common in this field. 
Who Creates Jobs?
Alumni relations officers are most commonly employed by colleges and universities, although they can also be employed by other types of organizations, such as:
• Amateur and professional sports teams
• Artistic production companies, amateur and professional 
• High schools, preparatory academies and other educational institutions
Job Postings - Current Opportunities
Our job below board has "Alumni Relations Officer" postings in Canada, the United States, the United Kingdom and Australia.
Similar Careers in Our Database
Listed below are careers in our database that are similar in nature to Alumni Relations Officer, as they may be in the same field, or they may involve many of the same skills, competencies and/or responsibilities.
• Advertising Account Executive
• University or College Administrator 
Career Advancement Possibilities 
With enough experience and a good reputation, working as an alumni relations officer can lead to advancement in the field, in positions of greater responsibility and pay, or positions outside of the field that involve similar duties, or utilize similar skills.
For example, you could go on to become an alumni relations manager, which would involve initiative planning, direction, staff supervision, and other duties. You could also potentially move into other areas of school administration, such as working in the registrar's office.
You could also make use of your skills in other industries, such as public relations, marketing or communications for private companies or government organizations.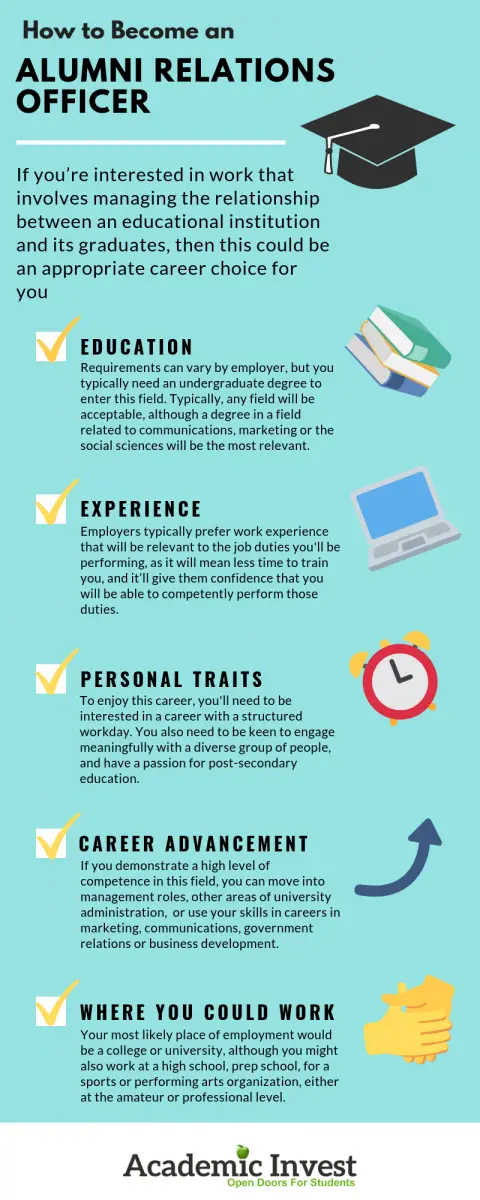 Scholarships for Becoming an Alumni Relations Officer
The Relevant Fields of Study section below shows fields of study relevant to a career as an alumni relations officer. You can search for scholarships matched to those fields of study on our All Scholarships by Major page.
Success Tip: Be sure to apply for any scholarships that you even barely qualify for, as there are millions of dollars of scholarships that go unused every year due to a lack of applicants!
References for This Career Guide
Please consult the following resources to learn more about what it takes to become an alumni relations officer:
• Higher Education Network: "Behind the Job Title: Alumni Relations Officer." (March 30, 2011). The Guardian. Retrieved Sept. 27, 2018.
• Careers: "Fund Development Professional." (March 9, 2015). Government of Alberta - Alberta Learning and Information Service. Retrieved Sept. 27, 2018.
• Career Advice: "Alumni Relations Officer." (January, 2012). Warwick University Services Limited. Retrieved Sept. 27, 2018.
• Occupational Outlook Handbook: "Public Relations Specialists." (July 2, 2018). United States Bureau of Labor Statistics. Retrieved Sept. 27, 2018.
*Please Note: Some of the information used in the creation of this career guide was sourced from actual job postings, which are not listed here as references due to the brief nature of their online availability.
Relevant Fields of Study
Studying one of the college/university majors listed below can be helpful for working in this field. Click on the links to find out what else you can do with these majors!