Although you may not have had a specific career in mind when you enrolled in an art history program, the skills you acquire throughout your course of study will open the doors to a multitude of career options; both in careers directly related to the degree, as well as those not directly related to it.
While it might not prepare you for a coding-intensive career at Google, it will allow you to gain plenty of skills that employers value. Skills such as critical thinking, aesthetic and design consciousness, and intensive research can be applied to careers that cover just about every industry.
Take a look at our "Job Board" below. It lists job openings in Canada and the United States that are relevant to a degree in this field, and other closely related fields.
More On What You Can Do with an Art History Degree
The job postings above provide real-world examples of what you can do with this degree. But how does this field actually help you get these jobs? Well, the short answer is, because of the skills it teaches you. As for the long answer, it can be found below!
This guide contains detailed occupational information on career paths relevant to an art history degree. Included are job descriptions, expected salaries, educational requirements and other pertinent information related to these careers. 
 
Employable Skills
This major provides you with a set of skills that is specific to the subject matter. These skills apply to careers that we consider to be directly related to art history:
• Visual, as well as verbal and written literacy
• Aesthetic and design consciousness
• Cross-cultural communication
• Historical or archival research methods
• Ability to think critically about art, the media, and the past
• An understanding of contemporary issues in the practice and display of art
Success Tip: By pursuing an internship opportunity in the field, you can be much more marketable to employers in art and art history specific careers. Depending on what kind of position you land, an internship can help you gain the following skills and experience:
• Museum and gallery publicity and public events organizing
• Facilitating discussion of art works and presenting in front of groups
• Experience documenting, preserving, and displaying historically valuable art and objects
• Experience working with others on team-oriented projects
Guides for Directly-Related Occupations
Now that you have an idea of what skills you can list on your resume, it's time to find out what careers you can pursue with your degree. The skills listed above are directly applicable to the following occupations:
• Arts Advocacy Agency Director
Other General Skills
Apart from the art history-specific skills you gain with this degree, you will also have the opportunity to acquire general skills. You can apply them to plenty of careers that are not directly related to your area of study. Such skills include:
• Critical thinking and analytical thought
• Presentation and public speaking skills
• Strong writing skills
• Comfort adapting content for different audiences and users
• Intensive and organized research
• Problem-solving and decision-making
• Attention to detail
• Time management
• Ability to work independently or in a team
• Listening and asking insightful questions
• Broad historical and cultural knowledge
• Creativity
Other Careers You Can Pursue
The general skills you'll gain could be applied to career fields such as these:
• Blogger
• International Student Advisor
• Mayor
*Please Note: Some of these careers may require further education and training
What Art History Students Learn
Art History is the study of the visual arts in civilization. Its reach encompasses literature, history, anthropology, sociology, philosophy, gender studies, critical theory, and cultural studies.
Such programs are typically designed to provide students with a broad overview of art history, and with a deeper understanding of particular areas and periods within it. Students must learn about history, politics, literature, philosophy and religion throughout various historical periods in order to properly place a work of art into its historical context.
It also examines changing values in all fields of visual culture and popular expression, including painting, sculpture, graphics, photography, architecture, film, and the mass media. 
An art history program typically enable students to:
• Examine historical perspectives on the visual arts
• Study the methodologies of art history and critical theory
• Consider contemporary issues in the practice and display of art
• Develop of global perspectives of the contemporary world
As a result of this knowledge, students gain:
• An understanding of the process of human creativity
• An appreciation of diverse art forms
• An understanding how to interpret our own culture, as well as other cultures and value systems of both the past and the present
• An understanding of our visual world
Why Graduates are Valued by Employers
Regardless of whether or not art history degrees are meant to prepare students for the workforce, they do a good job of it. Many employers see the value in having employees on their team whose broad education has provided them with an "outside the box" perspective to solving problems. In addition, the wide range of coursework that art history majors are subject to gives them a malleability that allows employers to teach them a variety of job specific skills.
For example, if a student can learn to write a screenplay to narrate Botticelli's life, or compare the approach of two leading art critics, they can certainly be taught to perform a variety of work related tasks also.
Pursuing an Internship: Gaining Valuable Work Experience
Many art history graduates are interested in working in museums or galleries, where gaining relevant work experience is crucial.
Even if your plans don't necessarily involve pursuing a career that requires you to have internship or work placement experience, these opportunities can be extremely valuable for your future.
This practical experience is extremely valuable, as it will make you a more competitive candidate in the working world; jobs in art galleries and museums included. It is valued as highly as the right knowledge and qualifications, and you should take any opportunity to carry out a work placement.
These opportunities may be arranged by school administration as part of your course. If they are not, talk to your professors and school career counselors about any opportunities they are aware of. Either way, try to gain as much of this experience as you can while you are still a student.
Success Tip: Try applying to small, local museums. They may not get as many work experience requests, and they can offer a wide range of experience in terms of the duties you can perform.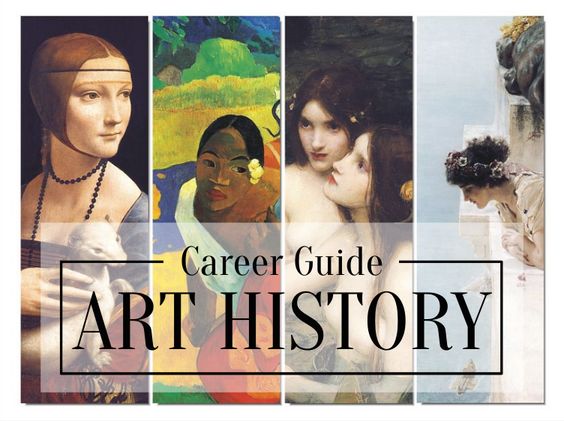 Relevant Scholarships
Search our scholarships database for Canadian and American art history specific scholarships.
Success Tip: Be sure to apply for any and all scholarships for which you qualify, as there are millions of dollars of scholarships in Canada and the United States that go unused every year due to a lack of applicants.
Professional Associations
The following organizations offer career-related information as well as job postings.
American Association of Museums: www.aam-us.org
Art Museum Network: www.artmuseumnetwork.com
College Art Association: www.collegeart.org