How to Become a Graphic Designer: Career Path Guide
If you want to become a graphic designer, you first need to determine if this career path is well suited to your skills and interests. If the following description sounds like you, then you're probably well suited for a career as a graphic designer:
• Do you enjoy creating visual concepts?
• Are you interested in graphics and graphic design software?
• Are you interested in the idea of self-employment or working from home?
Becoming a graphic designer is an excellent choice for those who want a career that allows them to leverage their natural ability to create visual representations of ideas and their skills with graphic design software, into a career that offers scheduling flexibility, the ability to become self-employed, and the ability to work from home.
Those who become successful as graphic designers are also customer service oriented individuals who have the ability to listen thoroughly to their clients' needs and objectives.
Below we've outlined what you'll need to begin a career as a graphic designer. We've also included helpful information for this career, such as job description, job duties, salary expectations, a list of possible employers and much more!
Education Needed to Become a Graphic Designer
The level of education you require to become a graphic designer will typically vary from employer to employer, although you typically need a diploma, an associate's degree or a bachelor's degree in graphic design, visual communication, or a closely related field.
Regardless of the level or type of degree you pursue, you will need to take courses such as studio art, principles of design, computerized design, commercial graphics production, printing techniques, and website design in order to become competent and technically qualified as a graphic designer.
It is also recommended that you pursue courses in writing, marketing, and business, as they are all useful in helping graphic designers work effectively on team-based and freelance projects.
Success Tip: If you have a degree in a different field, such as fine arts, you can pursue technical training in graphic design to meet most hiring qualifications
Graphic Designer Job Description
Graphic designers create visual concepts, by hand or using computer software, to communicate ideas that inspire, inform, or captivate consumers. Their skills and abilities are utilized to develop the overall layout and production design for such applications as advertisements, brochures, magazines, websites, logos and corporate branding.
Graphic Designer Job Duties
The job duties of a graphic designer can vary depending on their level of responsibility, the industry they work within, the size and type of their employer, and many other factors. In general however, graphic designers are responsible for the following:
• Consult with clients in order to gain a thorough understanding of their needs, objectives, target market, budget and schedule
• Analyze the project needs and problems, and develop visual solutions
• Prepare simple or full colour concept presentations for the client in order to gain their approval
• Utilize graphic design software and applications
• Prepare artwork or digital files for production
• Proofread any content related to the designs
• Direct the activities of photographers, illustrators or any other related professionals involved in the project
Experience You'll Need for this Career
Candidates for graphic design jobs should be able demonstrate their creativity and originality through a professional portfolio that features their best designs. A portfolio can also demonstrate a graphic designer's ability to understand their client's needs and objectives by displaying their work, as well as outlining what the communicated needs and objectives of the client were for each project.
Skills and Characteristics You'll Need
In order to become effective in a career as a graphic designer, you must posses a certain set of hard skills, soft skills and personality traits. These skills and traits will allow you to perform your job duties with competence, as well as overcome the challenges of this career.
Soft Skills
• Be able to gain a full understanding of their client's needs and objectives
• Able to work long hours and concentrate for long periods of time
• Able to do work that requires visual precision
• Good organization and time management skills
Personal Traits
• Be willing to stay up-to-date on the latest industry trends and techniques in order to stay relevant
• Have a thick skin and be able to accept professional criticism
• Enjoy working hard towards a product you and your client are proud of
• Have a passion for design
Hard Skills
• For every aspect of a design, you should be able to explain how and why you did what you did
• Able to work within a budget and manage multiple clients simultaneously
• Self-promotion and marketing skills
• Well-versed in graphic design software, such as Adobe Illustrator, Photoshop and others
Graphic Designer Salary: How Much Do Graphic Designers Earn?
The salary level of graphic designers can vary depending on their personal qualifications, the size and type of their employer, the specific responsibilities of their job, and many other factors.
Graphic Designer Salary Alberta: According to the 2011 Alberta Wage and Salary Survey, Albertans working as part of the Graphic Designers and Illustrators occupational group earn an average of between $20.38 and $32.15 per hour.
Graphic Designer Salary Canada: According to Service Canada, the average salary level of workers in the Graphic Designers and Illustrators occupational group is $35,846 per year.
Graphic Designer Salary United States: According to the United States Bureau of Labor Statistics, the median salary level of Graphic Designers is $44,150 per year. The lowest 10% of Graphic Designer salaries are below $26,250, and the top 10% are above $77,490 per year.
What Do Graphic Designers Produce?
Graphic designers may produce a wide variety of virtual and printed design products for individuals, businesses, non-profit organizations, sports teams, professional associations and virtually every other type of organization. These products include:
• Trademarks, corporate logos and brand logos
• Stationery and corporate identity materials
• Packaging and image design for consumer products
• Magazine advertisements
• Publication design for books and advertisements
• Promotional posters
• Sign and way-finding systems
• Website logos and graphics
• Film and video graphics
• Diagrams, maps and graphs
• Flyers, brochures and promotional materials
Who Creates Jobs for Graphic Designers?
Graphic designers are hired on a part-time, full-time and contractual basis by a wide variety of small, medium and large organizations, including:
• Corporate public relations departments
• Municipal, provincial/state and federal government departments
• Graphic design studios
• Film and television studios
• Advertising agencies
• Multimedia companies
• Web service companies
• Hospitals and health care institutions
• Industrial design studios
• Book publishing firms
• Architectural firms
• Newspapers and magazines
• Printing companies
• Self-employment (as freelancers)
• Colleges and universities
Graphic Designer Jobs
Our job board below has "Graphic Designer" postings in Canada, the United States, the United Kingdom and Australia.
Work Environment for Graphic Designers
Working Hours: Although there are traditional 9 - 5 jobs for graphic designers, many work outside of those hours. Many graphic designers also choose to work as freelancers, an employment option that allows them to work on their own time and in their own space. This is especially appealing to single parents hoping to work from home.
Work Conditions: The work of graphic designers can be rewarding at times, as it can be highly satisfying to 'wow' clients with the product or visual concept you've created. It can also be highly stressful however, such as when facing dissatisfied or difficult clients, or when facing tight deadlines. Graphic designers that work as freelancers may also find it exciting to watch their client base and business grow, although it can be quite stressful during times when paid projects are few and far between.
Work Setting: Some graphic designers work in an office setting, although many work from home. Since graphic design typically only requires a laptop and a set of verbal or written ideas from which to base their visual concepts, graphic designers can work from virtually anywhere. Even graphic designers who work from home may be required to do some traveling from time to time, in order to meet with clients, photographers and other professionals.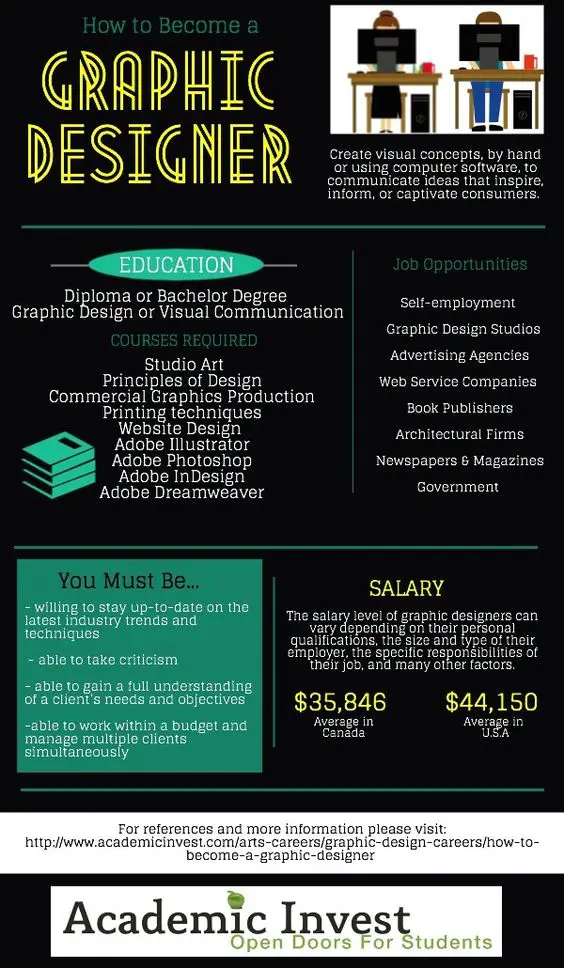 Careers Similar to Graphic Designer
Listed below are careers in our database that are similar in nature to Graphic Designer, as they may involve many of the same skills, competencies and responsibilities.
References: How to Become a Graphic Designer
Please consult the references below to find more information on the various aspects of a career as a Graphic Designer.
Alberta Learning and Information Service website: alis.alberta.ca
Rasmussen College website: www.rasmussen.edu
United States Bureau of Labor Statistics website: www.bls.gov
Scholarships for Becoming a Graphic Designer
Scholarships listed in Canada and the United States for majors that apply to becoming a Graphic Design can be found on our All Scholarships by Major page.
Success Tip: Be sure to apply for any scholarships that you even barely qualify for, as there are millions of dollars of scholarships that go unused every year due to a lack of applicants!
Becoming a Graphic Designer: Applicable Majors
Studying one of the university majors listed below is an excellent starting point to becoming a Graphic Designer. Click on the links to find out what else you can do with these majors!