If you're looking to work in the film industry, a degree in this field won't guarantee you success, although it can certainly help put you on the right path.
If it isn't what you're after, or is but doesn't work out for you, don't fret - all hope of finding work with your degree is not lost. A degree in film studies can open doors to so many different career options because of the variety of skills it enables you to learn.
What You Can Do with a Film Studies Degree
Through a unique combination of 'hands-on' and theoretical coursework, a film studies degree gives you a liberal arts education, while allowing you to develop specialized employable skills applicable to the film industry, and an understanding of various cultures as well as many other 'soft' skills. This combination of attributes will allow you to pursue a wide variety of careers; those that are directly related to the degree, as well as those that are indirectly related to it. 
This guide contains detailed occupational information on career paths relevant to this degree. Included are job descriptions, expected salaries, educational requirements and other pertinent information related to these careers. So read on below to find out more about what this major can teach you, what skills you'll learn as a result, and what you can do with those skills.
What a Degree in Film Studies Teaches You
A degree in this field offers you the chance to learn about film history, theory and criticism, while also giving you hands-on experience learning about film-making.
In a film studies program, you typically study everything from mainstream Hollywood movies to art house movies, learning screenwriting, critiquing and directing along the way.
The Focus of Your Degree is an Important Factor
Careers within the film industry are fiercely competitive and opportunities to pursue one will depend on your the specific content of your degree, as well as any experience you are able to acquire.
For example, if your degree focuses more on hands-on film production skills as opposed to the appreciation, analysis and interpretation of films and film genres, then you are better-suited for pursuing a film career related to those production skills you have acquired. 
Employable Skills You'll Gain 
As a result of this coursework and practical experience, you'll have a chance to gain a set of skills that's specific to the subject matter. Although these skills are largely applicable to a broad range of careers, they're particularly relevant for careers in the film industry.
• Skills in interpreting a variety of literary and cultural works, including fiction, film, drama, poetry, non-fiction, and visual media
• An understanding of historical, political, cultural, and discursive frameworks determining film composition
• Awareness of the appropriate use and understanding of language to communicate ideas and information
• The ability to closely analyze both the language and the form of complex texts and images
• The ability to engage strategically with a variety of theories of writing, reading, and representation
• Knowledge of how language and literature shapes and reflects different cultures, societies and time periods
• The ability to comprehend information in the context of presentation, audience, time, place and purpose
• An understanding of social, cultural, political and historical perspectives of film and literature
• The ability to express clear critical arguments, both in scholarly writing and in oral communication
• The ability to conduct independent research, including evaluating print, audio-visual, and virtual resources
Professions Directly Related to Your Degree
Now that you have an idea of what skills you'll be able list on your resume, it's time to find out what careers you can use them for. Such careers include:
• Actor
• Film Distribution Coordinator
• Gaffer
• Narrator
• Personal Assistant to the Director
• Producer
Transferrable Employable Skills You Can Develop
Apart from the skills that are specific to the film industry, you can also acquire general, transferrable skills as a result of your studies. You can apply these skills to plenty of careers that are not directly related your degree.
Information Gathering and Communication Skills
• The ability to identify and access a wide range of information and resources
• The ability to comprehend and apply new and/or unfamiliar information to different situations and settings
• The ability to prepare interesting, creative and informative presentations that target diverse audiences
• The ability to develop attractive reports, presentations and materials using current technology
Thinking, Planning and Organizational Skills
• The ability to learn, understand and interpret information and apply knowledge to new situations
• The ability to set priorities, meet deadlines and effectively manage time, data and resources
• The ability to make well-reasoned decisions, think creatively and search for, identify and consider all sides of an issue
• The ability to effectively analyze and interpret a wide range of information and data
• The ability to discuss, support and/or reject ideas, opinions, reports, theories and proposals based on analysis
Teamwork and Management Skills
• Able to contribute to team goals through leading, teaching, motivating and/or encouraging others
• An understanding of how to successfully identify, plan and contribute to the goals of a project
• The ability to oversee, supervise and/or contribute to a project from beginning to end
Indirectly Related Careers
The general skills you'll gain can be applied to so, so many other careers. Below is a list of but a few:
• Blogger
Increase Your Employability: Consider a Double Major
In order to increase your chances of finding relevant employment, consider doing a second major in one of the following fields, as they can help you develop skills that are perennially in high demand with employers:
• Finance
Gaining Practical Career Experience as a Student
Pursuing a field placement opportunity (also known as an internship, field practicum or co-op opportunity) in career fields related to your major is the best way to gain relevant work experience while you are still a student. Experience that will go very far when you start looking for jobs after graduation. The benefits of a getting this experience include:
Meeting other people who share the same professional interests
Meeting others who share that same interests and passions as you in a work setting can be highly beneficial to your career. You can see them operate on daily basis, you can ask them what it is they like about what they do, you can learn how they got where they, and you can get idea of the dynamics of the environment they work in.
Making your own conclusions about a career in film studies
Have you heard rumors that it can be very hard to find work with a film studies degree? Have you heard that it's difficult to make contacts in the world of film? If you are interested in a career in film, gaining experience in the field before you graduate can help you either prove or disprove such rumors. Even if they're proven, you may have such a passion for what you are doing that you may decide that's where you want to be anyway.
Strengthening your resolve to pursue your chosen career path
Once you've gotten a sample of what working in a career related to your film studies degree is like, you may find yourself even hungrier and more determined to succeed than you were before. If you discover that it can offer professional, creative and intellectual fulfillment, you will not want the opportunity to slip away. You may find yourself suddenly even more interested in your coursework, which can only mean good things.
Getting your foot in the door with an organization
It's not always easy to find a job once you've graduated. Being offered a position with the same organization you worked for as a student sure would make things easier on you, or at least increase your employment options.
If you've done quality work and made a good impression, chances are that organization will want to retain you on a full-time basis once you've graduated. They will already be familiar with you and your work ethic, and they will save a great deal of time and expense trying to recruit someone else.
How to Find an Internship
Your college or university may or may not require you to participate in a field placement as part of your film studies degree program. However, if it is an academic requirement, you will likely have the opportunity arranged for you. If it is not a requirement, speak with your professors, other film studies department staff as well as your school's guidance and career counselors to help you find a suitable opportunity.
If seeking an internship from an outside source, be cautious, as many internship opportunities operate in the grey area of employment law, and are designed to use students as free labour in order to perform mundane tasks. 
How Much You Can Earn as a Film Studies Graduate
You may be curious as to what salary you can earn as a film studies graduate first entering the work force. The truth is, your salary could vary drastically, and is heavily dependent on the following factors (not an inclusive list):
• Your level of education (such as if you went on to graduate studies)
• The industry in which you find work
• The size and type of your employer
• The region in which you work
• Other work experience you may have accrued
• Other skills you may have
Film Studies Graduate Salary Ontario: According to a salary survey in 2011 conducted by the Ontario Council of Universities, $34,653 CAD is the average salary earned by Fine and Applied Arts graduates 2 years after graduating from Ontario universities in 2008.
Unfortunately, statistics for film studies graduates in other Canadian provinces and the United States cannot be found from reputable sources.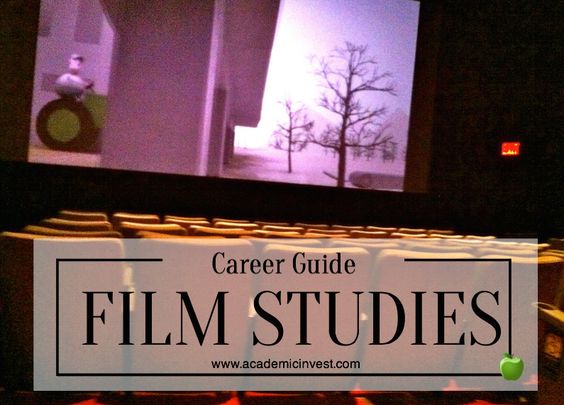 Relevant Scholarships
If you never figure out how to pay for school, all of this information may be moot! Search our scholarships database for scholarships that are specifically for students in a film studies degree program.
Professional Associations
To find out more about careers related to your film studies degree, consult the following professional association websites. They offer career-related information, and many have job boards that advertise job openings.
Canada
Associated Designers of Canada
Canadian Media Production Association
Liaison of Independent Filmmakers of Toronto
Motion Picture Association Canada
Talent Agents and Managers Association of Canada
The Canadian Society of Cinematography
Toronto Film Critics Association
United States
Independent Film and Television Alliance
National Society of Film Critics
The American Society of Cinematographers
The Casting Society of America