Career Guide
If you want to become a journalist, you'll need to determine your career goals and ambitions.
If you're interested in a dynamic career that allows you to express creativity, interact with people from all walks of life, and you have an interest in current events, you may be well suited for a career as a journalist.
Below we've outlined what you'll need to get into this field. We've also included helpful information for a journalist career, such as job description, job duties, salary expectations, a list of possible employers and much more!
Education Needed to Become a Journalist
If you want to become a journalist, having a proper education can be crucial to your future success. You should begin the process of obtaining your education by choosing a university or college with a great communications or journalism program.
You'll want to select a program that offers a wide variety of communications and journalism courses, and one that offers you an opportunity to connect with professional journalists.
Once you enter the communications or journalism program, make sure that you select your elective courses carefully. As a journalist, having a broad knowledge base in a variety of subjects will be extremely valuable; choosing the right elective courses will ensure that you exposed to different subjects that you may be writing on one day.
It should be noted that there are not standard educational requirements to become a journalist, although most employers prefer journalists who have a bachelor's degree in journalism or communications.
However, some employers may hire applicants who have a degree in a related subject, such as English or political science, if they have a sufficient amount of relevant work experience.
Experience You Might Need
Journalism is a highly competitive field, and many candidates don't stand out from the others. Above all else, those who hire journalists look for candidates with experience in journalism. A great way to get experience while you are a student is to get involved with the student newspaper, radio or television station on campus; this can prove to be invaluable experience if you want to become a journalist.
Another great way to gain experience for your future journalism career is to volunteer with a community journalism group. Not every group will be interested in having you help out, even if it's for free, but for those who are lucky enough to be accepted it can prove to be incredible career experience and will pay off in the future.
General Job Description
Journalists are charged with the task of researching, investigating, interpreting and communicating news and information concerning public affairs through print, online or broadcast media.
Typical Job Duties
• Make arrangements for interviews either for research or for radio or television news program purposes
• Conduct interviews and conduct investigation to collect local, national or international news
• Prepare news stories for broadcast or publication
• May write editorials and commentaries on topics of current public interest
• Ensure to express the views of the publication or broadcasting station being represented
• Prepare regular feature columns or stories on specialized or assigned topics
• Research and report on developments within specialized fields, such as technology, politics or medicine
Salary Level of Journalists
The actual wages and salaries of journalists can vary greatly, typically depending on the following factors:
• Their level of education and experience
• The amount of responsibility inherent in their job
• The type of publication for which they work
• The size and type of their employer, or whether or not they're self-employed
• The region in which they work
Salary of Journalists in Alberta: According to the 2019 Alberta Wage and Salary Survey, the average salary level of Albertans working in the "Journalists" occupational group is $61,112 per year,.
Salary - British Columbia: According to WorkBC (Province of British Columbia), those working in the "Journalists" occupational group earn an annual provincial median salary of $57,990.
Salary - United States: According to the U.S. Bureau of Labor Statistics, the median salary level of Americans working in the "Reporters, Correspondents, and Broadcast News Analysts" occupational group is $43,490 per year.
Skills Needed to Become a Journalist
In addition to the proper training and education, there are certain skills that journalists need to be successful, such as:
• Strong interviewing skills
• A knack for thinking of or recognizing interesting stories
• A methodical approach to compiling information
• Basic knowledge in a diverse range of political and social topics
• An interest in current events and developments
• Being comfortable, composed and calm around people, microphones and cameras
• Must be very persistent, objective, creative and resourceful
• Must be able to cope with a fast-paced and highly competitive job
• Must be able to clearly, logically and coherently present facts and opinions
• Able to speak or understand other languages is considered an asset
Tips for Becoming More Employable as a Journalist
Below are some of the ways that you can increase your appeal to potential employers; ways you can stand out from the crowd and thus be more likely to land a job as a journalist:
Learn photography: Understanding photography can give you a broader understanding of the field journalism as a whole, as photography is a major component of journalism.
Learn a second language: Having knowledge of other languages broadens your horizons. You are also more likely to be able to travel to different regions independently if you speak the language of that region.
Make relevant contacts: If you want to be a music journalist, start talking to bands and their managers. Attend relevant trade shows and networking events to get your name out there.
Read publications in your niche: A good way to pick up new ideas for stories and also become exposed to a wide range of writing styles is to read the publications in the niche you want to write for.
Join a journalism organization: Many journalism associations and organizations offer free student membership. Consider joining one of them if you're eligible. It can be a good way to keep informed on industry issues, news and events!
Who Employs Journalists?
The following types of organizations typically hire journalists:
• Television stations and networks
• Radio stations
• Newspapers
• Magazines (covering a wide variety of topics)
• Online publications (covering a wide variety of topics)
If you want to get a journalism job with a specific organization, make sure you familiarize yourself with their website, their social media presence as well as their area of overall coverage. Look for gaps in their coverage, and if you see an opportunity to fill a gap, make note of it and mention it during your interview, in addition to making note of what the organization does well at, of course.
You should also take the time to read up on the organization as much as possible; your level of interest will communicate loyalty and initiative. In addition to appearing more knowledgeable about the organization, you will also learn whether or not it's actually a place you want to work.
Current Job Postings
Our job board below has "Journalist" postings in Canada, the United States, the United Kingdom and Australia.
Career Advancement Possibilities
It can be a daunting task to find full-time employment as a journalist right out of school due to the competitive nature of journalism jobs. Many journalists start out by working entry-level jobs, or temporary and contract positions.
Once a prospective journalist has more experience, they may qualify for regular, full-time employment. With further experience, they may move to a larger station or publication. Experienced journalists may advance to editorial positions in print media or become news anchors or producers in broadcast media.
Similar Occupations in Our Database
Listed below are jobs that are similar in nature to "journalist", as they may involve many of the same skills, competencies and responsibilities.
References
Please use the references below to find more information on the various aspects of a career as a journalist.
Wages & Salaries in Alberta: "Journalists." (March 31, 2019). ALIS website - Alberta Learning Information Service. Retrieved December 29, 2019.
Media & Communication: "Reporters, Correspondents, and Broadcast News Analysts." (September 4, 2019). Occupational Outlook Handbook - United States Bureau of Labor Statistics website. Retrieved December 29, 2019.
Explore Careers: "Journalists." (December 11, 2018). WorkBC website. Retrieved February 14, 2020.
Advice: "How to Break Into Journalism." (n.d.). The Muse website. Retrieved December 29, 2019.
Career Training: "Becoming a Journalist." (n.d.). Society of Professional Journalists website. Retrieved December 29, 2019.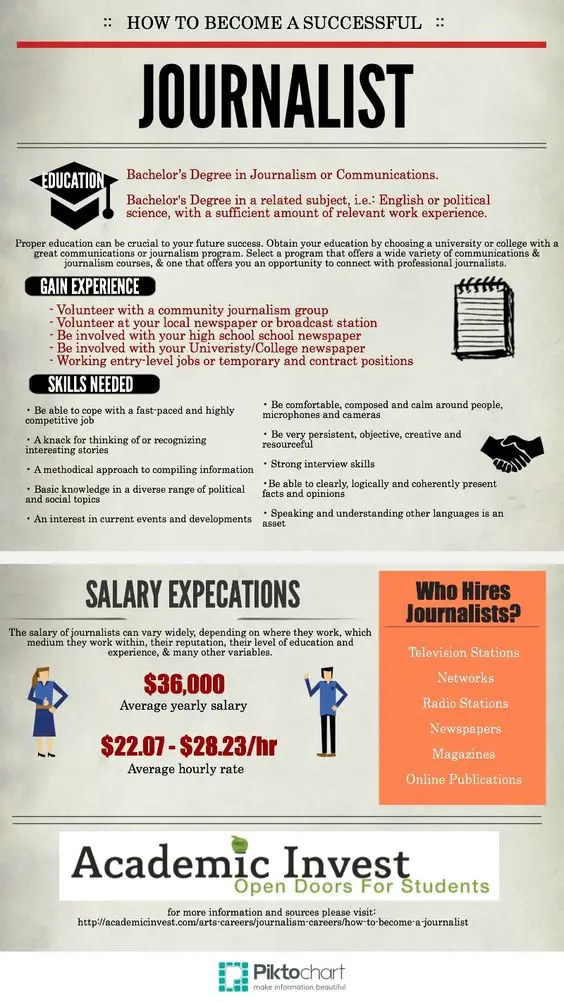 Scholarships for Becoming a Journalist
Scholarships in Canada and the United States listed for majors that apply to becoming a journalist can be found on our All Scholarships by Major page.
Success Tip: Be sure to apply for any scholarships that you even barely qualify for, as there are millions of dollars of scholarships that go unused every year due to a lack of applicants!
Relevant University Majors
Studying one of the university majors listed below is an excellent starting point for getting into this field. Click on the links to find out what else you can do with these majors!