Pop culture might have you believing in a massive misconception - that a degree in philosophy is useless.
And the idea of it being an unemployable, and therefore useless, degree exists mainly because these programs aren't meant to train you for a specific profession.
An education in philosophy is not meant to prepare you to enter the workforce with a specific skill set, like knowing how to do someone's taxes.
So, if it's not meant as career-specific training, what is it good for?
Don't worry, philosophy has bigger plans for you than a handful of career options. It teaches you how to think, and helps you to develop intellectually. The result is, believe it or not, an education in this field provides you with a skill set that can be applied to almost any career, in almost any field.
Despite its reputation, a philosophy degree is pretty far from useless. 
Read on below to find out more about what you can do with this major. This guide contains detailed information on career paths relevant to this degree. Included are job descriptions, expected salaries, educational requirements and other information related to these careers. We've even listed philosophy-specific scholarships to help you pay for school.
It Starts With What Studying Philosophy Can Teach You
Is there such a thing as truth? Does the concept of survival after death make sense? Did time have a beginning? Can ethical dilemmas be solved? What kind of political system best embodies principles of justice and fairness? These are the type of questions and issues that you're given the opportunity to explore as a philosophy student.
By relying on both historical philosophy and current philosophical issues, these programs teach you to explore these problems, locate hidden assumptions, consider structure, and carefully examine possible solutions.
Philosophy also encourages you to more deeply and critically examine your own world-views and beliefs, as well as fundamental questions that bear on all of our individual lives. Most importantly, whatever questions you find yourself posing, philosophy teaches you to seek answers for them in a systematic and organized way.
Employable Skills It Can Teach You
As a result of your coursework, you'll have the opportunity to gain a valuable skill set, and employers are taking notice. Unlike other academic fields, the memorization of facts does not figure prominently in the coursework of a philosophy program.
Instead, typical coursework in this field is more concerned with free inquiry, originality and creativity. As a result, you can gain many skills, including:
• Competence with abstract concepts
• Strong analytical thinking skills
• The ability to think with clarity
• The ability to compose convincing arguments
• The ability to logically present information
• The tendency to question assumptions
• The ability to pose questions and seek answers in an organized way
• The ability to approach issues with an open mind, and look for different approaches for solutions
These skills can effectively be used in any career in which it is important to speak and write effectively, to analyze projects and proposals, to engage in moral reflection and deliberation, to question assumptions, and to solve problems. 
So, while a philosophy degree may not "get you a job" per se, it does provide you with a skill set that makes you a valuable asset for any organization. Be aware, however, that in a cover letter or an interview, you should be prepared to explain that, by outlining how your skills are a great fit for the organization.  
List of Careers Relevant to a Philosophy Degree
In all honesty, it's hard to find a career that a philosophy degree isn't an excellent foundation for, because of the skills it enables you to gain. There might not be an occupation on the planet to which skills such as clarity of thought, and strong analytical thinking, cannot be applied.
However, we have to keep this list short, because there are only so many career guides we can write! 
• Arts Advocacy Agency Director
• Biomedical Ethics Researcher
• Blogger
• Community Service Agency Worker
• Customer Service Representative
• Diplomat
• Human Rights Commission Development Officer
• Indigenous People's Human Rights Coordinator
• Lawyer
• Lobbyist
• Mayor
• Mediator
• Novelist
• Program Assistant for a Human Rights Organization
• Visible Minorities Corporate Policy Officer
Become Even More Employable: Consider a Graduate Degree
Have you thought about taking your degree to the next level? A graduate degree can increase your chances of finding employment in your field, as it gives you an advantage over those with less education.
A graduate degree also helps you develop highly specialized knowledge, and opens the doors to careers that aren't accessible with only an undergraduate degree, such as many research, consulting and teaching positions.
Salary Level of Philosophy Graduates
The salary you could earn as a philosophy graduate first entering the workforce can vary drastically, and is heavily dependent on the following factors (not an inclusive list):
• Your level of education (such as if you went on to graduate studies)
• The industry in which you find work
• The type of job you have, and your level of responsibility
• The size and type of your employer
• The region in which you work
• Other work experience you may have accrued
• Other skills you may have
Philosophy Graduate Salary Ontario: According to a study in 2011 conducted by the Ontario Council of Universities, $38,407 CAD* is the average salary earned by Humanities graduates, 2 years after graduating from Ontario universities in 2008.
*This figure is a composite of all graduates who earned a Bachelor's degree in the Humanities, not specifically for philosophy graduates. Unfortunately, similar statistics for other Canadian provinces and the United States cannot be found from reputable sources.
Philosophy Scholarships
If you're a philosophy major looking for help in paying for school, then you're in luck! Our scholarships database has Canadian and American scholarships that are specific to philosophy students, as well as those for arts students in general, and scholarships that are open to any field of study.
Success Tip: Be sure to apply for any and all scholarships for which you qualify, as there are millions of dollars of scholarships in Canada and the United States that go unused every year due to a lack of applicants.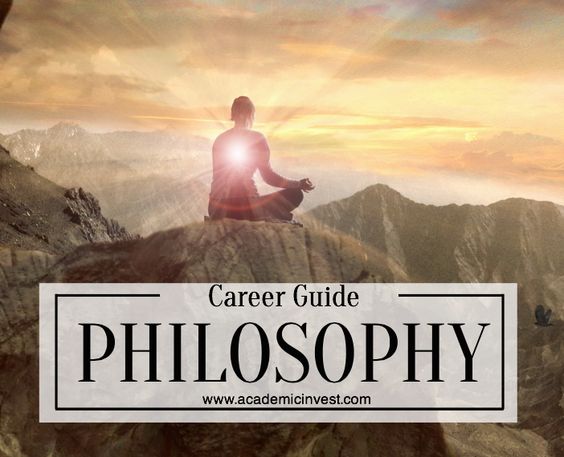 Professional Associations
To find out more about careers related to your studies, consult the following professional association websites. They offer career-related information, and many have opportunities for student membership, as well as job placement and mentoring opportunities.
Canada
Canadian Association of Statutory Human Rights Agencies
Consumers Association of Canada
Ethics Practitioners' Association of Canada
The Animal Welfare Foundation of Canada
United States
National Association for Consumer advocates
Society of Animal Welfare Administrators
The American Philosophical Association
The Humane Society of the United States
International
International Service for Human Rights
Human Rights Education Associates