Career Path Guide
Becoming a global warming advocate takes a combination of education, experience, the proper skill set, and a great reputation in lobbying.
If you've always been curious about what's involved in this profession, and how you can get into this line of work, read on below; we've outlined everything you'll need to know.
Education Needed to Become a Global Warming Advocate
You'll likely need at least a bachelor's degree in environmental science, political science, communications or a related field to get into this line of work.
A bachelor's degree in any of these fields will serve as excellent preparation for a career as an advocate, as it will provide you with basic communication and presentation skills and competencies, or in the case of environmental science, an educational background in the sciences related to global warming.
As this profession is one that requires expertise in the field of environmental science and global warming, virtually every employer in this field considers an advanced education in this field an asset. 
General Job Description
Although global warming advocates may have a variety of career titles and responsibilities, the title of 'global warming advocate' generally refers to an individual who represents an environmental group for the purpose of lobbying government for changes in legislation related to the environment. 
Global Warming advocates may also be responsible for grassroots organization, or indirect lobbying, which involves generating awareness and interest in the issue of global warming, and rallying the community around it. 
Typical Job Duties & Responsibilities
• Lobby for environmental legislation initiatives
• Read news publications and blogs
• Speak with government contacts on a regular basis
• Recruit, train and support other environmental advocates
• Articulate the view of the organization efficiently and positively in various formats, including speeches, panels, debates, interviews and group discussions
• Coordinate events and design related promotional materials
• Conduct research regarding current legislation and proposed legislation
• Raise funds for environmental advocacy
• Form and maintain partnerships with cooperating organizations
• May confer with the media and act as a media spokesperson for an organization
Relevant Work Experience Needed
Gaining Experience as a student
Gaining an internship with a government agency, environmental interest group or a lobbying firm while you're in university or college will help you learn more about the inner workings of government or that interest group and about the advocacy and lobbying profession in general.  It will also be an incredible asset for your resume.
To find an advocacy or lobbying internship speak with your school's career resource office, professors or other faculty members.
Gaining Experience as a Professional
To become a successful global warming advocate, you must possess excellent written and oral communication skills, you must be able to work as part of a team, and must be able to give persuasive presentations. You must also have a thorough understanding of the political and legislative processes.
Beginning your career by working in a political office, a law firm, an environmental interest group or a public relations firm will allow you to develop these essential skills and eventually move into the realm of advocacy and lobbying
Work Environment Typical to This Field
Global warming advocates and environmental lobbyists typically work in an office setting with other members of their team. They spend a great deal of time performing research related to current and pending legislation, meeting with team members, reading industry publications and blogs, as well as composing presentations.
They may travel to locations in close proximity to make speeches, give presentations, recruit new members or meet with government contacts and legislators.
Hours of Work for Global Warming Advocates
Global warming advocates, as well as other environmental advocates and lobbyists, typically work anywhere from 40 to 80 hours per week. In certain circumstances, such as if there is an important bill coming up for a vote, they may work very long hours and often late into the night.
How to Get a Job as a Global Warming Advocate
To get a job as a global warming advocate, you have to be able to demonstrate a certain amount of expertise on your resume in the area of global warming and environmental science. This expertise can come in the form of a skill set related to communications and persuasion; education in fields related to environmental science and global warming; or experience in politics, communications, law, lobbying, advocacy, community organization or other areas.
Typically a combination of all of these elements is required to be hired by an advocacy or lobbying firm. For this reason, a career as a global warming advocate is typically a mid-career position.
Who Employs These Advocates?
A career as a global warming advocate can take many different forms, from community organization, to lobbying government to liaising with the media. There are many employers that are interested in utilizing the skills and knowledge of global warming advocates. Below is an example of the types of employers that hire global warming advocates.
• Non-profit interest groups
• Local, regional and federal government
• Scientific research organizations
• Private industry
Current Job Openings
Our job board below has "global warming advocate" (Climate Advocate) postings in Canada, the United States, the United Kingdom and Australia, when available:
Similar Careers in Our System
Listed below are jobs that are similar in nature to 'global warming advocate', as they may involve many of the same skills, competencies and responsibilities.
• Environmental Impact Assessment Specialist
• Lobbyist
Professional Associations for Global Warming Advocates
Professional associations for global warming (climate change) advocates are collections of practitioners, organizations and agencies committed to the support, development and enhancement of careers in advocacy and lobbying related to the environment. The field of environmental advocacy has a number of professional associations that support ethics in related professions, report current research findings within the field, and foster partnerships among its members.
Below are some of the numerous benefits to becoming a member of a professional environmental advocacy association.
• Demonstrate professional commitments as a global warming advocate
• Maintain current awareness of industry developments and trends
• May be able to take professional advocacy courses
• May be able to participate in industry research projects and/or policy decisions
• Networking opportunities: Meet potential employers, partners and clients
• Learn about employment and professional experience opportunities
• Nominate yourself or others for industry awards
Those interested in becoming a global warming advocate should visit these websites for more information:
• Canadian Environmental Law Association
• Canadian Institute for Environmental Law and Policy
• Canadian Network for Environmental Education and Communication
• Nature Conservancy of Canada
• Young Environmental Professionals
References for This Career Guide
Please use the reference(s) below to find more information on the various aspects of a career as a Global Warming Advocate.
Wages & Salaries in Alberta: "Meteorologists and climatologists." (n.d.). ALIS website - Alberta Learning Information Service. Retrieved November 30, 2019.
Life, Physical & Social Science: "Atmospheric Scientists, Including Meteorologists." (September 4, 2019). Occupational Outlook Handbook - United States Bureau of Labor Statistics website. Retrieved November 30, 2019.
Get Involved: "Global Warming Advocacy." Jytte Martinussen (n.d.) One World Center website. Retrieved November 30, 2019.
Scholarships for Becoming a Global Warming Advocate
Scholarships listed for majors that are relevant to this profession can be found on our All Scholarships by Major page, by finding the pages that correspond to the majors listed on our "Relevant Fields of Study" section below. Any scholarships found within those pages will be suitable.
Success Tip: Be sure to apply for any scholarships that you even barely qualify for, as there are millions of dollars of scholarships that go unused every year due to a lack of applicants!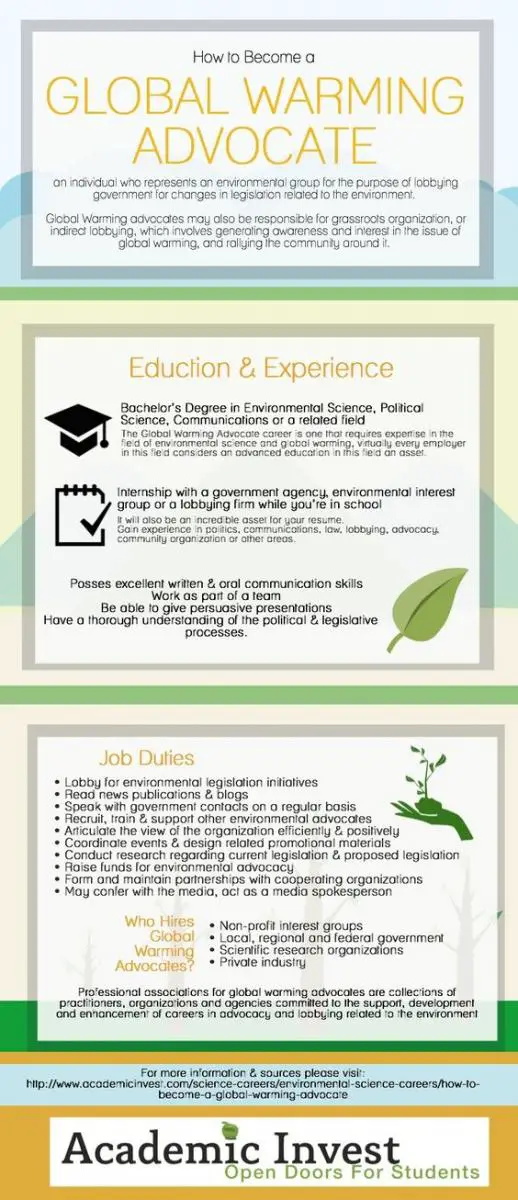 Relevant Fields of Study
Studying one of the university majors listed below can help form an excellent educational foundation for this profession: