You may not have a specific career in mind when you enroll in a classical studies program, and worse yet, you may not have any faith that there's a relevant career waiting for you when you're done.
But don't worry, if you read you'll see that despite what you may have heard, the skills you acquire throughout your course of study will make you highly employable, and will open the doors to a multitude of career options; both in careers directly related to your field of study, as well as those not directly related to it.
So, if you'd like to know more about what you can do, read on below!
Employable Skills Gained
A major in classical studies provides you with a set of skills that are specific to the subject matter, and are most useful when applied to careers that are directly related to it. Such skills include:
• The ability to interpret and assess documentary evidence from ancient texts and artifacts
• An increased vocabulary and a more complete understanding of medical, legal and scientific terminology
• An understanding of literary, linguistic, historical, philosophical and aesthetic approaches to classical culture
• The ability to recognize similarities with other world cultures, both ancient and modern
• An understanding of the greatest accomplishments in human thought and art
Directly Related Occupations
Now that you have an idea of what skills you can list on your resume as a result of your studies, it's time to find out what careers you can pursue with your classical studies degree. The field-specific skills will be directly applicable to the following occupations:
• Historical Artifact Conservator
• Historical Site Administrator
Other Employable Skills
Apart from the field-specific skills, you can also acquire general skills as a result of your studies. You can apply these skills to careers in many different fields, many of which are not closely related to the subject matter of your major.
While these skills may not be as obvious and focused as knowing how to code a computer program, or how to design website, they are applicable to many different types of careers. These skills include:
• An understanding of a range of analytical approaches to problems
• The ability to prepare well-structured presentations
• Strong writing skills
• Intensive and organized research abilities
• The ability to absorb new information quickly
• Time management and organizational skills
• The ability to work independently or in a team
• Able to listen, and subsequently ask insightful questions
• Broad historical and cultural knowledge
• Creativity
Employers in almost every industry place great value on many of these skills. For example, learning how to research and present well-structured, evidence-based arguments is an asset that can be used in business; if a student can learn to compose essays regarding why the Games were important to ancient Romans, they can surely be taught to prepare funding proposals for organizations. 
Other Occupations You Can Pursue
Occupational fields you can pursue based on these general skills include (but are not limited to)*:
• Blogger
• Lawyer
• Literacy Program Coordinator
• Lobbyist
• Tutor
*Please Note: Some careers, whether directly or indirectly related to a degree in classical studies may require further education and training above an undergraduate degree. Please click on careers that interest you to learn more about their specific education and training requirements.
Increase Your Employability: Consider a Double Major
You may be pursuing a degree in classical studies out of personal interest or passion in the subject matter. And perhaps you will be fortunate enough to become employed in a career directly related to your degree.
With today's job market being tough, many graduates in classical studies and other humanities programs miss out on the opportunity to pursue a career directly related to their degree, especially those who don't choose to pursue graduate studies.
To protect yourself against this possibility, consider getting a double major, with your second major being in a field that will put you in a good position to find a well-paying job after graduation. Such fields may include:
• Communications
• Interior Design
• Journalism
Pursuing a double major is a good way to get the best of both worlds - a chance to study subject matter you are passionate about, while simultaneously opening up your career options. 
Typical Salaries of Graduates
You may be curious as to what kind of salary you can expect to earn with your degree when you first enter the workforce. The truth is, it can vary widely, based on what field you enter, what other skills you have, what region you work in, and many other factors.
The below salaries are an average starting salary for general humanities students based on skills and experiences gained at the bachelor level. Remember that salary levels typically increase in conjunction with an increase in experience and education.
Salary - Canada: According to MacLeans, the average salary earned by Humanities graduates (which includes but is not specific to classical studies graduates) 2 years after graduating from Ontario universities is $38,407 CAD per year.
Salary - United States: According to the National Association of Colleges and Employers, the average starting salary for graduates with a bachelor's of arts degree in the general humanities in the United States is $31,904 USD per year.
What Classical Studies Students Learn
As a classical studies student, you will be introduced to the richness of thought and expressions of ancient cultures that have had great influence on shaping the western world.
The breadth of coursework offered by these programs will help you to gain an understanding of a range of analytical approaches, including literary, linguistic, historical, philosophical and aesthetic approaches to classical culture.
A classical studies program typically enables you to:
• Study the religion, politics, mythology, art, literature, architecture and philosophy of Greek and Roman society
• Explore the enormous impact that the ancient worlds of Greece and Rome have had on today's world
• Examine some of the greatest accomplishments in human thought and art
• Study ancient languages, such as Latin and Greek
As a result you will likely gain:
• A better understanding of western cultural identities
• A better understanding of the origins of many modern languages
• A sense of what is classical about the classical world
• A perspective of the human condition by learning about the attitude and ideas of Greece and Rome
• An understanding of how ancient ideals have greatly influenced how we think and act
Pursuing an Internship in the Field
Pursuing an internship or co-op position is a great way to gain work experience while you're still a student. As an added bonus, you'll earn school credit while doing so!
An internship, or other form of work placement opportunity, is the best way to find out firsthand what it may be like during the first few months or years of a career in classical studies, for better or for worse.
These opportunities may be arranged by school administration as part of earning your degree. If they are not, talk to your professors and school career counselors about any opportunities they are aware of. Either way, try to gain as much of this experience as you can while you're still a student.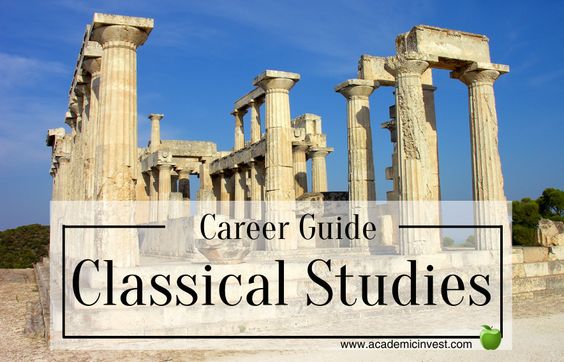 Scholarships
Give our database a quick search for Canadian and American scholarships specific to this area of study.
Success Tip: Be sure to apply for any and all scholarships for which you qualify, as there are millions of dollars of scholarships in Canada and the United States that go unused every year due to a lack of applicants.
Professional Associations
​Professional associations are collections of practitioners, organizations and agencies committed to the support, development and enhancement of the professions within the field of classical studies.
To find out more about careers related to your classical studies degree, consult the following websites.
American Philological Association
Classical Association of Canada
Classical Association of New England
Classical Association of the Atlantic States
Classical Association of the Empire State
Classical Association of the Middle West and South