Tutors are those magical people that help turn a student's frustration and strife into feelings of success and achievement. They provide the extra one on one support that can't always be found in a classroom setting. 
To become one, you don't always need to have a university or college education, or a background in teaching, but you do need a demonstrable breadth of knowledge and a good degree of competence in your chosen subject matter. You'll also need to have a keen interest in helping students achieve, and the skills necessary to make that happen.
To learn about what it takes to become a tutor, read on below! We've provided a list of the skills and traits you'll need, as well as an overview of what tutors are, what they do, how much they earn, and where they're employed!
Crucial Personal Traits to Have
To enjoy performing the duties involved in this profession, and remain dedicated to it, it's important to have certain personal traits and characteristics, including:
• Taking enjoyment from working with individuals and small groups
• An interest in lesson planning and applying organizational skills
• A keen interest in helping people overcome academic challenges
• An interest in being self-employed (if applicable), or in a flexible career
• Patience when instructing someone less knowledgeable than you in a task
Educational Requirements 
The education you'll need to work as a tutor will vary from job to job. For example, some  employers and clients will require that you have, or are working towards a degree, diploma or some other credential for the area in which you will be tutoring.
Other potential employers or clients however, will simple require proof, typically either through a resume or by way of references, that you're a competent tutor (or teacher) in a specific subject.
What is a Tutor? General Job Description
Tutors are responsible for providing students with personalized academic assistance in whichever subject the student is seeking improvement.
What They Do - Typical Job Duties
Although their duties can vary, tutors are generally responsible for the following tasks:
• Identifying the weaknesses of a student in relevant subject matter
• Designing or following a curriculum in a specific subject 
• Designing a lesson plan for the student
• Providing the student with personalized instruction in specified subject matter
• Motivating the student and providing them with confidence
• Adapting lesson plans as needed, based on the student's progress, or lack thereof
• Helping the student develop study skills suited to their needs
• Showing the student how to learn effectively
• Breaking complex issues down in order to alleviate difficulty and prevent the student from feeling overwhelmed
• Evaluating the progress of the student
• Communicating with the student's teachers, parents or guardians regrading challenges and progress
Certification Needed
Tutors in Canada and the United States don't require any formal certification, as their profession isn't regulated. However, becoming certified as a tutor can be a great way to demonstrate commitment to the profession, instill trust in potential clients and employers, and make valuable contacts.
In the United States, and beyond, the National Tutoring Association is a non-profit organization that offers tutoring certification.
Skills Needed to Be Successful
There are several skills that separate successful and effective tutors from mediocre and ineffective ones, such as:
Knowledge of the age group: Tutors that have experience or training with a certain age group are more likely to understand the nuances involved in working with them. For example, a tutor with a background in child or adolescent development has an advantage because they know how to make lessons age-appropriate and attention-holding.
Ability to plan lessons and instructional methods: Successful tutors understand what it takes to create an effective curriculum, plan the lessons within it accordingly, and use the most appropriate delivery methods (including technology) for their students.
Communication and collaboration skills: It goes without saying that tutors need to be able to listen, speak and non-verbally communicate well with their students, but oftentimes they must communicate the successes and challenges of the student to their regular teachers, parents or guardians. Being able to properly communicate with these other stakeholders can be critical to finding out if the lessons are being effectively absorbed and applied in a classroom setting. 
Business management skills: Many tutors, although not all, are self-employed. If you decide to go this route, you will need to be able to not only effetely market your services, but manage the financial aspects of it as well, as well as deal with the occasional upset clients/students and their parents or teachers. 
Earning Levels Typical to This Profession
The wages and salaries of tutors can vary greatly, typically depending on the following factors:
• Their level of education
• Their level of experience
• The amount of responsibility inherent in their job
• The size of their client base (if self-employed) 
• The region in which they work
• The subject matter they teach
It is very difficult to determine the typical earnings of tutors, as many are self-employed and statistics are very difficult to find. However, we can get a baseline idea of what they earn when employed by an organization, by looking at the salary and wage figures for the closely related occupation of "Educational Assistant".
Canada (Alberta figures only): According to the 2017 Alberta Wage and Salary Survey, the average salary level of Albertans working in the Educational Assistants occupational group is $32,640 per year. The average overall wage is $22.19 per hour. Unfortunately, at the time of writing there were no figures available from reliable sources for the rest of Canada at the time of writing (June 27, 2019).
United States: According to the U.S. Bureau of Labor Statistics, the median salary level of Americans working in the Teacher Assistants occupational group is $26,970 per year (May, 2017 figures).
Some Self-Employed Figures - Hourly Rates
While it might be tough to define the annual earnings of self-employed tutors, a search of several private tutoring services has shown us that their rates typically fall between $15 and $90 per hour. 
The lowest end of the pricing scale typically corresponds with tutors that have less experience, less formal education, and are tutoring younger students. The highest end on the hourly rate spectrum is typically reserved for those with plenty of education and/or experience, who are tutoring higher academic levels.
Please Note: As with anything else, cost does not always reflect quality - there are many tutors that overcharge for their services, and many that undercharge. 
Who Employs Tutors?
Many tutors are self-employed, offering their services online or in-person. Their clients are typically current students of an educational institution, or those looking to gain acceptance into certain institutions. 
Other tutors however, are employed, on a full-time, part-time or contractual basis, by the following types of employers:
• Public and private elementary, middle and high schools
• Colleges and universities 
• Community-based and social programs
• Tutoring companies 
• Commercial tutoring and learning institutions
How to Get a Tutoring Job
Self-employment 
There are many ways to find your first few clients if you're starting your own tutoring service. Some common methods include contacting teachers (particularly ones you know) of the grade level you're looking to teach to let them know you're in business, or even contacting school department heads or administrators.
You can also try advertising online by filling out profiles on websites that connect tutors with students, creating a social media profile and promoting it, and using paid advertising methods. 
There are effective offline advertising methods available as well, such as hanging posters or flyers in school and community libraries, or putting ads in community and school newspapers.
Working with an organization 
If you're not looking to be self-employed, an effective way to find work as a tutor is to simply check online. Tutor job listings are fairly common, as are online companies looking to hire tutors for virtual work.
Alternatively, you can find schools, private learning centres and other employers in your area and inquire with them directly as to whether they are hiring. 
Tutor Job Postings - Current Opportunities
Our job board below has tutoring job postings in your area (when available). Check it out!
Work Environment 
Setting: Tutors can work in a variety of settings, such as their own home, a student's home, a school or other educational institution, or remotely as an online tutor. Sometimes, their work can involve a combination of these settings.
Hours: The working hours of tutors can vary widely, and can reflect a schedule they set for themselves, or it can depend on the availability of their clients. If they are tutoring within an academic institution or a private learning centre, their hours may be reflective of the institution, although outside tutoring hours are common in these situations.
Overall Conditions: The work of tutors can be stressful at times, such as when appointments get cancelled at the last minute, when a student is failing to progress, when business is slow, or when parents or teachers are unhappy with the work of the tutor. However, their work can also be extremely rewarding, such as when seeing a student progress and overcome challenges, or when receiving great feedback from the student's parents and teachers.
Career Advancement Possibilities 
When self-employed, career advancement for tutors generally comes in the form of acquiring more business (students), or even opening a private learning or tutelage company. When employed by others, career advancement for tutors can come in the form of becoming self-employed, or getting an increase in pay or responsibility, possibly taking on a management role. 
Additionally, whether self-employed or not, tutors can also advance their career by becoming specialized in a certain area, gaining knowledge in additional areas, or taking on higher levels of students. 
With additional education and certification, becoming a teacher is also a possibility, as well as eventually moving into leaderships roles within the field of academic administration.
Summary: Steps For Becoming a Tutor 
To summarize what we've presented above, here's a quick overview of the basic steps for becoming a tutor:
1. Determine if you're well suited for this line of work
2. Decide on your areas of focus (subject and grade level)
3. Get additional education if you need to
4. Find a job, or market your services if you're going the self-employment route
5. Refine your skills 
6. Advance your career 
Please Note: These steps aren't necessarily always to be followed in the sequence listed above, they're just meant to provide a guideline for getting started in this career. For example, getting additional education related to the subject matter that you tutor in is considered advancing your career, and you might find a job before you've settled on one area of focus.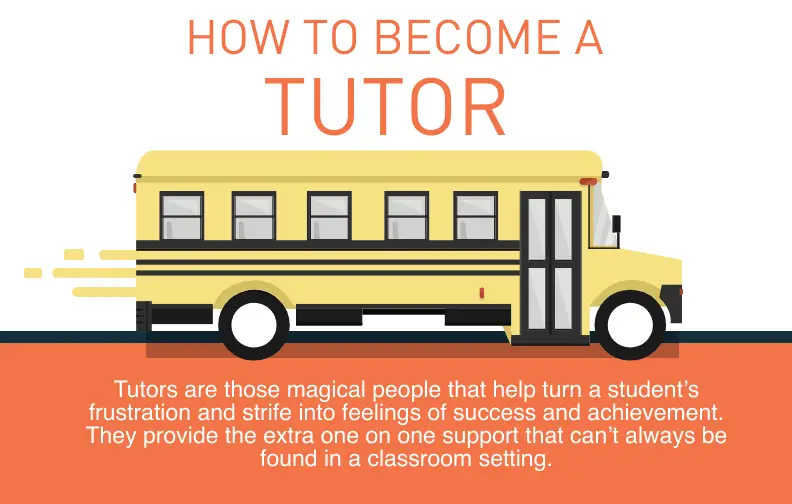 Similar Occupational Profiles in Our Database
Listed below are career guides in our system for professions that have similar responsibilities, and/or require similar skills, or are in the same sector of industry, as 'tutor':
• Special Education Needs Teacher
References for This Career Guide
Please consult the following resources to learn more about what it takes to become a tutor, and other details of the career:
Occupations in Alberta: "Private Music Teacher." (February 11, 2013). ALIS - Alberta Learning and Information Service. Retrieved June 27, 2019.
Occupational Employment Statistics: "Teacher Assistants." (June 19, 2019). United States Bureau of Labor Statistics. Retrieved June 27, 2019.
School & Education: "How to Become a Successful Tutor." Jayme Kennedy (March 29, 2018). Care.com. Retrieved June 27, 2019.
Solutions: "Become a Tutor in Calgary, Edmonton, Red Deer, & Alberta." (n.d.). Optimum Tutoring Solutions Inc.. Retrieved June 27, 2019.
Scholarships for Becoming a Tutor
The 'Relevant Fields of Study' section below lists areas of academic focus that pertain to this career. Scholarships matched to those fields of study can be found on our All Scholarships by Major page.
Relevant Majors in Our System
Studying one of the university majors listed below can serve as an excellent foundation for this profession: