Working as an ESL teacher is a great choice for people that love travelling, working with people from other cultures, and that have a passion for teaching. This occupation isn't known for its excellent level of pay, but it can offer some amazing interpersonal and cultural experiences. You can get into this work from within the field of education, or from outside it.
Below, we've outlined everything you need to know to get started as an ESL teacher. We'll show you what employers will be looking for in terms of your education, experience and certification, as well as what skills and personal traits you'll need to be able to bring to the table in order to be effective. 
We've also included helpful supplementary information, such as a job description, an overview of the job duties, salary expectations, a list of possible employer types and much more!
Education & Certification Needed to Become an ESL Teacher 
Canada
There are no consistent formal requirements for becoming an ESL teacher outside of the school system in Canada. Employers are free to set their own standards, requirements and hiring policies. As a result, the education and certification (and experience) requirements can vary greatly. This applies to employers that operate within Canada, as well as those based in Canada, with operations abroad.
In general however, most employers prefer to hire applicants who have a bachelor's degree and professional certification from Teachers of English as a Second Language Canada (TESL Canada) or Teachers of English to Speakers of Other Languages (TESOL).
Please Note: If you're looking to become an ESL teacher within the school system, you will to be a certified teacher in the province or territory in which you plan to teach, which generally involves earning an education degree, and passing a certification/licensing exam. 

United States
The requirements for becoming an ESL teacher in the United States are quite similar in to those in Canada; employers outside of the school system are generally free to set their own hiring standards and requirements, but generally prefer to hire candidates with a bachelor's degree, as well as certification from a 3rd party organization, or the completion of an ESL teaching certificate or diploma from a college or university.
However, if you're looking to teach ESL within the school system, you will need to complete an education degree and earn a teaching license from the state in which you wish to teach, which again, is similar to the requirements in Canada.
Experience You Might Need
Although not always listed as a mandatory requirement on job posting, employers generally prefer to hire candidate for ESL teaching jobs whom have relevant career experience.
Such experience could include working with the target demographic (which could be children, students that speak a specific language, or students that belong to a specific cultural group), teaching experience, or a general background in education.
More About This Career: General Job Description
English as a second language (ESL) teachers teach English to students who do not speak it as their primary language. One of their main responsibilities is to ensure that their students are able to obtain both written and spoken skills in English.
They may work at home or abroad, for an educational institution, a private organization or as a private tutor, and are sometimes referred to by the alternate title of "ESOL (English for Speakers of Other Languages) teacher".
Typical Job Duties 
Although their duties can vary quite a bit from job to job, ESL teachers are typically responsible for:
• Overseeing a class of students who may or may not share the same primary language
• Explaining lesson elements by using pictures, gestures and demonstrations
• Ensuring students become proficient in understanding English in passive and active forms
• Using technological aids in lessons, such as PowerPoint presentations, overhead projectors, online resources and multi-media clips
• Liaising with other teachers and administrative staff
• Reviewing and grading the work of students
• Assigning homework
• Working with students from different age groups
Helpful Skills and Traits to Have
Although you'll receive training in one form or another before giving your first English lesson, having certain inherent personal traits and indpendently gained skills will go a long way towards being effective as an ESL teacher. Such skills and traits include (but certainly aren't limited to):
• The ability to communicate effectively with people of different age groups, nationalities and cultural backgrounds
• Skills in other languages
• An understanding that many people learn in different ways and at different speeds
• Imagination for coming up with clever ways to solve problems or implement lessons
• The ability to create an environment in which students feel comfortable and free to participate
• The ability to think on your feet and find ways to keep students engaged
Is Becoming an ESL Teacher a Good Fit for You?
Working as an ESL teacher can be quite appealing for the right type of person. Take a look at some of the main elements of this occupation that we've outlined below. If you frame many of the below points as neutral or positive, then this could be a great fit for you:
• ESL teaching involves international travel, typically for a duration of 1 or 2 years, if working abroad
• The pay generally isn't great in this field, but it can offer the chance to make a decent living
• While you're teaching, you might also have the opportunity to learn other languages yourself
• ESL teachers typically work closely with students from different cultures
• Offers the chance to watch students develop and progress with their English
• Permanent positions are hard to come by, which isn't good if you're interested in job security, but isn't a bad thing if you're just looking for 1 or 2 short-term jobs that involve travel
• Employers often offer great travel benefits (when applicable), such as housing and travel allowances
• Marketing and networking skills would likely be needed when working as a private tutor 
Average Salary Level
It's difficult to determine the average earnings of ESL teacher, as salary data for this specific profession from reliable sources is hard to come by. However, we can get a baseline idea of what they earn by looking at the salary and wage figures for closely related occupations.
Canada (Alberta figures only): According to the 2016 Alberta Wage and Salary Survey, the average salary level of Albertans working in the College and other vocational instructors occupational group is $67,814 per year. The average overall wage is $40.60 per hour. Unfortunately, there were no figures available from reliable sources for the rest of Canada at the time of writing (July 14, 2019). 
United States: According to the U.S. Bureau of Labor Statistics, the median salary level of Americans working in the "Adult Literacy and High School Equivalency Diploma Teachers" occupational group is $53,630 per year (May, 2018 figures).
Please Note: The actual wages and salaries of ESL teachers can vary greatly, typically depending on the following factors:
• Their level of education, experience and certification
• The amount of responsibility inherent in their job
• The size of their student base
• The region in which they work
• The level at which they're teaching 
Who Employs Them?
ESL teachers can be employed on a contractual or permanent basis, by many different types of organizations, including:
• Public and private schools (elementary, middle and high schools)
• Colleges and universities 
• Education abroad program providers
• For-profit and non-profit ESL teaching companies 
• For-profit and non-profit adult education organizations 
• Various other non-profit groups, such as organizations serving immigrants
• Private individuals and families 
• Online and traditional tutoring companies
• Corporations and organizations in various sectors, with operations overseas 
ESL Teacher Jobs - Current Opportunities
Our job board below has ESL teacher job postings in your area (when available). Give it a try to see if there are any positions that interest you:
Work Environment and Conditions 
ESL teachers work in a variety of settings, such as:
• Academic environments (public schools, language centres, post-secondary schools, private institutes)
• Community facilities (community centres, churches, temples, synagogues)
• Job sites (factories, hospitals, hotels, offices)
• Online (typically from their own home, or a shared workspace)
The working hours in this profession typically revolve around the operating schedule of the facility in which they work, or of the program for which they work. 
Some ESL teachers teach in the evenings, such as if they are instructing in an after-school program for children, or a night class for adults, whereas others might teach during the daytime in a school setting.
The class sizes that ESL teachers oversee can be as little 1 student, to as many as 30 or 40. Their students may be of any age group, and in some cases, mixed aged groups.
Permanent work in this field is uncommon (although it exists); ESL teachers are typically hired on a short-term, contractual basis, and often work part-time.
Similar Professions in Our Database
Listed below are occupational guides in our database for careers that are similar in nature to "ESL teacher", as they may involve many of the same skills, competencies and responsibilities:
• Tutor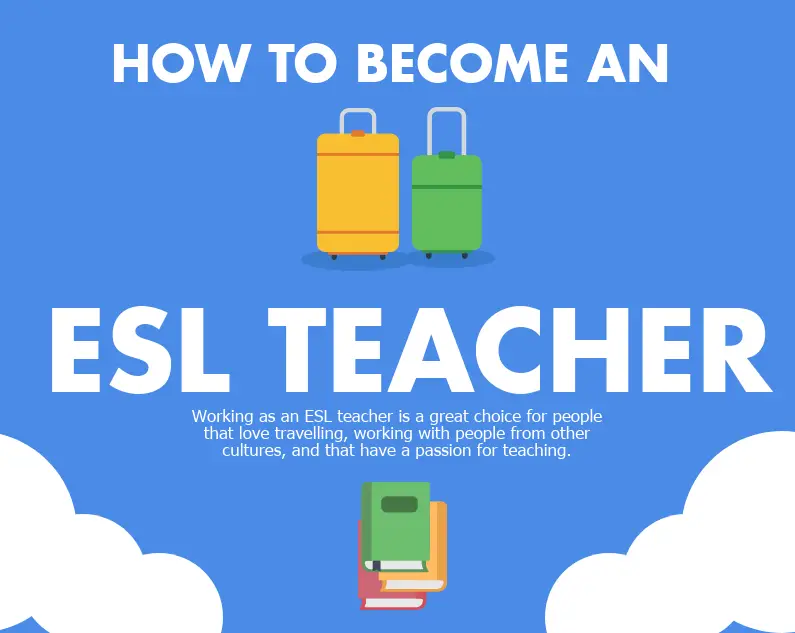 References for This Career Guide
The following sources were referenced in the preparation of this career guide. Please visit them to learn more about the various aspects of this profession.
Occupational Profiles: "English as a Second Language Teacher - Adults." (March 9, 2016). Alberta Learning & Information Service - Government of Alberta. Retrieved July 14, 2019.
Occupational Outlook Handbook: "Adult Literacy and High School Equivalency Diploma Teachers." (June 13, 2019). United States Department of Labor - Bureau of Labor Statistics. Retrieved July 14, 2019.
Blog: "Can I Use My TEFL Certification to Teach English in the United States?" Matthew Birgy (n.d.). International TEFL Academy. Retrieved July 14, 2019.
Certification: "TESL Canada Professional Certification." (n.d.). TESL Canada. Retrieved July 14, 2019.
Beginning Your Career: "Common Qualifications for English Language Teachers." (n.d.). TESOL International Association. Retrieved July 14, 2019.
Certification Information: "ESL Certification." (n.d.). American TESOL Institute. Retrieved July 14, 2019.
Please Note: Actual job postings were used in the preparation of this career guide. However, due to the brief nature of their online presence, they are not listed here as references.
Scholarships for Becoming an ESL Teacher
Scholarships in our system are organized by field of study. The fields that are relevant to this profession are listed below on our "Relevant Areas of Study" section below. Any scholarships found within those fields will be suitable, all of which can be found on our Scholarships page.
Relevant Fields of Study
Studying one of the university majors listed below will serve as an excellent educational foundation for this career: