Career Path Guide
This profession is one that tends to follow a fairly structured path - one that can be followed at almost any adult age, no matter where you find yourself in your personal and professional journey.
To get in, you'll need a little bit of relevant post-secondary education, a clean criminal record, and a keen interest in working with young people with physical, emotional or behavioural disabilities.
So read on below if you're interested in learning more about what it takes to become an educational assistant...we'll tell you everything you need to know!
Educational Requirements 
Canada: In Canada, most employers (or provincial government regulations, when applicable) will state that you require completion of a college program relating to educational assisting. 
These programs are typically 6 months to 1 year in duration (if taken full-time), and provide students with classroom and practicum experience.
United States: In the United States, most state governments will require that you either have an associate's degree (in any field, but preferably related to education) and pass a competency exam, or that you complete a certificate program related to Para-Education/Teacher Assisting.
About This Career - General Job Description 
Educational assistants (also known as 'teacher assistants', 'paraeducators', 'paraprofessionals' and 'education assistants') are responsible for performing duties of instructional nature, for which a teacher or other professional has ultimate responsibility. 
Their main purpose is to give teachers additional support, and students additional attention. This may include working with students on their academic studies, assisting children with disabilities or special needs and more. 
Educational assistants typically work with students one-on-one, or in small groups, although this is not always the case.
Typical Job Duties
Although their duties can vary from job to job, educational assistants are typically responsible for the following:
• Preparing educational materials, bulletin board displays and demonstrations
• Presenting subject matter to students, under the guidance of a teacher or other professional
• Acting as a scribe for a student that has difficulty writing
• Supporting students in building good relationships with their peers
• Tutoring students individually or in groups in order to help them master assignment material, and to reinforce learning concepts
• Helping students with their assignments
• Supervising students in the classroom, hallway, cafeteria and on field trips, in order to ensure that their behaviour is adherent to the code of conduct of their school
• Observing students' performance, and record relevant data to assess progress
• Participating in parent-teacher conferences in order to communicate the progress of a student, or any challenges they are facing
Certification You Might Need
On a federal level in Canada and the United States, there is currently no legislation regulating this profession. As a result, there is currently no industry-wide certification that you will need.
However, some individual states and provinces might require their own form of certification. To get a better idea of whether or not this is the case, please either contact your local school board, your provincial/state government, or take a look at job postings to see if there are specific certification requirements that you'll need to meet.
It's also worth noting that some jobs could require that you earn certifications in cardiopulmonary resuscitation (CPR) and first aid, either before or shortly after you're hired.
Is This Career Right for You?
Before setting off to become an educational assistant, it's a good idea to take inventory of the personal traits you'll need to find fulfillment in this field: If you have the following traits and interests, this profession might be a great fit:
• You have patience, sensitivity, tolerance, enthusiasm, creativity and imagination needed to work with a wide variety of personality types and levels of ability
• You're keen to work with and help young people with physical, emotional or behavioural disabilities
• You enjoy the idea of working within clear guidelines 
• You enjoy the prosecute of searching for and using strategies that match a student's interests and learning style
• You're able to interact with others, including students and staff, in a tactful, empathetic manner
• You can deal with the stress that comes with working with active and demanding students
• You can take direction, and work as part of a team, while performing duties independently 
• You can pass a criminal background check (or in some rare cases, provide a reasonable explanation as to why you cannot)
Skills You'll Need to Be Successful 
To be successful as an educational assistant, you'll need to posses certain skills and capabilities, such as:
• Knowledge of educational and physical assistance techniques 
• Basic understanding of subject areas to be taught 
• Ability to interact with and relate to children
• Ability to work with students with physical, emotional, educational, and/or intellectual disabilities
• The ability to operate a variety of office equipment, including photocopiers, laminating machines, and audiovisual equipment
• Might need knowledge of how to operate equipment used in vocational classes (e.g., lawn mowers, tillers, band saw, etc.).
• Knowledge of CPR and other basic first aid techniques
• Specialized knowledge pertaining to subject areas and/or specific assignments (e.g., foreign languages, sign language, etc.)
• The ability to physically lift and manipulate students as needed
Average Salary Level for Educational Assistants
There are several factors that can influence what educational assistants earn, and what you'd earn as one, including:
• Your level of education and experience 
• The scope of your job duties and functions
• The size and type of your employer
• The region in which you work
• The industry in which your employer operates
• Other possible factors
Salary - Canada (Alberta figures only): According to the 2017 Alberta Wage and Salary Survey, the average salary level of Albertans working in the Educational Assistants occupational group is $32,640 per year. The average overall wage is $22.19 per year. Unfortunately, at the time of writing there were no figures available from reliable sources for the rest of Canada at the time of writing (June 26, 2019).
Salary - United States: According to the U.S. Bureau of Labor Statistics, the median salary level of Americans working in the Teacher Assistants occupational group is $26,970 is per year (May, 2017 figures).
Who Employs Them?
Jobs for educational assistants are most commonly found with the following types of organizations:
• Kindergarten to grade 12 public, separate and private schools
• After-school programs
• Post-secondary schools 
• Child care centres
• Summer camps and day programs
• Home-schooling environments
• Social service agencies that offer educational programming
• Private educational services and learning organizations
Job Opportunities - Current Postings
Our job search feature enables you to look for 'educational assistant' jobs in Canada, the United States, the United Kingdom and Australia. Give it a try!
Please Note: If you're having trouble finding relevant postings, try searching using alternate terms, such as "Teaching Assistant".
Details of the Typical Work Environment
Hours: Educational assistants that work in the school system typically follow the same schedule as teachers, in that they work during normal school hours, and are off during school breaks and holidays. They might also have to stay late or come in early on occasion, in order to attend staff, parent or committee meetings.
Setting: Educational assistants work indoors for the most part, with the exception of when supervising students outdoors or during field trips. Light lifting may be required, such as when lifting projectors, chairs and desks. Sometimes, heavier lifting may be required (for example, to help students move in and out of wheelchairs).
Conditions: The work of educational assistants can require a lot of patience and be quite stressful at times, such as when dealing with an unruly student, or difficult parents. You may also find the work to be quite satisfying at times, such as when you witness your students progressing and improving, or when one of them realizes a difficult achievement.
Career Advancement Possibilities in This Field
With additional education and licensing, you could move on to positions of greater responsibility or pay within the field of education. For example, you could become a special education teaching specialist, an elementary, middle or high school teacher.
Alternatively, you could move into an administrative role, such as vice/assistant principal, or principal, or find work in the office of the superintendent or your school district, or that of an outside school district, and possible become the superintendent yourself. 
Summary - Steps for Becoming an Educational Assistant
Step 1: Find out if this is a good career choice for you
Step 2: Get the right education 
Step 3: Look for employers in your area
Step 4: Secure a job 
Step 5: Advance your career through additional education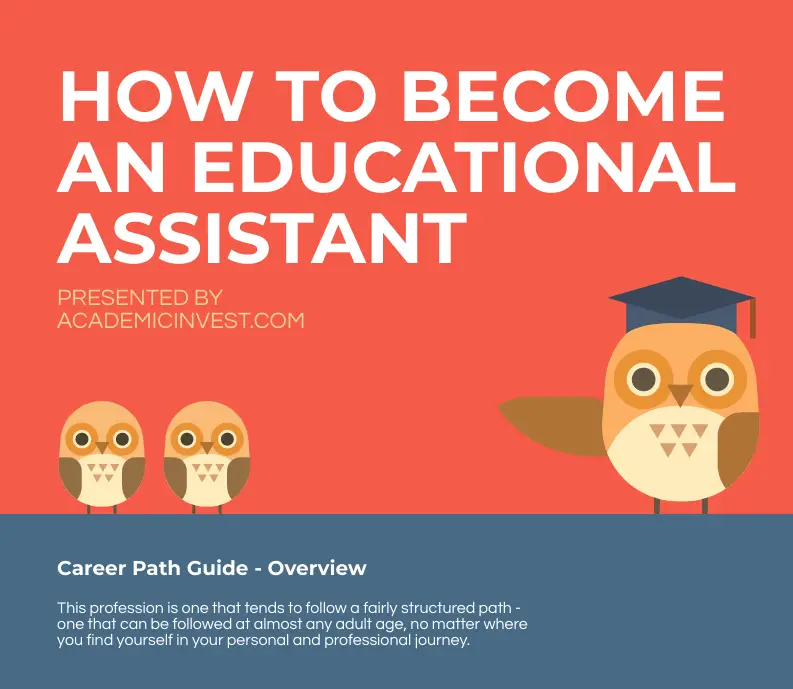 Similar Career Guides in Our Database
Listed below are career guides in our system for professions that have similar responsibilities, and/or require similar skills, or are in the same sector of industry, as 'educational assistant':
• Environmental Education Assistant
• Tutor
References for This Career Guide
Please consult the following resources to learn more about what it takes to work in this field:
Occupations in Alberta: "Educational Assistant." (March 27, 2017). ALIS - Alberta Learning and Information Service. Retrieved June 26, 2019.
Occupational Employment Statistics: "Teacher Assistants." (June 19, 2019). United States Bureau of Labor Statistics. Retrieved June 26, 2019.
Education, Community & Social Services: "Education / Teaching / Teaching Assistant." (n.d.). OCAS - Ontariocolleges.ca. Retrieved June 26, 2019.
Scholarships for Becoming an Educational Assistant
The scholarships on our Education Scholarships page are all relevant for becoming an educational assistant. Just be sure to apply for any scholarships that you even barely qualify for, as there are millions of dollars of scholarships that go unused every year due to a lack of applicants.
Relevant University Majors
Studying one of the university majors listed below can serve as an excellent foundation for this profession: