To become a communications assistant, you'll likely need some form of post-secondary education in communications, marketing, journalism, or a related field.
This occupation could be an excellent choice for you if you're someone who has great communication and organizational skills, are interested in a 9-5 style office-based career with excellent career advancement opportunities, and are someone who's comfortable using technology and social media.  
Below, we'll explore in more depth what you would be doing in this profession, how to get into it, and how to advance your career.
Education Needed to Become a Communications Assistant
Although the requirements can vary from job to job, many employers will prefer that you have a diploma or a degree in a relevant field, such as communications, marketing, liberal arts, business administration, or a variety of others.
Communications Assistant - General Job Description
Communications assistants are typically responsible for assisting communications personnel with accomplishing their goals. They may be responsible for executing such tasks as responding to media requests, updating websites and organizing press conferences. 
One critical function of their job is to ensure that their work adheres to the policies and objectives of their organization.
Typical Duties of the Job
Communications assistants are typically responsible for performing the following duties for their employer:
• Producing website content
• Producing brochures, posters, leaflets, and other promotional materials
• Using social media to promote awareness of their organization
• Managing the email list of their organization, and preparing newsletters for that audience
• Monitoring media coverage of the organization
• Assisting in media relations, as necessary 
• Providing support planning fundraising events and awareness campaigns
• Perform administrative functions such as maintaining staff calendars, processing invoices and scheduling meetings
Work Environment for Communications Assistants
Work Schedule: Communications assistants typically work normal, weekday working hours (9-5, for example), although that can vary depending on the nature of their employer. Overtime may be required in order to meet deadlines and complete projects.
Working Conditions: The pace of work would likely be quick, and would be primarily in an office setting. Travel would not be typical in this occupation, but may be involved if required.
Is This Career Right For You?
To enjoy the job responsibilities inherent in this profession, and to do well at them, you'll need to ensure that they align with your skills, traits and personal/professional interests. Do you have the following?
• Knowledge of social media and media relations
• Excellent written and verbal communications skills, although an emphasis on written in most cases
• Ability to manage tight deadlines, and thrive in a busy, fast-paced environment
• A willingness to work long hours in order to meet deadlines
• An interest in a office-based, typically 9-5 paying occupation with good prospects for advancement 
• Strong analytical, organizational and planning skills
• The ability to take direction and work diligently towards company objectives
Career Advancement Possibilities 
Communications assistants work in a field that offers plenty of opportunities to advance, or 'climb the ladder'. 
Moving into a role as a communications consultant, advisor or specialist is a common way to advance directly from a role as an assistant, as these types of roles are a natural extension of what communications assistants do, although they would involve greater responsibility in an overall sense, and would involve dealing more directly with clients and stakeholders, as well as applying the principles learned in school.
Taking on leadership roles, such as team lead or manager would be the next step, followed by self-employment or becoming an executive at the organization, or with an outside employer.
Success Tip: Advancing you career in this field would most likely involve acquiring enough work experience to show your superiors that you're skilled and competent, and would be well-suited in a more advanced role. Sometimes, further education may also be required, however it's typically at the discretion of the employer. 
Typical Salary Level
There are several factors that can influence what you'd earn as a communications assistant, including:
• Your level of education and experience 
• The scope of your job duties and functions
• The size and type of your employer
• The region in which you work
• The industry in which your employer operates
• Other possible factors
Salary - Canada (Alberta figures only): According to the 2015 Alberta Wage and Salary Survey, the average salary level of Albertans working in the Administrative Assistants occupational group, which includes communications assistants, is $52,068 per year. Unfortunately, at the time of writing there were no figures available from reliable sources for the rest of Canada.
Salary - United States: According to the U.S. Bureau of Labor Statistics, the median salary level of Americans working in the Secretaries and Administrative Assistants occupational group, which includes communication assistants, is $38,880 is per year (May, 2017 figures).
Who Employs Communications Assistants?
Communications assistants can be employed by virtually any organization that needs to communicate with internal and/or external stakeholders, which is most types of organizations. For example, possible employers might include:
• Private and publicly traded companies in all sectors of industry
• Colleges and universities 
• Non-profit and not-for-profit organizations
• Local, regional and federal government agencies 
• Hospitals and healthcare organizations
• Newspapers, magazines, news media and online publications 
• Public relations and marketing firms
• Professional corporations, such as law firms and medical offices
• Sports teams and theatre companies 
• Many, many more types of organizations
Job Opportunities - Current Postings
Our job search feature enables you to look for 'communications assistant' jobs in Canada, the United States, the United Kingdom and Australia. Give it a try!
Similar Career Guides in Our Database
Listed below are career guides in our database for professions that have similar responsibilities, and/or require similar skills, or are in the same sector of industry, as 'communications assistant':
Scholarships for Becoming a Communications Assistant
The scholarships in our database that are most relevant for becoming a communications assistant include:
• Political Science Scholarships
Success Tip: Every year, literally millions of dollars in scholarship money goes unused due to a lack of applicants. Apply for as many as you can, and keep record of those for which you do apply.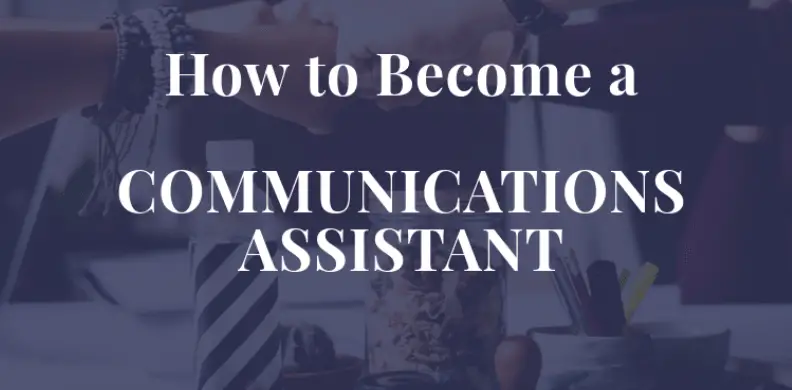 References for This Career Guide
Please consult the following resources to learn more about what it takes to work in this field:
Occupations in Alberta: "Administrative Assistant." (March 3, 2016). ALIS - Alberta Learning and Information Service. Retrieved May 15, 2019.
Occupational Employment Statistics: "Secretaries and Administrative Assistants." (April 12, 2019). United States Bureau of Labor Statistics. Retrieved May 15, 2019.
Job Market Research: "So I Have a Degree in Communications… What's Next?" (n.d.). Monster. Retrieved May 15, 2019.
SAC Official Documents: "Communications Assistant Job Description." (n.d.). Speech-Language & Audiology Canada. Retrieved May 15, 2019.
Relevant Fields of Study
The following majors in our database are relevant for becoming a communications assistant. Click on the links to find out what else you can do with these majors!