Although there are other paths you can take, a very effective route for becoming a collections manager is to follow these general steps:
1. Determine if this profession is suited to your interests and qualities
2. Pursue a degree related to accounting or finance
3. Gain experience in collections as a student
4. Find a job as a collections supervisor or manager upon graduation
If you're thinking about getting into this field, then keep reading to find out more about what collections managers do, and what you can do to become one! 
What Formal Education Will I Need?
Some employers will accept simply a high school diploma combined with years of progressive experience within the field. However, many employers will require that you have a bachelor's degree in a relevant field, such as Accounting, Finance or Business Administration.
Success Tip: Try to earn a job as a collections agent or accounts receivable clerk while you're a student; the experience will look great on your resume, and will teach you what you like and don't like about this field!
Gaining Relevant Experience
The best way to get ahead in this career is to get started early. Try to get a job in collections while you're still an undergrad student, or even a high school student. If you're unable to, it's not a big deal, you can simply try to get a job in collections upon graduation. 
Once you've landed a role, do your best. Demonstrate punctuality, competence, accountability and the willingness to take responsibility for tasks and projects. This will ensure that when there's a supervisory or management position available, you'll be the first to know.
Details of the Career - What is a Collections Manager?
A collections manager is responsible for overseeing a team of credit and collection professionals (personal or business credit), to ensure delinquent accounts are collected on in order to maximize cash flow for their organization. They may also be responsible for overseeing the assessment of credit, determining client or customer credit limits, developing processes and ensuring internal and external compliance.
What Do They Do?
Although their duties can vary from job to job, collections managers are generally responsible for performing the following duties:
• Establishing collection procedures
• Setting and monitoring collection performance against target metrics
• Monitoring high credit risk accounts and recommend alternatives to minimize exposure
• Leading and developing the collections or accounts receivable team
• Resolving/working through escalated credit issues
• Developing and implementing processes to ensure corporate compliance
• Working with 3rd party collection agencies, and courts
• Providing reports to senior management to assist in decision making
What Would the Work Environment Be Like?
Collections managers spend most of their time in an office, a good deal of which is spent in front of a computer of in meetings. Travel for work, aside from a commute, is not common in this profession. 
Most collections managers typically work normal, weekday working hours, although they might occasionally work evenings and weekends.
The work can be stressful at times, such as when dealing with a difficult escalated account, unmotivated staff, or pressure from executive management.
Is This Career Right for You?
Determining if a career field suits your personality as well as your professional ambitions is crucial if you plan on lasting in the field and finding fulfillment. Take a look at the ideal traits and interests of a collections manager below; if they describe you, then you might be very well-suited for this field:
• A high degree of motivation and perseverance
• Patience and persistence when dealing with difficult accounts and difficult people
• The ability to direct the work of others, and an interest in doing so
• An interest in finding innovative ways to locate debtors and recover liabilities
• Strong analytical and negotiation skills
• An interest in a "9-5" style career in an indoor working environment 
• An interest in creating a positive and productive work environment 
Who Employs Them?
Collections managers can be employed by a wide range of businesses and other types of organizations, including but not limited to:
• Retail and wholesale companies
• Banks, credit card companies and other lending institutions
• Hospitals
• Insurance companies
• Leasing firms
• Property management companies
• Trucking companies
• Health clubs
• Drilling, welding and other service suppliers
• Utility companies
• Government departments and agencies
• Collection agencies
Job Postings - Current Opportunities
Our job board below has a listing of "collections manager" postings in your area of Canada, the United States, the United Kingdom or Australia.
What Careers Are Similar?
Listed below are careers that may be in the same field, or they may involve many of the same skills, competencies and/or responsibilities:
Are There Scholarships for Aspiring Collections Managers? 
The "Majors in Our Database Relevant for this Career" section below lists fields of study that are relevant to becoming a collections manager. You can search for suitable scholarships by finding those majors on our "Any Field of Study Scholarships" page.
Success Tip: Be sure to apply for any scholarships that you qualify for, even if it's just because you meet 1 of the criteria, as there are millions of dollars of scholarships that go unused every year due to a lack of applicants!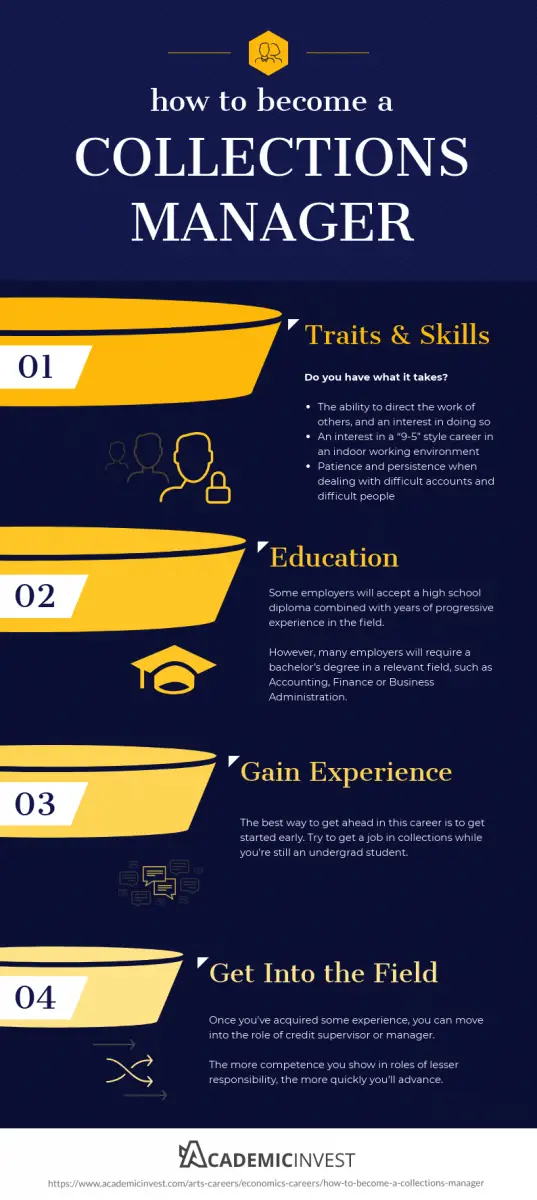 Sources for This Career Guide
The following resources were used to gather information for this career guide:
• Office & Administrative Support Careers: "Bill and Account Collectors." (n.d.). United States Government - Bureau of Labor Statistics - Occupational Outlook Handbook. Retrieved May 17, 2017.
• Occupational Profiles: "Collection Agent." (n.d.). Alberta Learning Information Service - Government of Alberta. Retrieved November 6, 2019.
• Work: "The Manager's Responsibilities for Accounts Receivable." Laurie Reeves (n.d.). Houston Chronicle website - Chron.com. Retrieved May 17, 2017.
Please Note: Much of the information gathered for this guide was obtained from actual job postings, which due to their brief online nature aren't listed here as references.
Majors in Our Database Relevant for this Career
We have career guides for over 60 university majors in our database. Below we've outlined those that are most relevant to becoming a collections manager. Click on the links to see what else you can do with these majors!