Curriculum directors oversee the development and implementation of curriculum and teaching standards within one or more schools.
They typically have a bachelor's and a master's degree, as well as a teaching license and several years worth of experience teaching a certain grade level or subject area.
This profession could be a great choice for you if you have analytical skills, leadership skills, and a deep commitment to the field of education.
If you want to know more about what it takes to become a curriculum director, what they do, how much they earn, and where they work, read on below!
Education Needed to Become a Curriculum Director
Most employers (typically school boards) will require that you have a master's degree in education, for which a bachelor's degree in is typically a pre-requisite. At the master's level, a specialization in education administration, curriculum development, or similar field, is ideal.

Success Tip: If you want to become a specialist in a specific area of curriculum development, it's recommended that you take courses relevant to that area, such as 'curriculum development for mathematics' or make it the focus of your graduate program, if possible.
Experience and Certification You'll Need
Most employers will require that you have at least a few years worth of experience as a teacher, and a current teaching license. Some might require that teaching experience to be in a specific subject or grade level.
Some may also require that you have an appropriate education administration license, such as a 'Curriculum/Program Administrator' license, the requirements for which typically (although not always) include a current teaching license, at least four years of teaching experience within the desired specialization, a master's degree and passing scores for an administrator's exam.
Please Note: The experience and certification requirements (also education requirements) will vary slightly from region to region. Be sure to double check with your provincial/state/territorial education department to find out what the exact licensing, education and experience requirements are for becoming a curriculum director in your area.
About this Profession: General Job Description
Curriculum directors (sometimes known as 'curriculum developers') are responsible for creating the curriculum for a certain level of education, or a specific program, in order to ensure that educational objectives are met. They must also decide which education materials to use, and ensure the curriculum is being taught properly by supervising the educational processes of instructors.
Typical Duties of the Job
Although their duties can vary, curriculum directors are generally responsible for the following:
• Creating and managing departmental budgets and expenditures
• Leading the curriculum planning process
• Supervising employees who are responsible for new program development and approval, such as a Curriculum Specialist
• Reviewing and updating current curriculum
• Creating a departmental master schedule
• Coordinating the annual evaluation of educational goals and objectives
• Serving as a liaison between the educational institution and accrediting agencies
• Overseeing the administration and analysis of institutional surveys related to the quality of education, instruction, facilities and other educational elements
• Reviewing student test data
• Writing grant proposals, or overseeing the process
• Explaining new standards to teachers, and assisting them in using the appropriate technology during their lesson plans
Areas of Specialization and Focus
The level of specialization of curriculum directors can vary quite a bit, and is based on the system that their employer has in place for their school, or schools. It's worth mentioning here that they can be responsible for directing the curriculum of one specific school, or multiple schools within a district. 
Some curriculum directors are responsible for broad subject and grade areas, such as 'elementary school', whereas others focus their efforts into very specific subject and grade areas, such as 'grade 12 math'.  Others still, may be responsible for entire programs, such as 'high school science', or 'special needs education'.
Is This Career Right for You?
To survive the ups and downs of a career as a curriculum director, and to enjoy yourself along the way, you need to have a certain set of traits, including:
• You have the decisiveness necessary to make changes to curricula, teaching methods and instructional materials
• You have the interpersonal skills necessary to build and maintain strong relationships with colleagues, such as teachers, principals and other administrators
• You're comfortable serving as a mentor to teachers and other administrators, and have the leadership skills to do so
• You have the analytical skills necessary to evaluate student testing data and teaching strategies and methods
• You have the communication skills necessary for explaining and justifying the changes and recommendations that you plan to implement
• You're dedicated to the field of education, as this profession requires several years worth of education, many years of professional experience, and its work has a major impact on the success of students and teachers
Average Salary Level
The salary level of curriculum directors can vary (as with any other profession), typically depending on the following factors:
• Their level of education and experience
• The size and type of their employer
• The discretion of their employer
• Their salary negotiating abilities 
• The region in which they work
It is very difficult to determine the typical earnings of curriculum directors in Canada, as reliable salary statistics are very difficult to find for this exact occupation. However, we can get a baseline idea of what they earn by looking at the salary and wage figures for the closely related occupational group of 'School principals and administrators of elementary and secondary education'.
Canada (Alberta figures only): According to the 2018 Alberta Wage and Salary Survey, the average salary level of Albertans working in the 'School principals and administrators of elementary and secondary education' occupational group is $117,092 per year. Unfortunately, at the time of writing there were no figures available from reliable sources for the rest of Canada at the time of writing (July 1, 2019).
United States: According to the U.S. Bureau of Labor Statistics, the median salary level of Americans working in the 'Instructional Coordinators' occupational group is $64,450 per year (May, 2018 figures). The lowest 10% of salaries in the group were at or below $36,360, and the highest 10% were at or above $102,200 per year.
Who Employs Curriculum Directors?
Curriculum directors are employed, typically on a full-time basis, by the following types of organizations:
• School boards (to serve an individual school, or an entire district)
• Private schools
• Colleges and universities
• Educational support service organizations
Job Postings - Current Opportunities
Job postings for curriculum directors are very rarely listed online, however, they're still worth looking for. Give our job board below a try to see if there are any relevant postings in your area:
Career Advancement Possibilities 
The most common type of career advancement for curriculum directors, is to take on more responsibility, which typically involves an increase in pay. Increased responsibility could come in the form of overseeing the curricula of more grades or subject levels, or taking on additional schools.
Curriculum directors can also move into other administrative roles, such as ice-ice-superintendent, or superintendent, or become part of the school board for an area.
Working Hours and Setting
Curriculum directors typically work during normal, weekday business hours in an office setting. Overtime might be required on occasion, such as when traveling to attend meetings or conferences, or when supervising school administrators and teachers. Unlike teachers, curriculum directors work year-round.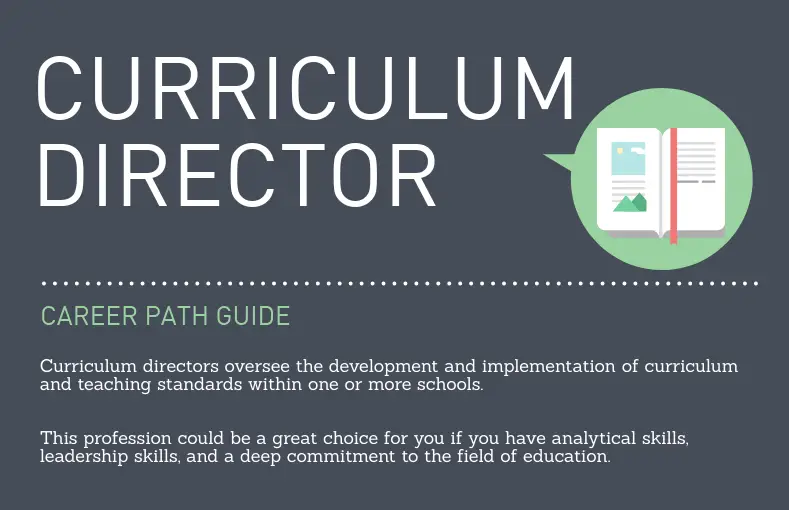 Similar Career Profiles in Our Database
Listed below are profiles in our database for careers that are similar to 'curriculum director'. We've chosen these because they require many of the same skills, interests and competencies, and involve many of the same responsibilities:
• Director of University Admissions
• Student Services Coordinator 
• University or College Administrator
References for This Career Guide
Please consult the following resources to learn more about what it takes to become a curriculum director, and other details of the career:
Occupations in Alberta: "School principals and administrators of elementary and secondary education." (n.d.). ALIS - Alberta Learning and Information Service. Retrieved July 1, 2019.
Occupational Employment Statistics: "Instructional Coordinators." (June 18, 2019). United States Bureau of Labor Statistics. Retrieved July 1, 2019.
Teaching Careers: "K-12 Curriculum Developer – Job Description and Salary Information." (December 19, 2018). Concordia University Portland - Blog. Retrieved July 1, 2019.
K-12 Education: "How to become a curriculum director." (August 17, 2015). Arkansas State University. Retrieved July 1, 2019.
Journals: "What Are the Duties of the Curriculum Director?" Doll, Ronald C.; Shafer, Harold T.; Christie, Sarah & Salsbury, Jerome C. (April, 1958). the Association for Supervision and Curriculum Development. Retrieved July 1, 2019.
Please Note: Some of the information for this career guide was sourced from online job postings, which due to the brief nature of their online presence, have not been noted here as references.
Scholarships for Becoming a Curriculum Director
The scholarships on our Education Scholarships page are all relevant for becoming a curriculum director. Just be sure to apply for any scholarships that you even barely qualify for, as there are millions of dollars of scholarships that go unused every year due to a lack of applicants.
Relevant Majors in Our System
Studying one of the university majors listed below can serve as an excellent foundation for this profession: