If you have an interest in a well-structured career in the education field, that involves helping students get access to the resources they need to be successful, then becoming a student services coordinator might be a great career choice for you.
Below we've outlined how to get started in this profession. We've also included helpful supplementary information, such as a job description, an overview of the job duties, salary expectations, a list of possible employers and much more!
Education and Experience Needed
Employers will typically require that you have at least bachelor's degree in an area such as education, psychology, social work, or a similar field. Some employers may require that you have, or are working towards a graduate degree in one of these areas, at their discretion.
Most employers will also want to see that you have a few years worth of work experience in a field that involves applying many of the same skills and competencies, or performing many of the same duties. 
It's also worth noting that a combination of education and experience can typically substitute for an advanced education, or for some years worth of work experience.
Success Tip: Ideally, you would have both a graduate degree, and a few years worth of relevant experience, but having that level of qualification won't always be necessary.
Certification Requirements 
This is not a regulated profession in either Canada or the United States, and as a result, student services coordinators generally don't require any sort of licensing.
More About this Career: General Job Description
Working under the general supervision of the designated principal or assistant principal, student services coordinators (sometimes known as student affairs coordinators), are responsible for facilitating the communication between students and faculty, as well as between students and school administration. They also provide assistance with student grievances. 
Typical Duties of the Job
Although their duties can vary, student services coordinators are typically responsible for the following work functions:
• Liaising with the Student Development Department, or similar departments, to coordinate student orientations, and manage the budgets thereof
• Working with activities offices and deans to plan and present Crew Chief and Orientation Leader Training for various student related organizations
• Overseeing the development of orientation themes and graphics, produce orientation mailings, and coordinating communication with parents, new students, and orientation personnel
• Listening to, and attempting to resolve, student grievances
• Serving as a member of various student interest related strategic planning committees
• Advising students on non-academic issues and connecting them to appropriate resources
Skills Needed to Be Effective 
Below is an overview of the skills you'll need to be effective as a student services coordinator. This will give you a good idea of what you'll need to work on to qualify for jobs. It will also further help you evaluate whether or not you think this line of work would be a good fit for you.
• Proficiency with MS Office (Outlook, Excel, Word, PowerPoint)
• The ability to manage conflict and diffuse difficult situations
• The ability to remain calm and professional when tense situations can't be defused 
• Excellent verbal and written communication skills, including professional etiquette
• The ability to multitask including simultaneously conducting and documenting a conversation
• The ability to manage fluctuating workload and time pressure, work independently as well as in a team
• The ability to handle confidential and sensitive information with discretion
• The ability to maintain good working relationships with colleagues, students, and other stakeholders
• Knowledge and awareness of the full offering school's student resources 
Is this Profession Right for You?
To survive the ups and downs of this profession, and to enjoy yourself along the way, you need to have a certain set of traits, including:
• A genuine interest in helping people resolve their problems
• Interest in a career with a consistent schedule and setting
• The creative ability required to develop new programs or ways of doing things
• Interest in working closely with others
• Personal and professional integrity
• Willingness to model standards for positive and supportive staff
• A student-centered approach to work activities
• A commitment to meeting the needs of all students
• Willingness to take accountability for the success of your program
Average Salary Level
The wages and salaries of student services coordinators can vary greatly, typically depending on the following factors:
• Their level of education and experience
• The amount of responsibility inherent in their job
• The size and type of their employer
• The discretion of their employer
• Their salary negotiating abilities 
• The region in which they work
 

It is very difficult to determine the typical earnings of student services coordinators, as reliable salary statistics are very difficult to find for this exact occupation. However, we can get a baseline idea of what they earn by looking at the salary and wage figures for the closely related occupation of "School Counselor".
Canada (Alberta figures only): According to the 2016 Alberta Wage and Salary Survey, the average salary level of Albertans working in the 'Educational Counselors' occupational group is $57,257 per year. The average overall wage is $31.20 per year. Unfortunately, at the time of writing there were no figures available from reliable sources for the rest of Canada at the time of writing (June 29, 2019).
United States: According to the U.S. Bureau of Labor Statistics, the median salary level of Americans working in the 'School and Career Counselors' occupational group is $56,310 is per year (May, 2018 figures).
Who Employs Student Services Coordinators?
Student services coordinators are typically employed with organizations that have both a student body and an administration department. These types of organizations include:
• Public and private elementary, middle and high schools
• Colleges and universities
• Community and junior colleges
• Professional schools
• Other local, regional and national educational services and institutions
Job Postings - Current Opportunities
Our job board below has student services coordinator job postings in your area (when available). Check it out!
Typical Work Environment
Hours: Student services coordinators usually work standard school or office hours, although they may spend additional evening and weekend hours attending or supervising extra-curricular activities or attending meetings.
Setting: They typically work in an office environment. They work with students for brief (or sometimes lengthy and continued) periods of time, as well as work closely with a variety of other educational professionals, such as teachers, school counselors, school nurses, school leadership, and others.
Work Environment: The work of student services coordinators can be emotionally demanding and stressful, particularly when dealing with a lot or appointments, or conflict resolution and grievance situations. Their work can also be highly rewarding, such as when they help a student solve a problem, or act as the catalyst for change in a school program.
Career Advancement Possibilities 
With experience, student services coordinators can earn more responsibility and pay, or move into departmental supervisory and management roles.
With additional education and/or training, they can also become school counselors or administrators, such as a school principal, vice principal, or a different administrative role. 
Alternatively, they can apply their skills and competence to career fields that are outside of education entirely (which may require additional education and training, depending on the role). For example, some highly relevant career fields would be in counseling and conflict resolution, or in employee and labour relations, to name a few possible areas.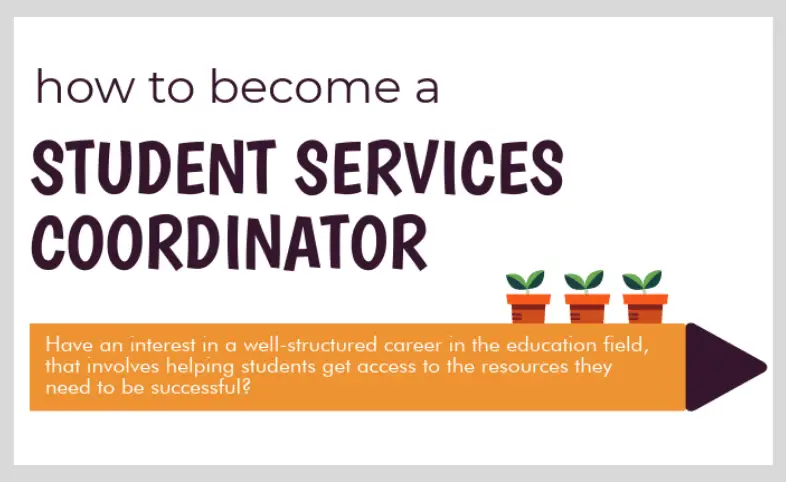 Similar Career Profiles in Our Database
Listed below are career profiles in our database that are similar to this one. We've chosen these because they require many of the same skills, interests and competencies, and involve many of the same responsibilities.
• Education Programs Administrator
• Tutor
References for This Career Guide
Please consult the following resources to learn more about what it takes to become a student services coordinator, and other details of the career:
Occupations in Alberta: "Educational Counsellor." (March 9, 2016). ALIS - Alberta Learning and Information Service. Retrieved June 29, 2019.
Occupational Employment Statistics: "School and Career Counselors." (April 12, 2019). United States Bureau of Labor Statistics. Retrieved June 29, 2019.
Inside Higher Ed Careers: "Student Services Coordinator." (n.d.) University of Pennsylvania. Retrieved June 29, 2019.
Please Note: Much of the information for this career guide was sourced from online job postings, which due to their brief online existence, have not been noted here as references.
Scholarships for Becoming a Student Services Coordinator
The scholarships on our Education Scholarships page are all relevant for becoming a student services coordinator. Just be sure to apply for any scholarships that you even barely qualify for, as there are millions of dollars of scholarships that go unused every year due to a lack of applicants.
Relevant Fields of Study in Our System
Studying one of the university majors listed below can serve as an excellent foundation for this profession: