You have a creative mind and can think up original ideas without much effort; you have an artistic nature and a dedication to improving your skills. With a little bit of formal education and an impressive demo reel and portfolio, you could become an animator.
The work of an animator has the possibility to take on several forms; from movies, to television shows, video games, and even advertisements. You could work as a freelancer or permanent employee for a design studio or a production house…or even start your own design studio or production house!
If you're interested in learning more about what it takes to get into this field, read on below! We've prepared an overview of what it takes to set the foundation for a career as an animator. We've even included actual "Animator" job postings, as well as a list of scholarships that are relevant to becoming an animator.
Experience Needed to Become an Animator
Employers typically hire animators based on proof of ability, which is generally demonstrated by way of a portfolio and demo reels. These are typically assembled over the course of working on school projects as well as volunteer and paid full-time, part-time or freelance jobs.
Success Tip: Getting an apprenticeship with a local design or production studio is a great way to get your foot in the door with an employer, and possibly build a portfolio for future jobs.
Education You'll Need
Although educational requirements for entering this field can vary, animators typically have an associate's or bachelor's degree in fine art, computer graphics, animation, or a similar field.
Success Tip: Having a combination of a strong educational foundation and a strong portfolio and demo reel will give you the best chance of getting hired.
Animator Job Description
What does an animator do?
An animator is responsible for producing multiple images known as frames, which when placed in sequence create the illusion of fluid movement.
For the traditional animator, these images are produced by hand or similar methods. Many animators today however are digital animators, meaning they use specialized computer software to create animations.
The work of animators is mostly used for television, movies, video games, advertisements, medical & technical explanations, recreating crime scenes for forensics, and other forms of media, and they often have specialties within these fields.
Animator Job Duties
Although their specific duties can vary from job to job, animators are typically responsible for performing the following functions:

• Liaising with clients for the purpose of creating animation based on their creative vision
• Creating storyboards that depict the script and narrative of the production
• Designing models, sets, characters, backgrounds and the animation environment
• Liaising with members of the production network, such as editors, printers, writers, designers and the director
• Working within production deadlines and budget restrictions
• Creating sketches and preliminary illustrations for approval
• Creating detailed frame-by-frame visuals of a scene
Are You a Good Fit for This Profession?
Pursuing a career for which you're not a good fit can cost you a lot of wasted time and energy. To be well suited for a career as an animator, you need to have certain personal traits and characteristics, as well as professional interests, including:
• You have an interest in a physically sedentary career, that involves looking at a screen for long periods of time
• You have an interest in an artist career, and are willing to dedicate yourself to continuously learning about and honing your craft
• You can think creatively to develop original ideas and make them come to life
• You're comfortable working with clients and/or team members to fulfill a project's needs
• You can frame constructive criticism and feedback in a positive way
• You're comfortable using either traditional artistic tools, or digital tools, which include multimedia and image processing software, as well as layout and design software
Who Employs Animators?
Animators can be employed with a wide variety of organizations on a part-time, full-time or causal basis. Such organizations include:
• Film and video production companies or post-production houses
• Independent filmmakers
• Television stations
• Advertising agencies
• Computer game developers
• Other computer-based multimedia developers or producers
• Colleges and universities, as animation instructors
 
Please Note: Although full-time and permanent positions exist, most animators work as freelancers and are paid on a contract basis.
Where are Most Jobs Located?
Most work opportunities for animators are found in larger cities where there is a lot of film, television and video game production, such as Los Angeles, Vancouver, Toronto, New York and Montreal. It's not uncommon for professional animators to travel from city to city to work on short-term contracts.
How Much Do Animators Make?
As with any other career field, the level of pay you could earn as an animator can vary, typically depending on the following factors:

• The size, type and budget of your employer
• The region in which you work
• The specific responsibilities of your job
• The structure of your employment, such as if you're self-employed, work full-time or part-time
• Your education, skill and experience level, as well as your professional reputation (if applicable)

Canada: According to the 2015 Wage and Salary Survey of the Government of Alberta, the average salary level of Albertans working in the Animators occupational group is $58,099 per year. At the time of writing, similar statistics were not available for other provinces or territories, or the whole of Canada.

United States: According to the United States Bureau of Labor Statistics, the median salary level of Americans working in the Multimedia Artists and Animators group is $70,530 per year.
How to Get Your First Job in This Field
There is no set path to becoming an animator. Animators may work as permanent employees of production studios, although many work as freelance artists.
A great first step to take when breaking into the field of traditional animation is to prepare marketing materials, such as a portfolio and a website. These will showcase your abilities to potential employers or clients, and will act as your visual resume.

Contact the creative directors of production companies who utilize the services of traditional animators in order to introduce yourself and your work. Keep record of who you speak to and when, as you will likely need to follow up with them every few weeks. Persistence often pays off.

Whatever path you take, always perfect your craft. Your best piece of work may be the one you haven't created yet! Join competitions, take classes, study online tutorials; do anything you can to keep sharpening your skills. The more you do the more material you will have to develop and improve your portfolio. Your portfolio should never be complete; it should always evolve and grow.

Success Tip: Try to learn everything you can in the field; the more well-rounded and educated in different techniques you are, the more likely you are to obtain work as a traditional animator. Learning how to apply your pen and pencil skills into programs like Photoshop, Illustrator and Flash may be essential to helping you find a job in the industry.
Job Postings - Current Opportunities
Our job below board has "Animator" postings in Canada, the United States, the United Kingdom and Australia.
What Career Advancement Possibilities Are There?
If you demonstrate competence, teamwork and time-management skills during your career as an animator, you'll likely have the opportunity to advance into supervisory and management positions, wherein you would over see the work of other animators.

With enough supervisory and management experience you could advance to become an art director, head producer or general manager for a design studio or production house.

Success Tip: If you're comfortable with the idea of running a business, you could open your own design studio or production house.
Similar Career Profiles in Our Database
Listed below are careers in our database that are similar in nature to Animator, as they may be in the same field, or they may involve many of the same skills, competencies and/or responsibilities.
• Animation Instructor
• Cartoonist
• Fashion Illustrator
• Film Animator
• Graphic Designer
• Visual Effects Artist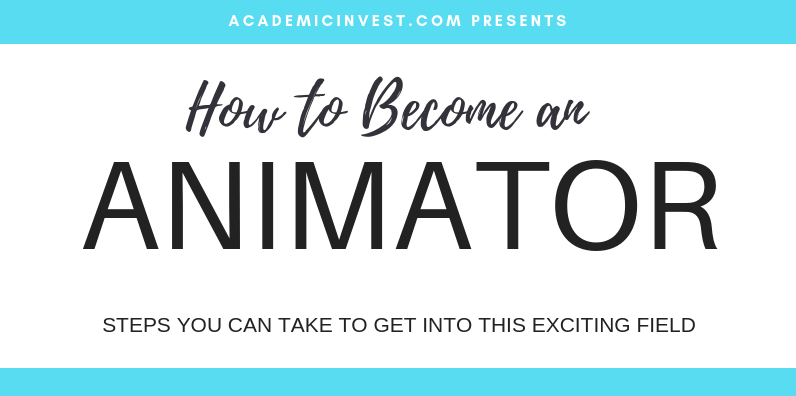 References for This Career Guide
Please consult the following resources to learn more about what it takes to work in this field:

• Careers: "Animator." (March 31, 2017). Government of Alberta - Alberta Learning and Information Service. Retrieved Oct. 2, 2018.
• Occupational Employment and Wages: "Multimedia Artists and Animators." (May, 2017). United States Bureau of Labor Statistics. Retrieved Oct. 2, 2018.
• Career Planning: "Animator Job Description and Information: Career Information." Dawn Rosenberg McKay (March 2, 2018). The Balance. Retrieved Oct. 2, 2018.
• The Art Institutes Blog: "How to Become a Successful Animator." Dawn Rosenberg McKay (April 16, 2018). The Art Institutes. Retrieved Oct. 2, 2018.
Relevant Scholarships
The Applicable Majors section below shows fields of study relevant to a career as an animator. You can search for scholarships matched to those fields of study on our Fine Arts Scholarships page.
Success Tip: Be sure to apply for any scholarships that you even barely qualify for, as there are millions of dollars of scholarships that go unused every year due to a lack of applicants!
Relevant Fields of Study
Studying one of the university majors listed below is an excellent starting point for becoming an animator. Click on the links to find out what else you can do with these majors!