Setting the Foundation Prior to Post-Secondary
While you're still in high school, you can get a head start on becoming an addictions counsellor by researching community colleges, colleges and universities to see who offers a program that will suit your needs and help you achieve your goal. You may want to consider the cost of program, duration, and the quality of instruction.
During Post-Secondary
Speaking with your school's guidance counsellor while you are still an undergraduate will give you the best possible information; your guidance office can provide you with specific instructions on which courses to take, as well as introduce you to potential internship opportunities. They will also give you direction concerning which graduate degrees will be most relevant in helping you to become an addictions counsellor.
If you're able to land an internship successfully, chances are you will be in a good position for permanent employment with the internship provided upon graduation.
If you were unable to land an internship, simply contact the hiring manager of local hospitals, private clinics, government agencies and rehabilitation centres in order to introduce yourself and your interest in an employment opportunity.
Education You'll Need to Become an Addictions Counsellor
You'll likely need a bachelor's level education in psychology or social work. Many employers however, prefer that you have a master's degree, or may state it as a formal requirement.
Other Requirements for This Profession
Specific requirements may vary from province to province, or from state to state, although they typically include one or more of the following:
• Abstinence from drugs and alcohol
• A completed internship
• A cleared licensing exam
• MAC certification (United States)
• Canadian Contingent Alcohol and Drug Abuse Counselor Designation (Canada)
• Become an Internationally Certified Alcohol and Drug Abuse Counselor (ICADC)
• Credentialed Alcoholism and Substance Abuse Counselor (CASAC)
• Canadian Counselling and Psychotherapy Association (CCPA)
Some of these credentials may not be necessary, although obtaining them can possess certain advantages, such as:
• Enhancing opportunities for independent practice
• Increased positioning for career advancement and an increase in salary
• Demonstrate your commitment to professional excellence
Success Tip: In order to obtain more specific information regarding certification you may need, contact your school guidance counselor, or a rehabilitation centre in your state or province.
Are You Well Suited for a Career as an Addictions Counsellor?
• Addictions counsellors must posses a deep interest in the physical, mental and emotional well being of individuals and their families.
• They must be able to deal with difficult behaviours resulting from addiction or psychological disorders.
• Providing support to individuals and their families, and assist them with removing a toxic addiction from their lives can be extremely rewarding.
• A career in this field requires extensive education.
• Working as an addictions counselor typically involves dealing with many individual cases simultaneously, making it stressful to maintain focus on one specific case at a time.
Who Employs Addictions Counsellors?
Addictions Counsellors have a variety of employment options available to them. Regional demand and availability of jobs plays an important role in determining where an addiction counsellor will be employed, as does preference with regards to employment setting.
Regions within Canada and the United States that are affected by high rates of addiction, or that are very proactive with alleviating addiction within their jurisdiction tend to have a higher demand for publicly funded positions. Some typical settings may include, but are not limited to:
• Private counseling practice
• Prisons
• Hospitals
• Rehabilitation centres
• Community improvement initiative centres
Putting it all Together: Steps for Becoming an Addictions Counsellor
To sum all of this up, here are the essential steps you'll need to take to enter this profession:
Step 1 - Check if you're well suited
To do this job, you'll need a deep interest in the physical, mental and emotional well being of individuals and their families. You'll also need have to be able to deal with difficult behaviours resulting from addiction or psychological disorders. Make sure you're interested in taking this on.
Step 2 - Enroll in an undergraduate degree program
To become an addictions counsellor, you'll need at least a bachelor's degree in social work, psychology, or a closely related field. Find a program that interests you, and ask their recruiters that you're interested in a career as an addictions counsellor in order to see how their school will help make your career ambitions a reality. For example, do their graduates have a high employment rate? Do they help facilitate internships with those who employ addictions counsellors?
Step 3 - Talk to your school's guidance counsellor
Taking the time to speak about your career ambitions with your guidance counsellor will give you access to the best possible information, including specific instructions on which courses to take, both at the undergraduate and graduate levels. It can also help introduce you to potential internship opportunities.
Step 4 - Find an internship
Your school should help with this, whether it be your guidance counsellor, or your faculty. If you are unable to land an internship, secure an employment opportunity by contacting the hiring manager of local hospitals, private clinics, government agencies and rehabilitation centres. Securing an internship, or similar work experience, will be crucial for licensing, your resume, and helping you determine if this really is the career for you.
Step 5 - Get a graduate degree
Now that you've got some internship or work experience and an undergraduate degree, you should have an excellent chance of being accepted into a graduate program. This may not be necessary, but if you're serious about this career, it will be a great asset for your future.
Step 6 - Get certified
With some work experience and a graduate education under your belt, you will be in a great position to become certified as an addictions counsellor. In some cases, certification may also be achieved while you are gaining work experience. Certification may not be required in all jobs, but in some jobs, you might have to work under the direct supervision of a certified counsellor until you are certified yourself. Please see the "Certification" section above for an overview of certification/licensing options.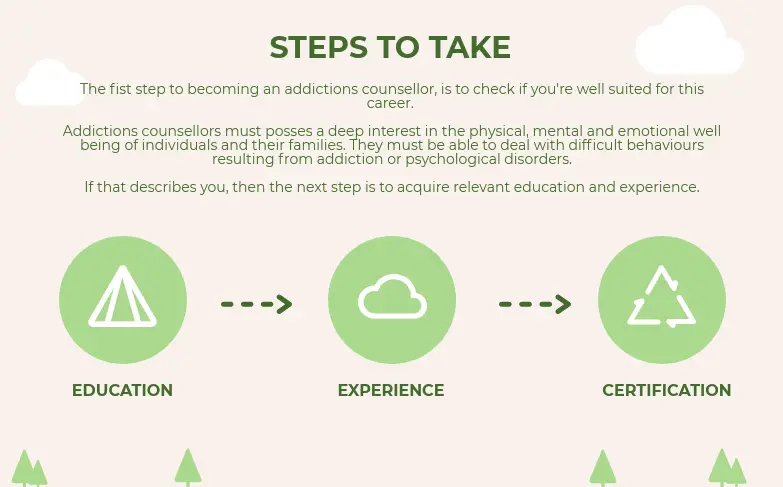 ---
Details of the Career Itself: Job Description
Addictions counsellors are responsible for helping individuals, families and communities identify and overcome addictions through various prevention and treatment programs. They may refer individuals to other professionals, such as doctors.
General Job Duties
• Keep comprehensive client files
• Review and evaluate client progress
• Develop public education, prevention and other promotional programs
• Liaise with other organizations, institutions and communities in order to develop, implement and evaluate health programs
• Assess client's strengths, weaknesses and severity of their dependence
• Develop client treatment plans, which are based on clinical experience and research
Typical Salary Level
The salary level you could earn as an addictions counsellor can vary, typically depending on the following factors:
• Your professional qualifications (level of education, experience, certification, etc.)
• The region in which you work
• The size, type, and budget of your employer
• The region in which you work
Salary - Alberta: According to the 2018 Alberta Wage and Salary Survey, Albertans in the Family, Marriage and Other Related Counsellors occupational group earn an average salary of $60,658 per year.
Salary - United States: According to the 2018 United States Bureau of Labor Statistics Occupational Employment Statistics survey., the median salary for workers in the Substance Abuse and Behavioral Disorder Counselors occupational group earn a median salary of $44,630 per year.
What Role do Addictions Counsellors Play in Society?
Addictions counsellors provide vital support to individuals, groups and families who are affected by various forms of chemical and behavioural addiction. Without this support, those affected by these addictions may see their condition worsen, possibly to the point of disability or even death.
By applying their understanding of the addictive process, addictions counsellors help those affected by addiction develop new cognitive and behavioural skills that will help them overcome their addiction. The skills that are developed will also help the affected individual overcome difficulties in other aspects of their life. Addictions counsellors recognize the potential for addiction to mimic, or exist simultaneously with medical and psychological disorders.
In order to provide effective treatment, an addictions counselor must posses a thorough understanding of how the addiction affects not only the mental, physical and emotional well being of the individual, they must also understand how it affects their families, friends and society as a whole.
Addictions Counselling Jobs
Our job board below has "Addictions Counsellor" postings in Canada, the United States, the United Kingdom and Australia.
Typical Work Environment
The work conditions for an addictions counsellor are highly dependent on if the counsellor is employed by a hospital, clinic, prison, rehabilitation centre, or by a public or private practice, as the specific environmental conditions can vary considerably from one of these settings to the next. There are however, many conditions that will remain consistent, regardless of the physical environment the counsellor finds himself or herself in.
In any of the aforementioned settings, working with individuals who are affected by addiction can be a stressful and even dangerous environment for the counsellor, as the moods and behaviours of those being treated may be volatile and change in an instant. The work is generally 40 hours, but evenings, weekends and holidays may be necessary depending on the setting. Also, many facilities operate 24 hours a day.
Similar Careers in Our Database
Listed below are careers in our database that are similar in nature to Addictions Counselor, as they may involve many of the same skills, competencies and responsibilities.
• Juvenile Correctional Officer
References for this Career Guide
The following resources were drawn from in the preparation of this How to Become an Addictions Counsellor career guide:
• "Occupational Profile: Addictions Counsellor." (n.d.). Alberta Government - Alberta Learning Information Service. Retrieved August 13, 2016.
• "Occupational Outlook Handbook: Substance Abuse and Behavioral Disorder Counselors." (May, 2015). United States Department of Labor - Bureau of Labor Statistics. Retrieved August 13, 2016.
• "How to Become Certified." (n.d.). Canadian Centre on Substance Abuse - CACCF website. Retrieved August 13, 2016.
Scholarships for Relevant Majors
The Relevant Majors section below shows fields of study that are relevant to a career in this field. You can search for scholarships matched to those fields of study on the following pages:
Religious Studies Scholarships
Success Tip: Be sure to apply for any scholarships that you even barely qualify for, as there are millions of dollars of scholarships that go unused every year due to a lack of applicants!
Relevant Majors for Entering This Field
Studying one of the university majors listed below is an excellent starting point to becoming an addictions counsellor. Click on the links to find out what else you can do with these majors!