Those who become astronauts are typically adventurous individuals who are interested in a unique, demanding and highly rewarding career involving exploration and discovery, as well as the application of technical skills, scientific expertise and interpersonal skills.
They are typically individuals who have achieved academic excellence and gained experience in a career related to something an astronaut would have to do, such as commanding a ship, or flying a jet for the Air Force.
Those who enter this field aren't afraid of hard work and rigorous training, and they are committed to career-long training, education and development. They must also be able to meet physical fitness requirements and be of specified height, which is between 62 and 75 inches.
They are also individuals who welcome a little competition; only a handful of candidates from thousands of applicants are selected every few years for astronaut training programs in Canada and the United States.
Below we've outlined what you'll need to begin a career as an astronaut. We've also included helpful information for this career, such as job description, job duties, salary expectations, a list of possible employers and much more!
Education You'll Need to Become an Astronaut
NASA prefers to hire candidates with at least a bachelor's degree and exceptional grades from an accredited institution in engineering, biological science, physical science, or mathematics.
Success Tip: While a bachelor's degree meets NASA's formal requirements for becoming an astronaut, they prefer candidates with a graduate degree
What is an Astronaut?
An astronaut (in the United States), cosmonaut (in Russia) or taikonaut (in China) is a person trained for a spaceflight program to either command, pilot, or serve as a crew member of a spacecraft. Each launched NASA spacecraft has a crew of at least five astronauts with designated duties on board. 
General Job Description
The job description of an astronaut can vary depending on the requirements of the mission, their role aboard the spacecraft, and many other factors. The crew of each launched spacecraft is made up of astronauts and non-astronauts from the following categories:
• Commander
• Pilot
• Mission Specialist
• Payload Specialist 
Commander and Pilot Astronauts: Pilot astronauts serve as both Space Shuttle and International Space Station commanders and pilots. During flight, the commander is responsible for the vehicle, the crew, as well as the overall success of the mission and the safety of the flight. The pilot may assist with other duties, such as the deployment and retrieval of satellites utilizing the remote manipulator system, in extravehicular activities, and in other payload operations.
Mission Specialists: Mission specialists are responsible for working with the commander and pilot, and have the overall responsibility of coordinating and planning crew activities, the usage of consumables, as well as experiment and payload operations. In order to fulfill their duties, they must have a detailed knowledge of Shuttle systems, as well as detailed knowledge of the operational characteristics, mission objectives, requirements and supporting systems.
Payload Specialists: Payload specialists are additional crew members that have specialized onboard duties for a specific mission. A payload specialist may be someone who is not a NASA astronaut (but must undergo the appropriate education and training) that may be added to a shuttle crew if that shuttle's mission activities that have unique requirements. Their responsibilities typically include handling highly complex or classified equipment carried aboard the shuttle, and to conducting scientific experiments in space. 
General Duties Involved
• Operate various space shuttle systems
• Responsible for executing the rules and control directives of missions
• Assess problems and implement deviations from initial flight plan, procedures or personnel assignments
• Operate and reconfigure orbiter systems during flight phases
• Maintain detailed understanding of orbiter systems
• Communicate with mission control to exchange information and direction
• Serve as integral part of onboard flight operations during ascent, on-orbit, and entry flight phases
• Operate remote manipulator systems to deploy payloads
• Perform repairs outside of space shuttle to accomplish the repair or inspection of satellites and other equipment
• Assist in formulating space shuttle operational policies
• Participate in the development of training equipment including simulation facilities
• Provide crew input for developmental engineering and mission planning
Skills, Traits and Qualifications You'll Need
An astronaut must have a wide variety of technical skills and interpersonal skills. These skills are crucial for an astronaut's and a mission's success. They also help astronauts and fellow crew members work through unforeseen circumstances while in outer space.
• Ability to pass a NASA space physical (similar to a military or civilian flight physical)
• Distant visual acuity: 20/100 or better uncorrected, correctable to 20/20 each eye
• Blood pressure: 140/90 measured in a sitting position
• Height between 5 and 6 ¼ feet (varies by role: pilot, mission specialist, etc.)
• A bachelor's degree in math, physics, science or engineering from a reputable school
• Be a citizen of the Country in which you are applying
• Able to speak foreign languages, especially Russian (recommended)
• For pilots and commanders: At least 1,000 hours or 3 years of pilot-in-command time in jet aircraft (Flight test experience is highly desirable)
Success Tip: Some of these skills and traits may not be formal requirements of becoming an astronaut, but they will be necessary to stand out from thousands of applicants competing for these rare opportunities
Professional Experience Needed
NASA requires its astronauts to have 3 years of progressively responsible professional experience in a field related to their education. Some, or all of the professional experience may be replaced by having a graduate degree in that field. A master's counts as 1 year, and a Ph.D. counts as 3, regardless of the amount of time it took to complete the degree.
It is also recommended to have experience in the form of a job related to one of an astronaut's duties. Such jobs include navigating, working with computers, or commanding a ship. Teachers are also encouraged to apply, as teaching is an important part of being an astronaut.
How to Apply for Job Openings
We should warn you, the competition for a job as an astronaut is quite fierce, and the odds of becoming a NASA astronaut are difficult to overcome. For example, between November 2011 and January 2012, NASA received more than 6,300 applications from individuals hoping to become astronauts, and only between 9 and 15 were expected to be selected from the application pool to begin training as astronaut candidates.
If you have excellent grades, an excellent level of physical fitness, and you're interested in a career that will push you to your physical and psychological limits, then read on.
American Application Process
The application process for American astronaut jobs varies, depending on whether or not the applicant is an active member of the military.
Active Military Duty Applicants: Active duty military personnel must submit applications for the Astronaut Candidate Program through their respective service. After preliminary screening by the service, a small number of applications are submitted to NASA for further consideration.
Non-Military Applicants: Those who are not active members of the military must apply for astronaut jobs by visiting USAJOBS and searching jobs for the Astronaut Candidate position or Vacancy Announcement number. 
Canadian Application Process
The only time you can apply to become an astronaut in Canada is when the Canadian Space Agency announces a recruitment campaign, and these campaigns are rare. In fact, there have only ever been 3 astronaut recruitment campaigns in the history of the Canadian Space Agency (1983, 1992, 2008). The most recent campaign lasted approximately 1 year, and only 2 candidates were selected to become Canadian astronauts.
There are typically around 5,000 applications submitted to these campaigns, and only a handful of spots are ever available. To find out when the latest recruitment campaign will be, visit the Canadian Space Agency's website. 
Get Your Degree!
Find schools and get information on the program that's right for you.
Powered by Campus Explorer
How Much Do They Earn?
According to NASA, salaries for civilian Astronaut Candidates are based upon the Federal Government's General Schedule pay scale for grades GS-11 through GS-14. The grade level is determined in accordance with each individual's academic achievements and experience. Currently, a GS-11 salary grade starts at $64,724 per year, and a GS-14 can earn up to $141,715 per year (2013 figures).
What Countries Produce Astronauts?
The United States and Russia have their own space agencies (NASA and ROSCOSMOS, respectively), and China also has manned space flight capabilities. You do not have to be American, Russian or Chinese to become an Astronaut however, as NASA currently has an international agreement with countries that have their own space agencies, including Canada, Japan, Russia, Brazil, as well as Europe. 
Similar Occupational Profiles in Our Database
Listed below are careers in our database that are similar in nature to 'astronau't, as they involve many of the same skills, competencies and responsibilities.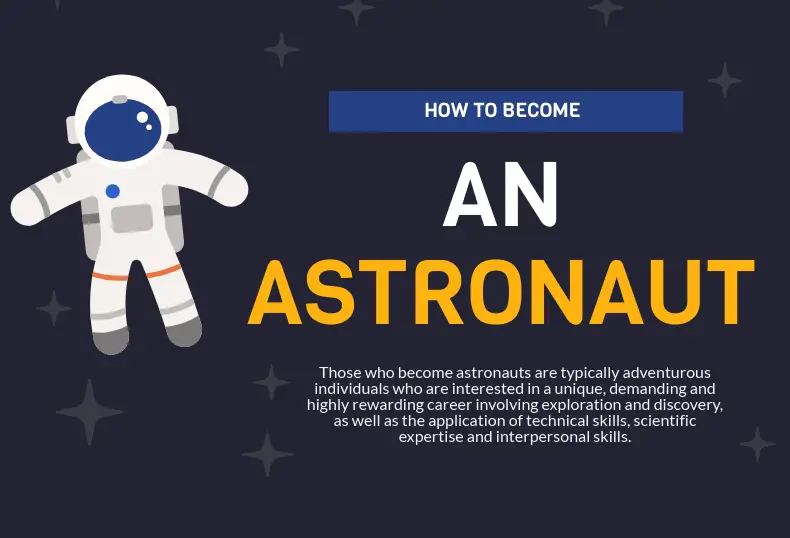 References
Please consult the references below to find more information on the various aspects of this profession.
Features: "Astronaut Requirements." Flint Wild (August 6, 2017). NASA website. Retrieved October 23, 2019.
Astronauts: "Frequently Asked Questions." (n.d.). NASA Human Resources website. Retrieved October 23, 2019.
Features - The Man Who Tweeted Earth: "How to Become an Astronaut." (December 31, 2016). CBC website. Retrieved October 23, 2019.
About the Job: "Astronauts' Basic Training." (June 17, 2016). Canadian Space Agency website. Retrieved October 23, 2019.
Scholarships for Becoming an Astronaut
The "Relevant Fields of Study" section below lists university majors that pertain to becoming an astronaut. You can search for scholarships matched to those fields of study on our All Scholarships by Major page.
Success Tip: Be sure to apply for any scholarships that you even barely qualify for, as there are millions of dollars of scholarships that go unused every year due to a lack of applicants!
Relevant Fields of Study
Studying one of the university majors listed below is an excellent way to get started in this profession. Click on the links to find out what else you can do with these majors!