Daycare workers are the unsung heroes in the lives of children. They keep them occupied, interested, engaged, fed, and most importantly, safe.
This could be a great field of work for you if you're passionate about the development and wellness of children, you have the creativity to keep them entertained, and you have a lot of patience and empathy to employ for when things aren't going their way.
Below, we've outlined everything you need to know about what it takes to become a daycare worker, as well as what you'd be doing, what education and experience you'll need, how much you could earn, what your career growth could look like, and much more!
Education Needed to Become a Daycare Worker
Employers will likely require that you have at least a high school diploma and, in some cases, will also require that you have postsecondary education (a diploma, certificate or degree) related to child care, or early childhood education.
Experience You Might Need
Employers generally won't require much in the way of previous work experience for you to be hired on, especially for positions of lower responsibility. However, some will give preference to candidates with 1-2 years of experience in working with children on some level, or will list it as a requirement.
Success Tip: If you don't have the experience the employer states as a requirement, that's not the end of the world; for many employers it's more of a 'loose' requirement.
Basic Qualifications 
To be considered for daycare worker jobs, most employers will require that you meet some, or all of the following criteria:
• You have a valid First Aid certificate
• You have a valid Cardiopulmonary Resuscitation (CPR) certificate
• You can pass a child intervention record check
• You can pass a criminal record check
• You have knowledge of a specific culture and language (in some cases)
Certification Needed
Some Canadian provinces and American states require daycare workers to have a locally or nationally recognized credential.
In the United States, the Child Development Associate (CDA) credential is offered by the Council for Professional Recognition. Obtaining the CDA credential requires coursework, experience in the field, and a period during which the applicant is observed while working with children.
In Canada, certification is more widely available at a provincial level. For example, in Alberta, The Child and Youth Care Association of Alberta offers a certification program for child and youth care workers.
Success Tip: Even if certification is not mandatory in your state/province, it can be a great idea to have it, as it can give you a strong advantage when seeking employment. And be sure to check with your province or state to see if certification is mandatory.
About This Career: General Job Description
Daycare workers are responsible for planning and implementing daycare programs and activities for young children. This involves ensuring the facilities are clean and safe, and attending to the basic needs of children, such as dressing, bathing, feeding, and overseeing play. 
They must ensure that the programs they plan and implement meet the emotional, physical, social and intellectual needs of the children.
Typical Job Duties
Although their duties can vary, daycare workers are typically responsible for the following:
• Ensuring the children behave in a positive manner
• Providing healthy snacks and meals
• Ensuring there is an adequate supply of play equipment within the daycare facility
• Maintaining knowledge of emergency procedures and performing them when necessary
• Creating and implementing activities that introduce intellectual concepts such as mathematics and literacy
• Providing a weekly and monthly activity schedule
• Discussing any issues or problems with parents
• Supervising the personal hygiene routines of the children
Is Becoming a Daycare Worker Right for You?
Aside from a natural love of working with children, you'll need to have certain personal traits and interest in order to thrive as a daycare worker, such as:
• Energy and enthusiasm 
• A willingness to take on a range of activities and tasks
• Lots of patience, empathy and compassion 
• The ability to relate to both children and adults
• Creativity, to think of new games and activities
• General cleanliness and tidiness
• The capability to bend, kneel and crouch throughout your shift
Average Salary & Wage Levels
The earnings of daycare workers can vary (as with any other profession), typically depending on the following factors:
• Their level of education, experience and certification
• The size, type and budget of their employer
• Their level of responsibility within the job
• Their wage and salary negotiating abilities 
• The region in which they work
Salary in Canada: According to the 2017 Alberta Wage and Salary Survey (the latest figures available at the time of writing), the average salary level of Albertans working in the 'Child and Youth Care Worker' occupational group is $35,126 per year, or $21.25 per hour. Unfortunately, at the time of writing there were no figures available from reliable sources for the rest of Canada at the time of writing (July 3, 2019).
United States: According to the U.S. Bureau of Labor Statistics, the median salary level of Americans working in the 'Childcare Workers' occupational group is $23,240 per year (May, 2018 figures), or $11.17 per hour. The lowest 10% of wages in the group were at or below $8,53 per hour, and the highest 10% were at or above $16.55.
Who Employs Daycare Workers?
Daycare workers are typically employed by the following types of organizations:
• Child care and day care centres
• Family day home agencies 
• Individual families 
• Out-of-school care programs
• Preschools or playschools
• Recreational centres
• Family support programs and resource centres
• Emergency shelters
• Hospitals and healthcare facilities
• Religious organizations
• Self-employment (as an owner of a day care centre)
Current Job Opportunities
Give our job board below a try to see if there are any relevant postings in your area:
Work Environment
Hours: The working hours of daycare workers typically align with the operational hours of the facility in which they work. In some cases, they might work in shifts, such as if a facility is open beyond 8 or 10 hours per day. Both part-time and full-time work are common in this profession.

Setting: Daycare workers work in a variety of settings. They most commonly work within daycare facilities, people's homes, schools, hospitals, centres, religious institutions, and day homes.

Conditions: Daycare workers must have at least a moderate degree of physical fitness and stamina, as they have to be able to keep up with the children (which involves plenty of bending, kneeling and sitting), and be able to lift them if necessary. Their work can be stressful at times, such as when children are uncooperative with the workers, or other children, or when parents become upset with an element of the care their children are receiving.
Career Advancement for Daycare Workers 
With enough experience, you could move into a position of greater responsibility and pay, such as a childcare centre/daycare supervisor, manager, director, or even owner. Alternatively, you could move into other roles with related responsibilities, such as those listed below in our 'Similar Occupational Profiles in Our Database' section (some of which would require further education and training).
Similar Occupational Profiles in Our Database
Listed below are profiles in our database for careers that are similar to 'daycare worker'. We've chosen these because they require many of the same skills, interests and competencies, and involve many of the same responsibilities:
• Child Care Centre Supervisor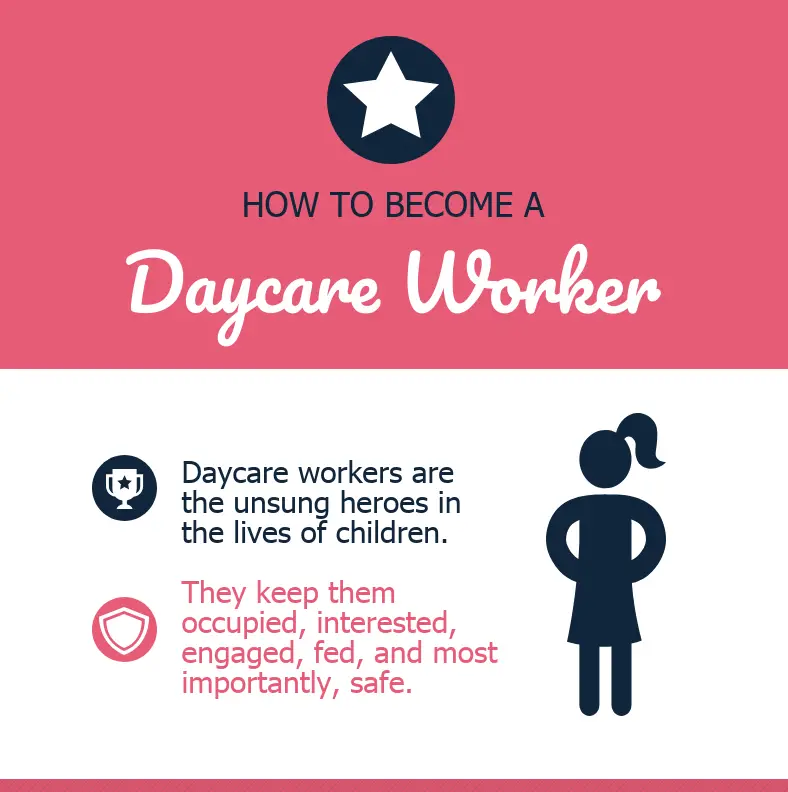 References for This Guide
Please consult the following resources to learn more about what it takes to become a daycare worker, and other details of the career:
Occupations in Alberta: "Child and Youth Care Worker." (March 2, 2017). ALIS - Alberta Learning and Information Service. Retrieved July 3, 2019.
Career Planning Series - Job Profile: "Day Care Worker." (n.d.). Government of Alberta. Retrieved July 3, 2019.
Occupational Employment Statistics: "Childcare Workers." (June 12, 2019). United States Bureau of Labor Statistics. Retrieved July 3, 2019.
Explore Careers: "Childcare Worker." (n.d.) Seek. Retrieved July 3, 2019.
Please Note: Some of the information for this career guide was sourced from online job postings, which due to the brief nature of their online presence, have not been noted here as references.
Scholarships for Becoming a Daycare Worker
The "Relevant Majors for This Career" section below lists fields of study that are relevant for getting the required education to work in this field. You can search for relevant scholarships by finding those majors on our Scholarships page.
Relevant Majors for This Career
The majors listed below can serve as an excellent foundation for this profession: