If you're looking for a career that taps into your love of being around children, you're passionate about their development and you can keep up with them, then a career as an early childhood educator is well worth considering. 
Below, we've outlined everything you need to know about this profession, such as what you'd be doing, what education and certification you'll need, how much you could earn, what your career growth could look like, and much more!
Education Needed to Become an Early Childhood Educator
Most Canadian provinces and American states (an subsequently employers) require educators in licensed child care centres, out-of-school care programs and preschools to have completed education and training in child development or early childhood education from an approved institution. 
An early childhood development education and training program will teach you the basics of health, safety and behaviour as they apply to young children, as well as how to understand children's environments and early learning mechanisms. 
They will also teach you to plan early childhood education curriculums for a variety of levels.
Success Tip: Be sure to ask your school, or prospective school, if they are approved by your province or state.
Certification Needed
Once you've graduated from an approved training program, you can work as an early childhood educator or assistant once you've received a certificate from your provincial or state government. 
In some cases, you'll be able to work in a licensed facility once you've applied for, or started working towards, certification.
Some jurisdictions also have additional certification requirements for working in specialized areas of ECE, such as infant/toddler or special needs early childhood education. 
Success Tip: Be sure to check with your provincial or state ECE licensing body to find out what the exact requirements are in your area.
Additional Qualifications
Most reputable employers will also require that you meet additional criteria, specifically related to the safety of children, such as:
• Having a valid First Aid certificate
• Having a valid Cardiopulmonary Resuscitation (CPR) certificate
• Ability to pass a child intervention record check
• Ability to pass a criminal record check, with a vulnerable sector search
About This Career: General Job Description
Early childhood educators are responsible for planning, organizing and leading activities and programs that are designed to help pre-school aged children develop physically, mentally and emotionally.
Typical Responsibilities & Duties
Although the nuances of their job can vary, early childhood educators are generally responsible for the following:
• Designing, creating and implementing programs that meet the social, intellectual, physical, emotional and developmental needs of children
• Watching for signs of emotional or developmental problems in each child and bringing them to the attention of the child's parents or guardians
• Teaching children basic skills such as identifying colours, shapes, numbers, and letters
• Working with children in groups or one on one, depending on the needs of children and on the subject matter
• Develop schedules and routines to ensure children have enough physical activity and rest
• Developing schedules and routines to ensure children have enough physical activity and rest
• Operating within a play-based environment
• Ensuring a positive and safe atmosphere for the children
• Establishing routines and positive guidance policies that allow children to feel secure, comfortable and safe
• Communicating effectively with the parents of children or community agencies that may be involved in the children's development
Is Becoming an Early Childhood Educator Right for You?
To be effective as an early childhood educator and role model, as well as to enjoy the profession and find fulfillment within it, you'll need several skills and key personal traits, including:
• You enjoy being around children, and want to make a difference in their lives
• You understand that children come from different backgrounds, have different learning styles, and different needs
• You are enthusiastic and motivated to design activities that will help children's cognition, motor functions and emotional abilities develop
• You have the dedication needed to respond to the constant and evolving needs of children, as well as to continuously monitor their activities and overall progress
• You have the organizational and management skills necessary to provide children with consistency, structure and predictable expectations
• You're capable of constantly modelling respectful behaviour and language
Average Salary Level
The salary level of early childhood educators can vary (as with any other profession), typically depending on the following factors:
• Their level of education, experience and certification
• The size, type and budget of their employer
• Their wage and salary negotiating abilities 
• The region in which they work
Salary in Canada: According to the 2016 Alberta Wage and Salary Survey (the latest figures available at the time of writing), the average salary level of Albertans working in the 'Early Childhood Educators' occupational group is $29,245 per year, or $16.81 per hour. Unfortunately, at the time of writing there were no figures available from reliable sources for the rest of Canada at the time of writing (July 2, 2019).
United States: According to the U.S. Bureau of Labor Statistics, the median salary level of Americans working in the 'Preschool Teachers' occupational group is $29,780 per year (May, 2018 figures), or $14.32 per hour. The lowest 10% of salaries in the group were at or below $20,610, and the highest 10% were at or above $55,350 per year.
Who Employs Them?
Early childhood educators are typically employed by the following types of organizations:
• Child care and day care centres
• Family day home agencies 
• Individual families 
• Out-of-school care programs
• Preschools or playschools
• Recreational centres
• Kindergarten classrooms
• Early intervention programs
• Family support programs and resource centres
• Domestic violence shelters
• Religious organizations
Current Job Opportunities
Give our job board below a try to see if there are any relevant postings in your area:
Work Environment 
Hours: The working hours of early childhood educators (ECEs) typically align with the operational hours of the facility in which they work. In some cases, they might work in shifts, such as if a facility is open beyond 8 or 10 hours per day. Both part-time and full-time work are common in this profession.
Setting: ECEs work in a variety of settings, although not that wide of a variety. They most commonly work within schools, people's homes, daycare and childcare centres, religious institutions, and day homes.
Conditions: Early childhood educators must have at least a moderate degree of physical fitness and stamina, as they have to be able to keep up with the children (which involves plenty of bending, kneeling and sitting), and be able to lift them if necessary.
Career Advancement Possibilities 
With experience, an early childhood educator can move into a role that involve additional responsibility and pay, such as becoming a staff supervisor, manager, or even the owner of their own business. Alternatively, they could move into related roles, such as:
• Home child-care provider
• Child-care consultant
• Camp counselor
• Elementary school teacher (would require additional education)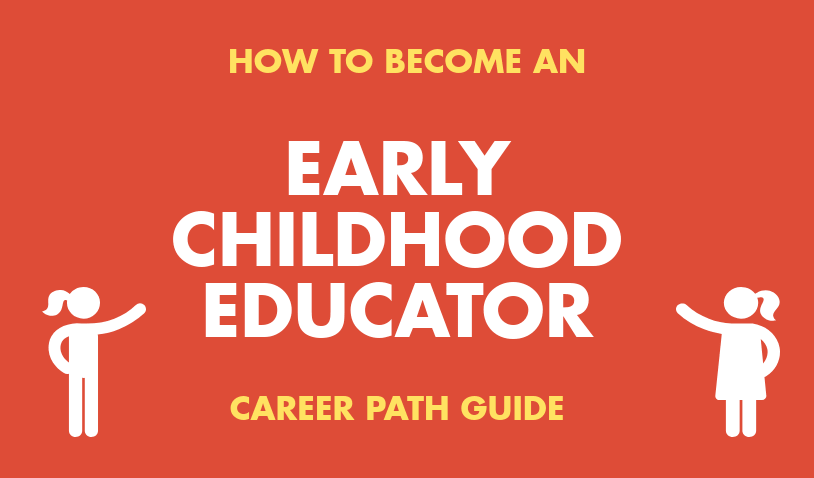 Similar Career Profiles in Our Database
Listed below are profiles in our database for careers that are similar to 'early childhood educator'. We've chosen these because they require many of the same skills, interests and competencies, and involve many of the same responsibilities:
• Child Care Centre Supervisor
• Literacy Program Coordinator
References for This Career Guide
Please consult the following resources to learn more about what it takes to become an early childhood education, and other details of the career:
Occupations in Alberta: "Early Childhood Educator." (March 3, 2016). ALIS - Alberta Learning and Information Service. Retrieved July 2, 2019.
Occupational Employment Statistics: "Preschool Teachers." (May 8, 2019). United States Bureau of Labor Statistics. Retrieved July 2, 2019.
Training & Professional Development: "Become an Early Childhood Educator (ECE)." Government of British Columbia. Retrieved July 2, 2019.
Education, Community & Social Services Programming: "Early Childhood Education." (n.d.). The Application Service for Ontario's Public Colleges. Retrieved July 2, 2019.
Educational Institutions and Child Care Facility Administration: "Early Childhood Educator Certification." Government of Saskatchewan. Retrieved July 2, 2019.
Scholarships for Becoming an Early Childhood Educator
The scholarships on our Education Scholarships page are all relevant for becoming an early childhood educator. Just be sure to apply for any scholarships that you even barely qualify for, as there are millions of dollars of scholarships that go unused every year due to a lack of applicants.
Relevant Majors in Our System
The major(s) listed below can serve as an excellent foundation for this profession: