The combination of theory and applied work in these programs can provide you with the knowledge and experience needed to meet employment demands across a wide range of industries, in particular those that relate directly to criminal justice.
How Will This Degree Help Me in My Career?
Many criminal justice programs in Canada and the United States can provide you with a broad understanding of the criminal justice system, which serves well to prepare you for both relevant careers, and life outside of work.
So, if you'd like to know more about what you can do with this degree, read on below! This careers guide contains detailed occupational information on a wide range of careers related in some way to a degree in criminal justice. We've included job descriptions, expected salaries, educational requirements and other pertinent information related to these careers. We've also outlined scholarships in criminal justice to help you pay for school.
What Criminal Justice Programs Teach
Many criminal justice programs are designed to directly prepare you for a career in the field, by providing you with a fundamental understanding of key concepts and theoretical approaches developed in relation to crime, victimization, criminalization, criminal justice and penal practice. These concepts include:
• The nature and causes of crime
• Processes for managing crime, deviance and victimization
• Community safety
• Rehabilitation
• Recidivism
• Progressive reforms
• Restorative justice
• Alternatives to incarceration
Relevant Scholarships
Are you looking for help paying for school? Search our scholarships database for Canadian and American criminal justice-specific scholarships.
Success Tip: Be sure to apply for any and all scholarships for which you qualify, as there are millions of dollars of scholarships in Canada and the United States that go unused every year due to a lack of applicants.
Skills Directly Applicable to Criminal Justice Careers
As a result of your coursework, you will be equipped with a set of skills, specific to the subject matter, that prepare you for careers in the broad field of criminal justice. These skills include:
• General knowledge of the criminal justice system and the study of criminology
• A through understanding of the practices of the justice system
• An understanding of the central role that human rights play within the development and enforcement of criminal law
• Refined human relations skills that serve to accurately communicate information and resolve conflict effectively
• Literacy in the theories and methods of the criminological enterprise
• An understanding of current policing methods, as well as the strengths and weaknesses of various approaches
• Working knowledge of the three operational branches of the criminal justice system, police courts, and corrections
• Knowledge of the legal process and the court system
• An understanding of the correctional process, and the strengths and weaknesses of retributive, treatment, and restorative justice models
Career Guides: Directly Related to This Degree
The skills listed above are directly relevant to the following careers:
• Alcohol, Tobacco and Firearms Officer
• Bailiff
• Citizenship and Immigration Officer
• Domestic Violence Victim Advocate
• Juvenile Correctional Officer
• Witness Protection Program Worker
General Employable Skills Gained
Are you interested in a career in another field entirely? Or interested in exploring how this degree helps you in the workplace in general? A good place to start is by looking at the transferrable skills this degree enables you to gain. These skills include:
Research: An extremely valuable skill for the workplace that a criminal justice degree teaches you is the ability to perform research properly. You can apply this skill to a wide variety of issues and problems they will encounter during your career.
Critical Thinking and Analysis: You will be taught how to think objectively, and not take everything you are told to be factual. You learn to use carefully gathered evidence to ensure accurate conclusions are formed.
Creativity: These programs teach you to think 'outside of the box', and to look at the 'big picture'. When applied to work, creativity can be applied to find new solutions for old problems, and to view challenges as opportunities.
Effective Communication: A skill that can be applied to almost any career, whether related to criminal justice or not, is that of effective communication. Because of the volume of writing you must do in school, you are taught to become a skilled writer and presenter.
Interpersonal Skills: You'll learn to become a valuable employee and co-worker, because you learn how to be a self-sufficient thinker, as well as an informed collaborator. Whatever career path you choose, you can apply your strong work ethic and thoroughness to working independently or as part of a team.
Other Career Guides: Applicable to the General Skills
Careers in other industries that you can pursue based on the above-mentioned general skills include (but are not at all limited to):
• Blogger
• Lawyer
• Mayor
Please Note: Some careers specifically related to a criminal justice degree, as well as some of those indirectly related to it, may require further education and training. Please visit the career guide of the individual career, by clicking on the link, to find out more about these requirements.
Who Creates Jobs for Graduates?
Although degrees in this field are meant primarily to prepare you for a career in criminal justice, the general skills they enable you to gain can be applied to careers in other fields as well.
Below are lists of the types of employers that hire criminal justice graduates, both in and outside of the field (please note, this is not a comprehensive list):
Employers in the field of criminal justice:
• Municipal, provincial/state and federal law enforcement agencies
• Social work agencies
• Probation and parole offices
• Criminal justice publications and journals
• Courts of law
• Colleges and universities
• Non-profit organizations
General employers:
• Municipal, provincial/state and federal government agencies  
• Banks and financial institutions
• Colleges and universities
• Public and private school boards
• Public and private research institutions
• Consulting companies
• Manufacturing and distribution companies
• Oil, gas and mining companies
• Non-profit organizations
• Self-employment
• Many other types of organizations 
Typical Salary Level of Graduates
The salary you could earn once you enter the workforce depends on what career you pursue. For example, if you go on to become a legal analyst, your earnings may be different, for better or for worse, from what you would earn if you choose to become a parole officer.
• Your level of education (such as if you went on to graduate studies)
• The industry in which you find work
• The size and type of your employer
• The region in which you work
• Other work experience you may have accrued
• Other skills you may have
Some Actual Salary Figures
Salaries in Canada: According to a study in 2011 conducted by the Ontario Council of Universities, $43,468 CAD* is the average salary earned by Social Science graduates 2 years after graduating from Ontario universities in 2008.
Success Tip: To get a better idea of what you could earn, click on some of the career fields listed above, in the "Career Guides: Directly Related to a Criminal Justice Degree" section above. There will be more specific salary information if you search by occupation, rather than by degree.
*This figure is a composite of all graduates who earned a Bachelor of Arts in the social sciences, not specifically for criminal justice graduates. Unfortunately similar statistics for other Canadian provinces and the United States cannot be found from reputable sources.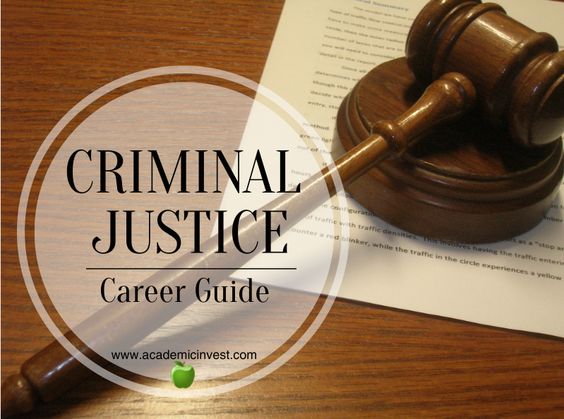 Gaining Practical Career Experience Before Graduating
Field placements, co-op positions, internships and practicum positions combine theory with practice. Any form of school-supported work experience is a great option for gaining relevant and invaluable experience for future careers in the field, by providing key insights into the inner workings of the criminal justice system.
Many undergraduate criminal justice programs in Canada and the United States are committed to providing a well-rounded experience in their education. As part of that commitment, many of these programs offer field placement, co-op, internship or practicum opportunities.
These positions are great opportunities for you to combine theory with practice, and will help you acquire competencies in justice related knowledge, skills and abilities. They also allow you to develop valuable professional networks.
If you intend to pursue a career in the field, then a co-op position, practicum, field placement, or internship is the best way to find out firsthand what it may be like during the first few months or years in the workplace. It is a great idea to pursue one of these opportunities, whether or not it counts for credit towards your criminal justice degree.
Relevant Professional Associations
To find out more about relevant careers, consult the following professional association websites. They offer career-related information, professional articles and resources, and some also have job postings.
Canada
The National Associations Active in Criminal Justice (NAACJ)
United States
Academy of Criminal Justice Sciences (ACJS)
American Correctional Association (ACA)
American Jail Association (AJA)
National Organization for Victim Assistance (NOVA)
National Sheriffs' Association (NSA)